How to Build a Gamification Strategy – An Expert View
Manasi Mehendale
Posted On May 17, 2022 | 5 min
Gamification strategies are one of the best techniques to improve knowledge retention. In eLearning, a gamification strategy involves using unique gaming elements and techniques to stimulate the learner's interest and increase their participation. It has also proven to be helpful in increasing collaboration between learners, when applicable, and enhance their cognitive abilities. In fact, the rising inclusion of gamification in eLearning is one of the top reasons for the latter's market growth.
Well-designed gamified content focuses on leveraging intrinsic motivating factors in the user to encourage them in the learning process. For example, the leaderboard is one type of game design that challenges users to compete against one another and finish the task. Then there are reward programs like badges and points to push learners to keep learning. Gamification creates an emotional connect between the learners and the content. Surprise elements, hidden challenges, and so on, keep up the engagement levels with the content and ensure course completion.
That said, there are different gamification elements that incentivize learners to perform better and induce a positive learning attitude. As gamification analyst Karl Kapp rightly puts it, "Gamification is the cover to add the interactivity, engagement, and immersion that leads to good learning."
On that note, let us look at the key aspects of building a gamification strategy.
The Mechanics of a Gamification Strategy
A popular perception of gamification is that it is most suited for a younger audience. The truth is, gamification can make any content engaging and much more compelling for any type of learner age group. Gamified content offers real benefits to the learner, bringing in excitement and a fun element to ensure course completion.
The first step is to identify the learning objectives and understand the target learners. Accordingly, learner-centric gamification elements need to be designed. User character types often play an important role at this juncture. Keeping in mind the audience and their needs, the design strategy progresses.
Kapp says, "Gamification is not bounded by technology or the need to be delivered online; it doesn't have to be digital. Instead, gamification is a design sensibility."
Several gamification components can be used to increase learner engagement, as standalone elements or in combination. For example:
Progress bars are useful for motivating learners to finish uncompleted tasks
Rewards for unlocking new levels, achieving higher goals, and incentivizing positive actions
Badges work great for accomplishments
Points and scores provide instant gratification
Celebration icons provide much-needed encouragement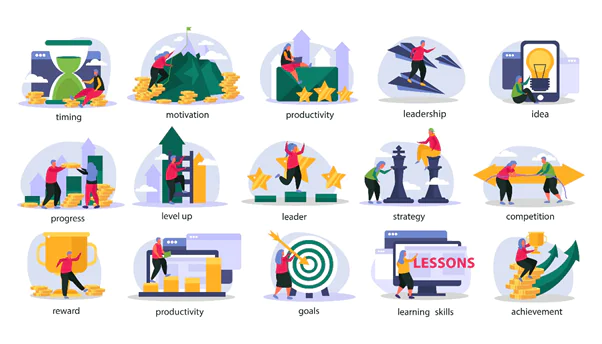 Whichever components you choose, one thing which experts additionally vouch for is giving feedback. It could be either in the form of delayed feedback or providing constant feedback such as hints or tips. Note that feedback greatly adds to the learning experience
It is important to remember that your content should be able to carry the gamification elements. Not all types of content can be treated in the same way. In fact, there cannot be a pre-determined gamification strategy. The strategy needs to be altered according to the learner demographics and learning objectives. This will make the learner experiences far more fruitful.
For example, if you plan to provide some learning control to the user, a certain piece of content might demand branching scenarios while another content might be more effective with options to select one type of reward over some other kind. This type of element selection depends on the treatment the content demands. Lastly, it is also a good idea to consider adding eLearning assessments. These are an essential ingredient of a gamified course and help track learner progress.
There are a host of areas where you can consider gamification. It can be helpful for increasing engagement with your product, onboarding employees, and more. There are also different components, including objects, elements, and tools, which enable gamification strategies. As mentioned above, it all depends on the target users. For instance, what strategy may appeal to a marketing professional may not be suitable for a designer.
Whatever the plan may be, your gamification strategy must encourage learners to complete the session. The key to building a gamification strategy is adding the micro-interventions that have an outsized effect, in terms of how well the learning happens.
Want to know how Harbinger can help you gamify your content? Check out our gamification framework.
Know More from the Experts
One of the biggest misconceptions about gamification is that it is an overwhelming project. The truth is it doesn't have to be. Gamification can work with your existing content. The main idea to consider is to create moments of anticipation and curiosity at the right places. As mentioned earlier, if done right, gamification can be a smart move to increase knowledge retention.
Harbinger recently hosted a Power Hour on 'What Businesses Need to Know about Gamification in Learning' with industry experts Paul Schneider, SVP – Business Development, dominKnow Learning Systems; Jeanne Bakker, Founder of Brain Bakery; and Vikrant Nene, General Manager – Capability Development, Harbinger Group. This interactive webinar was hosted by Dr. Vikas Joshi, CEO of Harbinger Group.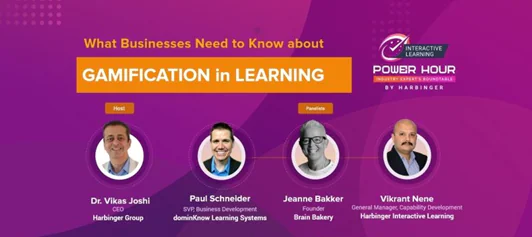 An interesting insight that Jeanne shared during the session was that our brain is like a pattern-finding machine that affects retention. It also works the best when it is curious. What gamification does is it surprises users at regular intervals. And as soon as the brain is surprised, it gets more interested. Hence, even if we can keep the same content, tweak it a bit, or add little things that surprise people, the retention will go up. The trick is to not make it feel like a game.
Harbinger's award-winning gamification framework allows organizations to rapidly add gamification elements to eLearning in a cost-effective way. Our easy-to-use, fully customizable framework makes it extremely easy for any organization to add a layer of gamification to any type of learning content and quickly develop varied learning experiences.
If you have an idea to discuss, please write to us at contact@harbingergroup.com. Harbinger experts will be happy to help with your organization's unique eLearning and gamification needs.