Harbinger Attends and Speaks at CLO Exchange 2023 Learning and Development Conference
Author: Minal Ghorpade
Posted On Jun 07, 2023 | 9 Mins Read
CLO Exchange 2023 is an exclusive forum designed for L&D heads from prestigious organizations. It is a platform that brings together distinguished C-Level Learning peers where they can connect, engage in meaningful discussions, address challenges, benchmark strategies, and explore groundbreaking solutions.
In February 2023, Harbinger attended and delivered a session at the CLO Exchange 2023. In May 2023, we once again had the privilege of making a notable presence at this learning and development conference held at the Renaissance Austin Hotel in Texas.
With Harbinger's unwavering dedication toward taking L&D a notch higher, our team was enthusiastically engaged in insightful discussions, actively sharing best practices, and leveraging their expertise to contribute to the CLO Exchange 2023 learning and development event in an impactful way.
The attendees and speakers who represented Harbinger Group at the CLO Exchange 2023 learning and development conference were Avinash Lele (a.k.a. Avi), Chief Growth Officer; Poonam Jaypuriya, Vice President, eLearning; Mahesh Keni, President, and Anujkumar Pillai, Associate Director, Business Development. Avi and Poonam were speakers for a boardroom session at the learning and development event.
Harbinger Takes Over the Stage at CLO Exchange 2023
We were extremely excited about taking over the dais to connect face-to-face with L&D leaders and captivate them with our extensive knowledge and innovative solutions.
Avi and Poonam delivered a highly interactive and impactful session, titled "Developing a Resilient L&D Strategy for Success Amid Unpredictable Changes." Based on the underlined theme of how to strategize to make L&D resilient and successful in an unpredictable world, and design a learning ecosystem for employees, the session focused on the following:
 How to build a resilient, effective, and persistent L&D strategy to scale employee development at all levels of the organization
Factors to consider while designing a successful L&D strategy
Impact of long-term learning measurement on the organization
How to build a well-defined business strategy
Effective business strategy assessment model
Building a resilient L&D strategy is the compass that guides organizations through the storm of unpredictable changes, ensuring success in the face of uncertainty.
Harbinger automated question generation by implementing a T5 generative AI model. Our solution helped create high-quality and accurate questions and establish a robust and scalable question generation process.
The USP of this speaker session delivered the CLO Exchange 2023 learning and development conference was its interactive quotient. Attendees were highly excited to be a part of this event.
Avi made this even more interesting by presenting a role play, where he was the CEO of a company and the attendees played CLOs. Everybody in the audience was handed a workbook, designed to help take a step-by-step approach to preparing and presenting their L&D strategy to the CEO.
Throughout the session, Avi touched upon some crucial points that can be foundational to building a resilient L&D strategy:
Business Resilience Framework (Boston Consulting Group)
L&D Metrics That Matter
The ACADEMIES Framework
Avi was also a speaker at another boardroom session, titled "Centralized or Decentralized L&D? Scaling Learning Across Large, International Organizations." He broadly discussed the unique benefits of a centralized and decentralized L&D model; and which one suits an organization the best.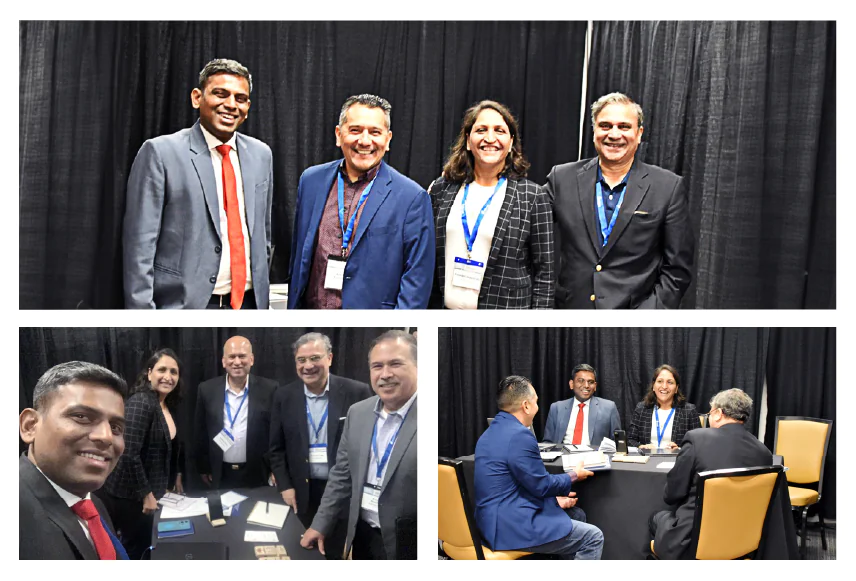 The CLO Exchange 2023 was an excellent learning and development event that allowed meeting, interacting, sharing, and learning from global L&D leaders.
Catching Up with Experiences of Harbingers at CLO Exchange 2023
The CLO Exchange 2023 was indeed a rewarding experience for us. We thought of making the most of it by sharing with you interesting insights gathered and based on our squad's experience at the learning and development conference.
Can you describe the CLO Exchange 2023 in a few words?
Anuj: The CLO Exchange 2023 is unique. This learning and development event is attended by a very small group of executives (CLOs), which creates an environment for quality conversations and is not a phenomenon in events with a large number of attendees.
About 50 CLOs representing leading enterprises attended the learning and development event. A small number of eLearning vendor companies also attended the event.
What was the area of interest of the audience at the CLO Exchange 2023?
Avi: According to my experience, many among the audience were interested in creating meaningful learning journeys and unique learner experiences. They also wanted to learn more about aspects such as automation transition to a new LMS and explore more on the instruction design/storyboarding part.
Poonam: The learning and development event had a variety of elements to offer. In my experience and interaction, people were actively looking to understand AI and how they make it a part of their strategy, design experiences for learning in the flow of work, employee engagement and effectiveness, and nudge-learning.
What is also inspiring is that even though the attendees came from varied industries, they were interested to know what's working for others and how they can apply it in their environment.
How was your overall experience attending the CLO Exchange 2023?
Anuj: The thing l liked the most was the quality conversations we had with CLOs. And their genuine interest to know what's working for others and how can they effectively design learning programs for their organization.
Another ideology of the CLO mentioned was that L&D should get out of the way of learners and facilitate what they want. For example, if employees are watching YouTube videos to learn new skills, so be it. L&D should incorporate YouTube videos into their landscape.
How do you defend the L&D spend? How do you calculate the ROI on L&D investment? To make a resilient L&D strategy, it is vital to understand the ROI on L&D investment. If you want to build L&D strategies to educate the workforce, align learning to the business objective, and make every dollar count.
Final Take
In conclusion, the future CLO Exchange learning and development conferences hold great promise for professionals seeking to enhance their knowledge, expand their network, learn from others, and discover solutions to their L&D challenges. Harbinger had a great time connecting with L&D leaders and learning and sharing strategies for meeting diverse learning needs of employees.
If you want to know more about how you can create a winning L&D strategy for your business, write to us at contact@harbingergroup.com.