Harbinger at CLO Exchange 2023 Learning and Development Conference
Author: Rahul Niraj
Posted On Mar 16, 2023 | 7 Mins Read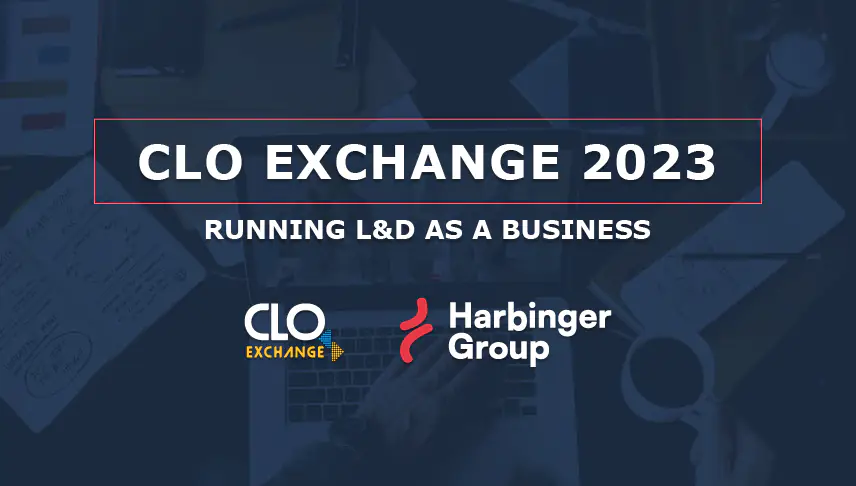 A globally recognized learning and development conference, the Chief Learning Officer (CLO) Exchange 2023 was held at Loews Hollywood, California. This invitation-only gathering conducted on February 26-28, 2023 created a lasting impact on the minds of learning and development professionals.
Harbinger Group had an incredible time being a significant part of this three-day interactive event. Our eLearning experts were indulged in learning, connecting, and sharing best practices for current and future learning and development challenges.
The CLO Exchange stands amongst the top learning and development conferences 2023 so far. It gives industry professionals and organizations the privilege to connect, interact, exchange ideas, and gain valuable insights from learning and development heads of leading global companies and technology conglomerates.
Some of the key topics of discussion at the CLO Exchange 2023 were: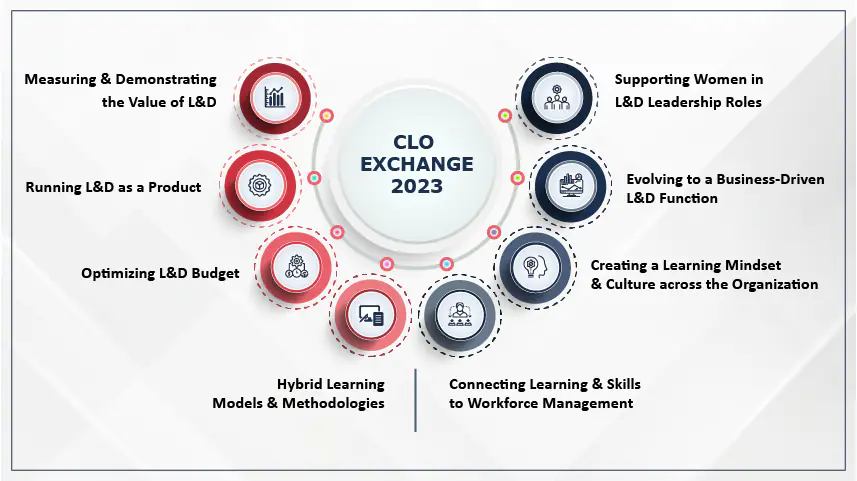 Harbinger Speaks at the CLO Exchange 2023
Harbinger delivered a highly thoughtful and insightful session titled 'Designing L&D for Success' at the CLO Exchange 2023 on February 26. The discussion was led by our speakers Poonam Jaypuria, Vice President of eLearning, Harbinger Group and Avinash Lele, Chief Growth Officer, Harbinger Group.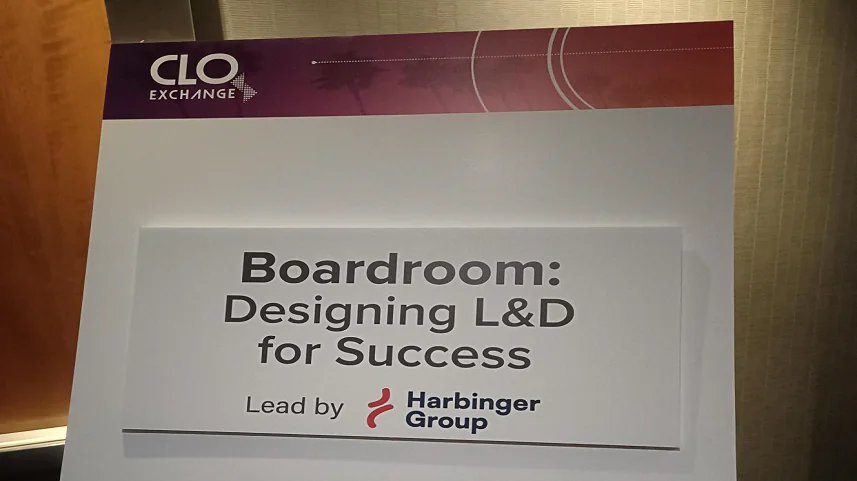 Accompanying our speakers was Avishek Chakraborty, Director of Business Development, Harbinger Group. Avishek attended the learning and development conference to exchange unique ideas and insights into reshaping the future of learning. He also got a chance to connect and learn from top industry leaders.
Harbinger's Take on Strategy as a Tool to Design Learning and Development
In our session 'Designing L&D for Success,' Poonam and Avinash spoke about the importance of building a well-defined business strategy. They also helped CLOs think about strategy as a tool to design learning and development.
Furthermore, our speakers discussed a business strategy assessment model which helped attendees dig deep into the process of creating a dynamic business strategy while achieving learning and development success.
Our speakers explained four significant points to develop a result-oriented and actionable business strategy.
Business Objective: An organization's business objective should be specific, measurable, and timebound.
Business Scope: The scope of business should be based on target customers and key offerings. Our eLearning experts came up with a formula to help attendees make the most out of their business scope and objective.
Whom Do You Serve: What Are Their Concerns? + What Do You Offer Them?
Our speakers shared a few examples of this formula:
Employees: Enjoyable developmental experiences through training, coaching, eLearning, job aids, and events
HR: Performance management and employee development through personalized learning path designs
Finance: Operational efficiency improvement through upskilling and utilization
Competitive Advantage: Poonam and Avinash highlighted three distinctive factors that help companies build competitive advantage: focused assets, dedicated systems, and competencies. They explained that a business should have good understanding of the following to gain a competitive edge:
Unique differentiators
Competitors
What the business does better than competitors
New entrants in the field
Substitutes
Additionally, our speakers explained the Porter's Five Forces model to help attendees build and employ a robust business strategy.
Business Strategy Statement: To generate a lasting impact, a company should have a business strategy statement of less than or approximately 35 words.
Apart from this, Poonam and Avinash discussed quite a few learning and development metrics and helped attendees compare old and new metrics. This was to enable attendees to take better learning and development decisions.
Our Experience Speaking and Attending the CLO Exchange 2023
At the CLO Exchange 2023, we had the opportunity to connect with learning and development leaders, eLearning professionals, and innovative minds of the industry. We got to know their earnest opinions and unique strategies for:
Learning content design, development, and technology
Resolving learning and development challenges
Developing a skill-building and job architecture
Transforming the way people learn
Our speaker session and group discussion on eLearning and learning and development were full of value-added thoughts, modern mindsets, fun conversations, and brainstorming.
"According To Brandon Hall Group's 2022 Research Study, 76% Of Companies Say Competency, Skill Gaps, And Inadequate Learning Technology Are Known To Negatively Impact Their Learning Organization's Efficiency And Effectiveness."
After attending other sessions, meeting industry leaders, and speaking with attendees at the CLO Exchange 2023, Poonam observed that onboarding and retention are the two key challenges that learning and development teams are held responsible for.
Poonam also had a fantastic time interacting with visitors at our booth. She identified the top five solutions attendees were looking for:
Onboarding
Employee retention
Diversity, equity, and inclusion (DEI)
Sales training
Making learning effective using techniques like gamification
Talking about visitor engagement, Poonam says, "The visitors of our booth were quite relevant to our business."
Let's read through the experiences, thoughts, and takeaways from the CLO Exchange 2023 learning and development conference shared by our eLearning experts.
Can You Describe the CLO Exchange 2023 in a Few Words?
Avinash: The CLO Exchange 2023 learning and development conference was organized to share experiences and insights amongst CLOs of various enterprises. We met with CLOs of leading organizations that included CISCO, JP Morgan Chase, GoDaddy, Amazon, BD, and New York Life.
Avishek: The CLO Exchange 2023 was a constellation of learning and development stars. It provided a common stage for the convergence of enterprise learning and development leaders across different industry verticals to discuss futuristic learning and development, and training needs for holistic employee engagement.
We came across profiles that included senior leadership across organization capability development, leadership development, and DEI to name a few.
How was Your Overall Experience Speaking and Attending the CLO Exchange 2023?
Avinash: The experience was great. It was encouraging to learn that CLOs are making an impact on their organization's competitive advantage.
Avishek: At this learning and development conference, there were some intriguing insights shared on employee onboarding. There were discussions on how effective and smooth employee onboarding is mission-critical for industries considering employees joining across locations, many times with language and logistical barriers.
What were the Major Highlights of Your Session 'Designing L&D for Success'?
Avinash: The major highlight was that CLOs were keen to understand how to influence their company's strategic agendas, and to get a seat at the table with other chief experience officers.
Poonam: We discussed how a CLO can strategize for learning and development function as a business to meet the growing business demands.
We focused on a strategy framework to look at learning and development function, their strengths, investments a CLO should plan in technology, and content to build their competitive advantage. We explained how the framework would help learning and development organizations build strategies to adapt and win.
What was Your Most Memorable Moment Speaking or Attending the CLO Exchange 2023?
Avinash: The fact that some CLOs were keen to understand how they could interact with their respective chief executive officers. They were interested in understanding business and strategic issues.
Poonam: The connect with the participants where the leaders were keen to learn from each other no matter which industry they belong to, ask some real tough questions, acknowledge the challenges and discuss possibilities was very encouraging and these led to some interesting discussions in the sessions and 1-1 discussions.
What was Unique about the CLO Exchange 2023 that Complemented Your Learning Tech/eLearning Expertise?
Avinash: Our boardroom session was effective in fostering close interaction with CLOs and making an impact.
Avishek: The fact that we could share industry-specific, practical on-the-ground experience was a key takeaway from this learning and development conference.
What was the Response or Feedback from the Audience to Your Session?
Avinash: The feedback to our session was positive.
Avishek: The audience found the Strategy framework as a handy tool and were very impressed with the McKinsey ACADEMIES framework we discussed in the session.
Which Other Speaker Sessions Did You Like the Most? What Did You Learn?
Avinash: I enjoyed most speaker sessions. It was refreshing to learn how leading organizations are developing and executing on their learning agendas.
Avishek: All the sessions were good and insightful. I liked Peter Albert's (New York Life) session focusing on better employee engagement and people development. He talked about human-centric design and agile and iterative processes, which are key to connecting employees in their work lives.
Another interesting session was delivered by Isaac Ramsingh (Atrium Healthcare) on effective learning culture incubation, measurement, and continuous engagement. It focused on the need for pivoting toward microlearning – simple and sticky with continuous re-enforcements.
What are Your Views on Attending the CLO Exchange 2023 in the Future?
Avinash: I think this learning and development conference is a very valuable event from Harbinger's perspective.
Avishek: We should surely go for it next time, considering the attractive network base it provides to communicate and exchange ideas – shared thought leadership.
Poonam: We thank the CLO Exchange for organizing this exclusive event to help organizations directly meet, interact, and network with top learning and development leaders. We would surely like to speak and attend another CLO Exchange learning and development conference in the future.
How Would You Describe the Exposure to Knowledge Transfer and Experience Sharing at the CLO Exchange 2023?
Avinash: The exposure was wonderful at this learning and development conference. CLOs were passionate about learning and development issues and committed to bringing about a positive change.
Avishek: Seamless knowledge transfer and experience sharing prevailed with boardroom discussions focused on specific topics.
Poonam: We are happy to have the opportunity to speak at one of the best learning and development conferences. We got a chance to share our knowledge and experience in designing custom learning content and technology solutions to enable organizations to embrace the future of learning and create a winning learning and development strategy.
Final Thoughts
The CLO Exchange 2023 learning and development conference is a powerful way to interact with global learning and development leaders and accelerate digital learning initiatives. It unlocks the needed flexibility and exposure to business networking, corporate relationships, learning technologies, and expert opinions.
We look forward to attending such conferences in the future and adding to our eLearning expertise. We will continue to keep ourselves updated with the latest trends in learning and development, content design, and learning technology. This will help us enable our customers and partners to create better strategies to make learning effective.
Will you be attending a learning and development conference anytime soon? Share your thoughts with us. If you are looking for eLearning solutions from the best in the industry, write to us at contact@harbingergroup.com. We would be more than happy to help you.