What's Driving Technology Adoption in the Healthcare Industry?
Sushma Joshi
Posted On Aug 06, 2021 | 5 Mins Read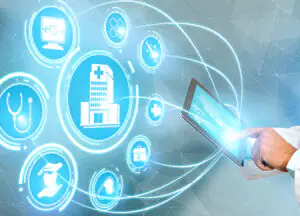 The landscape for many industries changed almost overnight in 2020 when COVID-19 pandemic hit the world at large. The healthcare industry has been at the front and center of this accelerated digital revolution. Until just before the pandemic, many experts opined that Healthcare was one of the slowest adopters of technology. Today, the needle has moved to the other end of the spectrum with healthcare organizations around the globe racing against time to adopt new technologies to provide a superlative patient experience.
The stakes are high and there are a wide range of technologies available today. These technologies offer countless possibilities and use cases in the healthcare industry. If you're exploring options, it helps to start with a few fundamental drivers. This post takes a quick peek at some of the trends that are pressing the Healthcare players to adopt technology and ensure that they are in the reckoning.
Personalized Healthcare
Personalization is one of the hottest trends in the healthcare market. The global personalized medicine market size is expected to reach USD 796.8 billion by 2028, growing at 6.2% CAGR, according to a new report by Grand View Research, Inc. AI-powered point-of-care devices are a game-changing factor in nurturing the patient-provider relationship and personalizing care. Such devices help the doctors run initial diagnostic results and provide recommendations for subsequent treatment. Moreover, the future of healthcare is likely to be remote for the large part. That makes it even more critical for physicians and providers to provide superior personalized care at scale, in the absence of physical proximity.
Patient Experience
Most often, the front-office and administrative work have a huge impact on patient experience. If providers truly want to enhance their patient journey, they should invest in leveraging technology to automate some of their manual, repetitive tasks like form filling and appointment scheduling. Using a cloud for easy and quick access to patient data, integration with other healthcare systems, mHealth, and so on are some of the top examples of how technology impacts the patient experience. Such automation can prove to be a boon for the providers as they can relieve their staff and focus on critical activities.
Telehealth
A silver lining of the pandemic was that it highlighted the need for the patients to take a more proactive role in their care journey. Many providers across the globe are racing to provide telehealth services. In April 2020, overall telehealth utilization for outpatient care was 78 times higher than in February 2020, according to a report by McKinsey. Increased traditional health care costs, funding for telemedicine, and an increase in digital health consumer are the primary drivers of the telehealth industry. The COVID-19 pandemic remains the biggest catalyst for telehealth.
Suggested: How to create an effective telehealth roadmap
The early phase of the pandemic put a great strain on the healthcare infrastructure of the countries around the globe. Remote Patient Monitoring (RPM) and virtual consultation technologies provided a great way to tackle this issue by reducing in-person visits to the hospitals while maintaining the quality of care at the same time. Wearable devices are one of the key enablers for RPM, enabling doctors to draw actionable insights from patients' medical data. RPM is equally beneficial for the patients – it allows them to have better control and access to their medical records and enables them to be a part of their care journey. RPM has seen a sharp rise in its acceptance since the pandemic began, but it has multiple use cases in the healthcare industry which makes it most likely to continue in the new normal.
Check out how Harbinger helped a UK-based health monitoring solutions company with an integrated health monitoring platform to monitor vital signs of patients needing preventive care, proactive assistance, and real-time monitoring.
Also view Building technical capabilities to augment remote patient engagement, a white paper that examines three technological approaches that are best recommended to build remote patient engagement model.
Data Analytics in Healthcare
Did you know that there are about 2-25 exabytes of healthcare data according to current estimates? But there's a significant disconnect between the available data and the insights achieved from them. The Healthcare industry is evolving at a rapid pace and the stakeholders need to embrace this evolution. There are multiple use cases of how AI, ML, and NLP can be used to interpret this data – but is it enough? Data Analytics is a critical aspect of the patient experience and providers need the right tools to make the most of the available data.
Get expert opinions and suggestions on the benefits, challenges, and experiences in harnessing data for better healthcare: Healthcare Insights from Data
Healthcare Interoperability
Healthcare interoperability can be considered as one of the biggest challenges in the industry currently. It is one of the most crucial drivers of technology adoption in healthcare to enable seamless integration of systems that provide quick access to comprehensive patient data to the patients, providers, and payers alike in a reliable and secure way. True interoperability can be achieved only if technology, people, and processes come together in a standardized manner.
Technology has been instrumental in helping the healthcare system cope with the mounting pressure of the pandemic. But this is just the beginning – as we look into the future, technology is going to be a critical part of enhancing the patient journey and the way providers operate. Not only will it enable better care, but also enable healthcare organizations to provide personalized and proactive interventions. The ultimate goal of healthcare technology is to reach the most remote areas of the world and provide affordable healthcare to everyone. The key to achieving this is in the ability of our healthcare system to build a synergy between patients, doctors, healthcare organizations, and technology.
References:
https://www.grandviewresearch.com/press-release/global-personalized-medicine-market
https://www.mckinsey.com/industries/healthcare-systems-and-services/our-insights/telehealth-a-quarter-trillion-dollar-post-covid-19-reality