How to Create an Effective Telehealth Solutions Roadmap
Author: Marketing Desk
Posted On Jun 23, 2021 | 6 Mins Read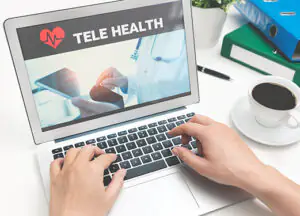 Telehealth is an expanding/upcoming field that encompasses everything from virtual medical consultations to remote vital signs monitoring. While some level of uptake in developing telehealth solutions has been witnessed in spurts, yet, the truth is, it has always been on the sidelines. Implementing a telehealth delivery solution in a healthcare organization is a challenging endeavor that takes significant effort. This theme was central to the discussion at Harbinger Group' recent HealthTech Power Hour session. The session was graced by two highly accomplished HealthTech experts Dean Hudson (CEO and Co-Founder, Curaguard) and Elisha Yaghmai (CEO, FreeState Healthcare). The experts shared their journeys and the secrets of a successful telehealth product roadmap. The discussion was hosted by Prashant Khambekar (SVP, Harbinger Group).
The Landscape
One of the major advantages and the reason why the telehealth domain is picking up so fast is that it transcends geographical and socioeconomic limitations when it comes to care giving. Pill tracking, mHealth, on-demand house visits, medication delivery, doctor discovery, video consultations, fitness self-care, alarms are some of the services being provided by various companies, informed Prashant Khambekar.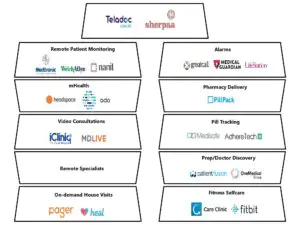 A glimpse of some of the Telehealth service providers dotting the landscape
While one is seeing more and more companies coming into the fray, there are still some challenges that necessitate adaptable strategies, as well as an understanding of practices, regulations, and culture for telehealth solution implementation. Here's a quick snapshot of what our experts did to create a fully functional telehealth system.
Implementation of a Telehealth Solution
Curaguard: A Virtual Care Platform
A clinical issue that a personal acquaintance went through inspired the founders of Curaguard to figure out a better way for physician-patient engagement. The preliminary objective was to accomplish better monitoring, plugging the gaps in care giving, collecting evidence-based information for providing relevant feedback and related aspects that created transparency between the care givers and the care takers. In a nutshell, an outcome-based paradigm, value-based care, and overcoming the challenges of the traditional healthcare model were some of the goals that the team wanted to accomplish, informed Dean Hudson, CEO and Co-Founder, Curaguard.
A lot of contemplation, tons of iterations, and consistent teamwork led to the development of a care engagement solution that focuses on improving patient-physician engagement.
Here's how the telehealth roadmap progressed from establishing the criteria, identifying and overcoming challenges to creating the final product.
Roadmap to a telehealth solution
To begin, market gaps were identified, which were not limited to electronic medical records (EMR) system providers and healthcare engagements, but also included gaps in the extended engagements.
The respective care segments were determined. For instance, what type of care was to be focused on(cardiology or neurology)? Was it going to be chronic care or just general medicine? Also, transactional details were considered, like, when someone transitioned out of an emergency room (ER) physician's care and returned to their general physician (GP), what would that entail?
The top three social determinant issues that were maintained on the radar were chronic care, chronic obstructive pulmonary disease (COPD), and diabetes.
Cardiology was added to the list as the company moved toward a specific market, and it was fueled by clinical solutions that went beyond telehealth and were designed to connect around remote patient monitoring (RPM), which would supply the provider with additional data.
Finally, a grid was created that had all the key considerations, basic factors, impacts, and the end value or outcome in one location. This aided in keeping track of the outcomes, not only in terms of payments but also in reaching out to remote area patients and improving extended care.
Listen to the Power Hour, to understand how Curaguard created the product roadmap, while overcoming initial hiccups.
FreeState: Healthcare Solutions for Rural America
The journey began with a focus on employing telemedicine technology to provide virtual care to underserved and rural regions, informed Elisha Yaghmai, President & Chief Executive Officer, FreeState. Because of their significant experience with these approaches, FreeState was able to give care to a large geographical spread.
While working for the social sector, along with the technological aspect of building a solution, a lot of communal, regulatory, and infrastructural barriers had to be crossed, explained Elisha.
Roadmap to a telehealth solution
The market's loose ends were targeted. The strategy was determined based on the parts of medical practice that needed to be addressed, with the service model being the primary focus of their research.
Technological infrastructure was a challenge. The solution had to be built in such a way that it could operate seamlessly on low bandwidth and limited endpoints.
Insurance companies make the rules in the United States, and there was a lot of reluctance by these bodies to accept 'telehealth' in lieu of 'telemedicine' for the claims to be processed. It took a lot of struggle for the first movers in this space to get the Payer parity laws passed in many states, mandating private payers to pay the same price for a virtual service as they would if it were supplied in person.
Finding a better software vendor to develop the customized product was another roadblock in the path.
FreeState got around every obstacle by focusing just on small towns, areas where people aren't tech-savvy, have limited bandwidth, and don't have a lot of money to spend on healthcare services.
By considering the worst-case scenarios they cobbled a system that was strong, highly flexible, and capable of handling a wide range of adverse situations.
Virtual care isn't just popular among patients and providers; it's also been shown to be effective in clinical settings.
Are you interested in learning about the numerous possibilities that telehealth offers, the criteria for getting the best possible telehealth product to your customers, and its potential in the near future?

Watch this power hour recording available on demand
What is your opinion on implementing a telehealth solution or care going virtual?
Do share your thoughts through the comments section below or drop us a line at contact@harbingergroup.com, we'd be delighted to help you build the most appropriate telehealth solution for your specific needs.