10 Practical Strategies for Skills Gap Analysis Automation
Author: Rahul Niraj
Posted On Jun 14, 2023 | 9 Mins Read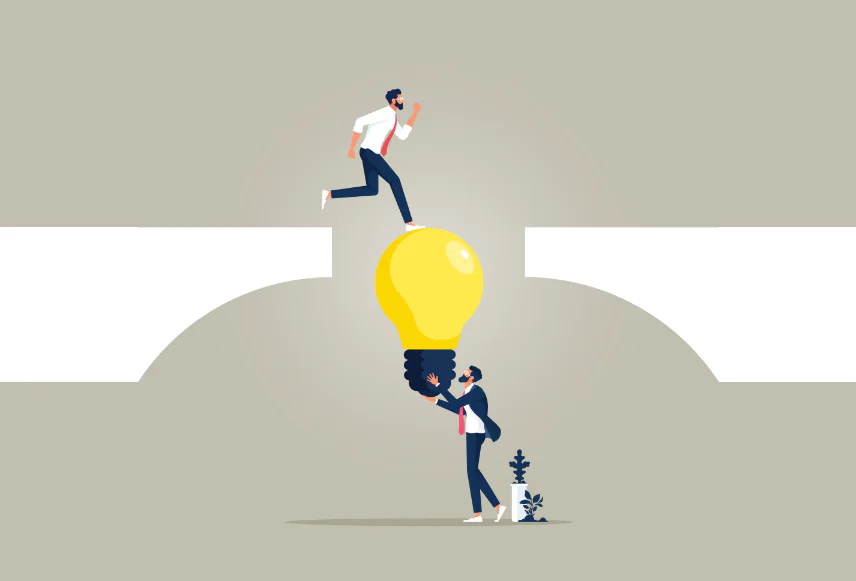 Can we automate skills gap analysis? Indeed! You can automate the process by implementing practical strategies for skills gap analysis. These strategies can help you identify skill deficiencies, align training programs, and empower your workforce to thrive in this ever-evolving employment landscape.
Manually conducting skills gap analysis can be time-consuming, resource-intensive, and prone to human error. On the other hand, leveraging the right strategies for automating this process can help you gain valuable insights and take proactive measures to bridge the gap.
In this blog post, we will explore the strategies for skills gap analysis automation and how they can revolutionize the way organizations approach talent development. So, without further ado, let's dive right in.
10 Effective Strategies for Skills Gap Analysis Automation
To successfully automate skills gap analysis for your organization, you need to put a few strategies to work. We have collated the most important ones to give you a better idea.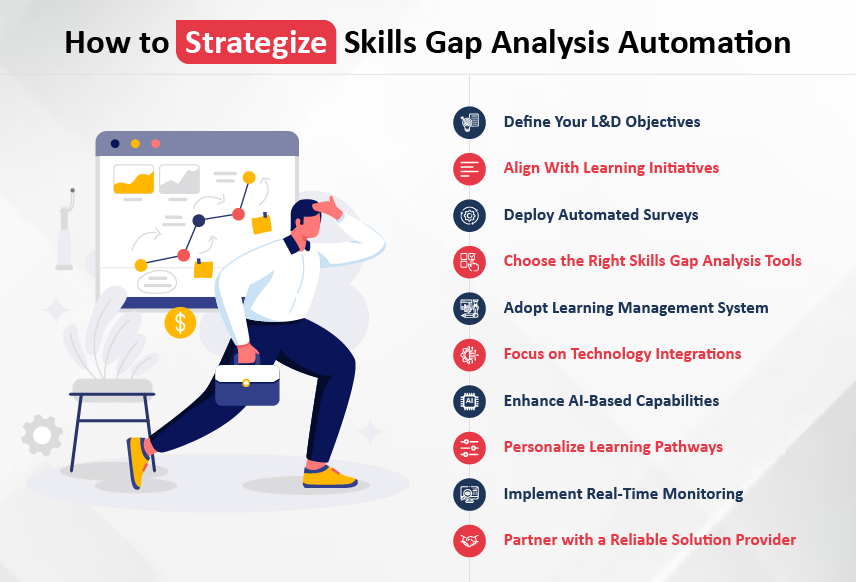 1. Define Your L&D Objectives
Clearly define the objectives and outcomes you aim to achieve through this automation. It belongs to one of the top strategies for skills gap analysis that you must take advantage of. You must develop comprehensive competency frameworks that outline the desired skills for each role within the organization. This clarity will guide the automation process with utmost precision.
Optimizing Your L&D Needs Is A Must For Automating Skills Gap Analysis. You Need To Create Separate Groups Of Goals You Want To Achieve By Automating The Process. Identify Whether These Goals Are Relevant To Your Business Or Not.
2. Align with Learning Initiatives
Integrate skills gap analysis automation with existing learning and development initiatives. This ensures that identified gap translate into actionable training programs, reskilling efforts, or talent acquisition strategies. Aligning automation with broader learning objectives enhances overall workforce development.
3. Deploy Automated Surveys
Deploy automated surveys and feedback mechanisms to gather insights from employees, managers, and stakeholders on skill gap and training needs. You can use online survey platforms, pulse surveys, 360-degree feedback tools, text analytics, real-time feedback apps, and data integration and analytics tools for the same.
4. Choose the Right Skills Gap Analysis Tools
Leveraging skills gap analysis tools is among the most beneficial strategies for skills gap analysis automation. You need to discover and use tools that can quickly determine the employee's competency based on large data sets of their performance. Moreover, incorporating the right skills gap analysis tools can help you streamline data flow and ensure a seamless exchange of information.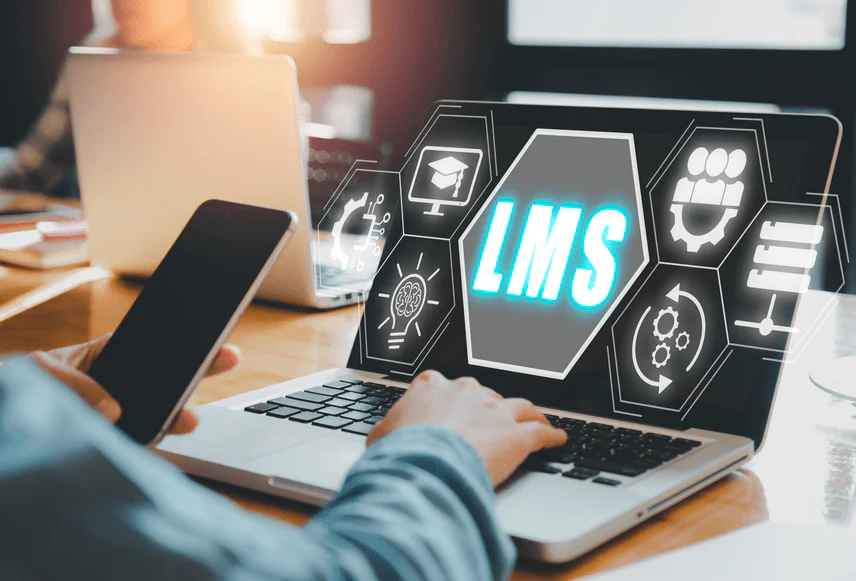 5. Adopt Learning Management System
Implement an intelligent learning management system that tracks employees' training progress, performance, and skill development, providing real-time insights into the skills gap. It enables personalized learning experiences tailored to each individual's needs.
It can help you take full advantage of advanced analytics and data-driven insights to make informed decisions about targeted training interventions, optimize resource allocation, and continuously monitor and address skills gap.
6. Focus on Technology Integrations
You must invest in technology integrations like AI, ML, RPA, data modeling, and language transformers. This will expose your skills gap analysis process to multitenant learning pathways and improve employee engagement.
You can integrate predictive analytics with your existing skills gap analysis process. This will help you strategize talent development initiatives, anticipate potential skill gap, and ensure a future-ready workforce with the necessary skills.
You can even employ AI and ML algorithms to analyze the learning data. These algorithms can identify patterns, trends, and correlations, allowing for accurate skills gap identification and analysis. You can continuously train and fine-tune the algorithms to improve accuracy over time.
Want to maximize business growth by automating skills gap analysis?
7. Enhance AI-Based Capabilities
Boosting your organization's AI-related competencies is one of the essential strategies for skills gap analysis automation. You need to build a team well-equipped with AI-based skills gap analysis capabilities. Ensure that the team members are able to understand your automation requirements while avoiding hindrances.
8. Personalize Learning Pathways
Your strategies for automating skills gap analysis should include tailored learning. By automating skills gap analysis, AI systems can recommend training modules, courses, or resources that address specific deficiencies. It will help you provide your employees with personalized learning pathways, enhance engagement, and accelerate skills development.
9. Implement Real-Time Monitoring
Enable real-time monitoring of skills development by integrating with learning platforms and performance management systems. This allows for continuous tracking of employee progress, automatic updates, and alerts when skills gap arise or are addressed.
10. Partner with a Reliable Solution Provider
Collaborating with a reliable technology partner is a critical step in automating skills gap analysis. Before making a final decision, it is crucial to consider their track record, reputation, and proven success in implementing skills gap analysis automation solutions.
You need to get aligned with a trusted EdTech solutions provider that can understand your requirements and help you automate skills gap analysis without compromising on quality. Choose a partner with hands-on expertise in closing the skills gap using AI models and transformers.
Learn how Harbinger helped a leadership skilling solutions provider automate skills gap analysis by deploying AI models and Transformers.
Automate Skills Gap Analysis Now
Skills gap analysis automation is a strategic tool that propels performance, enhances workforce productivity, and future-proofs your organization to stand against all odds.
It is time to embrace these practical strategies for skills gap analysis automation. This proactive step can bridge the gap between your current skill landscape and the skills needed for future success.
If you want to boost your organization's talent development efforts by implementing actionable strategies for skills gap analysis, write to us at contact@harbingergroup.com. Our EdTech experts would be more than happy to help you meet your business goals.