Harbinger's Unforgettable Experience at SHRM23: Insights and Takeaways
Author: Archita Nayak
Posted On Jul 13, 2023 | 7 Mins Read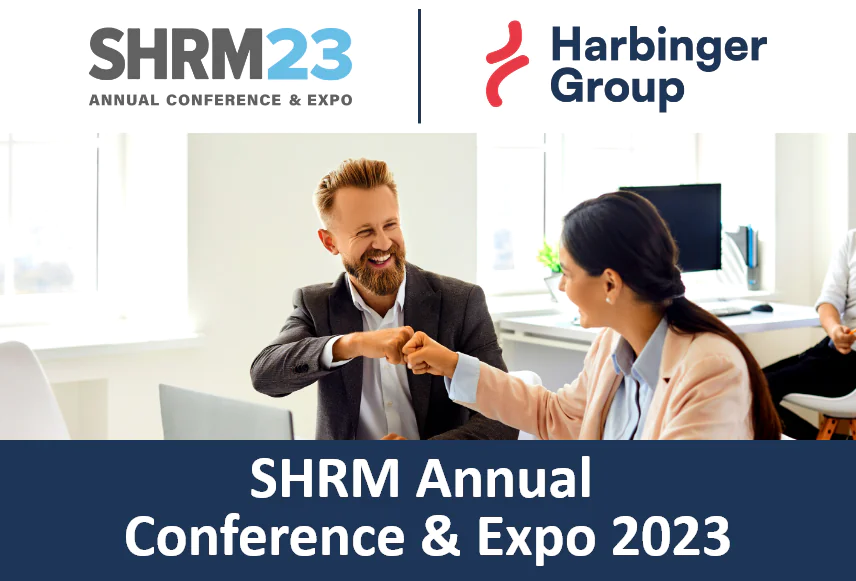 The Society for Human Resource Management Annual Conference & Expo 2023 (SHRM23), an influential gathering of HR professionals and business leaders, featured over 380 speakers covering the latest HR trends. Topics included talent acquisition, mental health, leadership, employee engagement, and HRTech. The event drew over 20,000 in-person and 2,500 virtual attendees, offering a unique opportunity to network and gain insights at the Las Vegas Convention Center.
SHRM23 brought together an extraordinary mix of professionals from various corners of the HR ecosystem, including HR managers, executives, and C-suite leaders. It was a melting pot of ideas, experiences, and visions for leveraging technology to advance the global workplace.
Harbinger Experience at SHRM23
Harbinger actively engaged in the bustling SHRM23 conference from June 11 to 14. We showcased our expertise in HRTech at Booth #3605. Our esteemed team of HRTech experts, including Avinash Lele, Chief Growth Officer; Shrikant Pattathil, Chief Technology Officer, Prashant Khambekar, Senior Vice President; Seema Chaudhary, Chief Alliance Officer; Ajay Todkar, Director, HRTech BizDev; and Janhavi Padture, Vice President, Strategy & Business Development, engaged in stimulating discussions with industry leaders on product development, artificial intelligence, automation, integration, and various subjects.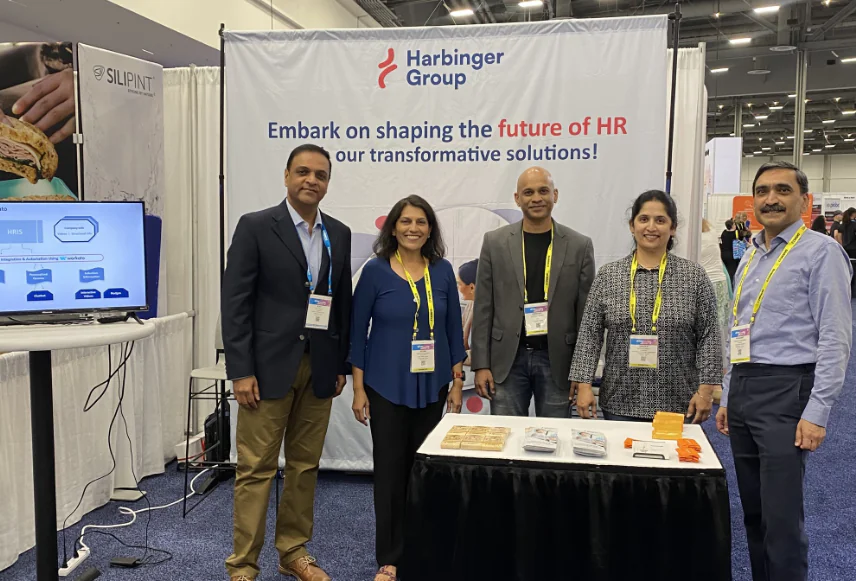 At SHRM23, we delved into technology's transformative power, innovation, and collaboration in reshaping the modern workplace.
We cherished every moment seizing opportunities to connect and gain valuable insights from HR leaders. Reflecting on our experience, we take immense pride in proclaiming that SHRM23 was an unequivocal triumph for Harbinger.
Conversations Harbinger Had with Attendees
At SHRM23, Harbinger experts had the opportunity to meet HR professionals from various industries, including talent acquisition managers, learning and development specialists, and HRTech vendors. They discussed emerging trends in HRTech, such as AI-driven recruitment tools and employee engagement platforms.
Want to transform workplaces into hubs of inspiration? Check out our definitive guide to learn why and how employers must improve the employee experience.
Moreover, they shared their experiences implementing these solutions, highlighting the benefits of improved efficiency, enhanced candidate experience, and data-driven decision-making. It was a valuable exchange of insights and best practices in the ever-evolving HR landscape.
Top Trends Spotted at SHRM23
AI including Generative AI
Automation
Integrations (iPaas+P2P)
Dashboards and Analytics
Future of Work
Top 5 Questions Answered by Harbinger Exhibiters at SHRM23
We had the opportunity to gather interesting insights from Ajay and Prashant, our HRTech experts, who exhibited at SHRM23. Let's hear directly from them about their experience.
Were there any HRTech, HR, or other trends you observed at SHRM23? Any latest development or innovation?
Ajay: At SHRM23, I observed several key trends in the HRTech industry. Notably, integrating AI into HR processes was prominent, improving decision-making and employee experiences. Automation played a pivotal role in streamlining talent management tasks. The emergence of integrations, such as iPaas+P2P, was highly promising and generated buzz at the conference. Finally, the focus on dashboards and analytics empowered HR professionals with insights for strategic decision-making.
Harbinger optimized recruitment using GPT API and NLP-based automation for a global technology company. Our solution also enabled automated screening and enhanced the candidate experience.
What were your overall experiences and key takeaways from SHRM23? What did you learn from the conference?
Ajay: Attending SHRM23 was a remarkable experience. The conference provided valuable insights into the latest trends in HRTech. We all learned about the power of AI-driven tools for talent acquisition and employee engagement, the significance of data analytics in making informed HR decisions, and the growing importance of remote work solutions.
Additionally, we had meetings with diverse companies and individuals, gaining insights into the new trends they seek. Meeting existing and new customers, including law firms, aggregators, and pure HRTech providers, was a great opportunity.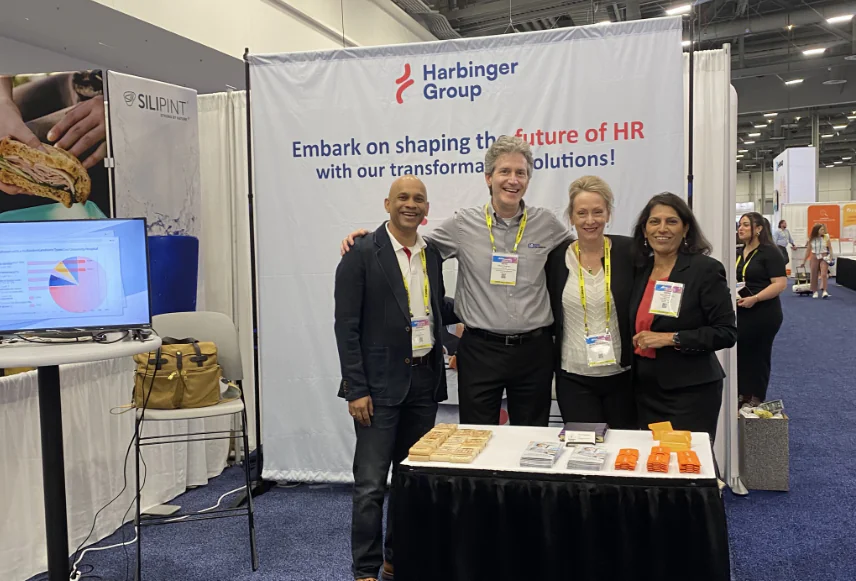 What was different about SHRM23? How did it add value to you as an HRTech or business leader? Did you observe anything unique or special at the conference?
Prashant: SHRM23 witnessed a notable surge in attendees compared to previous years, enhancing networking opportunities. The ample networking time enabled valuable interactions with potential prospects, leading to the exploration of numerous collaboration possibilities. The conference facilitated networking with like-minded professionals, fostering valuable connections and collaborations in the HRTech industry.
SHRM23 stood out due to its enhanced focus on emerging technologies and their impact on HR. The conference provided valuable insights into the latest trends, innovations, and best practices in the field.
What were the visitors at our booth looking for? What were their profiles?
Ajay: At the SHRM23 conference, visitors at your booth were predominantly HR professionals seeking innovative HRTech solutions. Their profiles varied from talent acquisition specialists and HR managers to benefits administrators and learning and development professionals.
Prashant: I observed that many HR professionals showed particular interest in software solutions and visual AI technologies for data analysis. They sought automation, AI capabilities, integrations, feature development, visual design, and analytics.
What were the attendees expecting from SHRM23?
Ajay: Attendees at SHRM23 expected to gain insights into the latest trends, success stories, and best practices in HRTech. They were eager to explore advancements in talent acquisition, employee engagement, performance management, and data analytics. Furthermore, attendees sought opportunities to network and connect with industry experts to learn what others are doing in the HRTech space and exchange ideas on leveraging technology for effective HR management.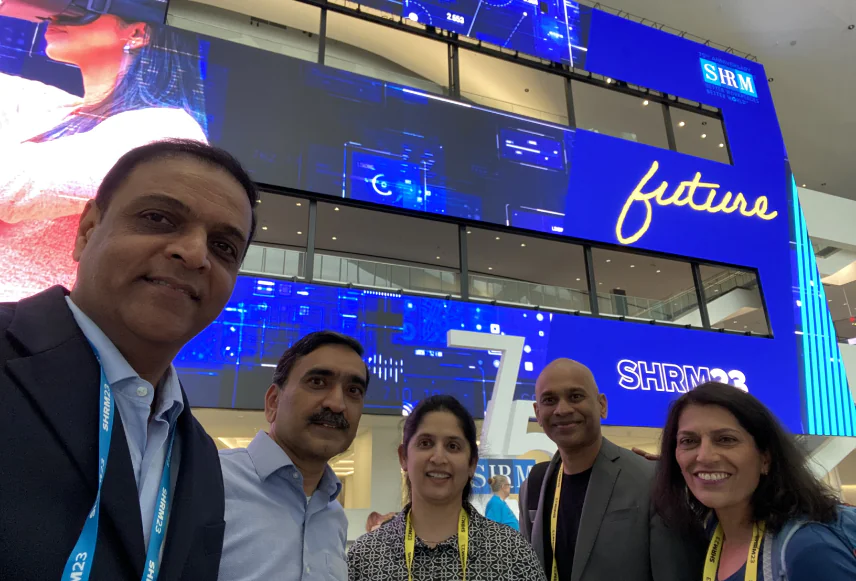 Closure
In conclusion, Harbinger's experience at SHRM23 was truly unforgettable. Engaging with industry leaders and professionals allowed us to showcase our expertise and exchange ideas on product development, AI, automation, and integration. SHRM23 served as a platform for growth, inspiration, and revolutionizing the HR landscape.
We look forward to leveraging experiences to continue driving positive change in the HR industry. Are you seeking innovative HRTech solutions to meet your business goals? Trust us to accelerate your HR vision with our cutting-edge technology. Contact us at contact@harbingergroup.com now.