Harbinger + Workato: An Innovative HRTech Integration and Automation Partnership
Author: Steven Chopade
Posted On Feb 04, 2022 | 5 Mins Read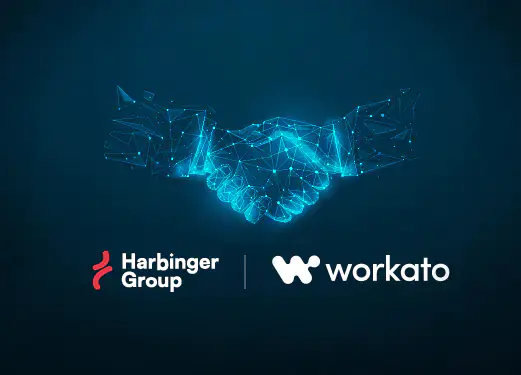 For long, the HRTech space was awaiting an evolution backed by novel advancement in key areas like integration and automation. Thanks to the influx of crucial innovations in recent years, the wait is finally over for HRTech. One such transformative HRTech innovation has come through in the form of a strategic partnership between two industry leaders – Harbinger and Workato.
The game-changing Harbinger + Workato partnership is vital to the success of today's global enterprises looking to advance their HR/business workflows. For our joint customers, the strategic combination of Harbinger and Workato's capabilities enables:
Enterprise automation at scale
Accelerated integration of complex workflows
Rapid connect with 60+ human capital management platforms
The low-code/no-code and integration-led approaches
Reduced time to market and extensibility
To help you get a deeper understanding of the promising HRTech partnership between Harbinger and Workato, we have answered some FAQs:
Why does 'integration' feature in the business strategy of a solution provider?
For a solution provider, data exchange, interoperability, and workflow automation across various HR systems are significant to their clients' business growth. Therefore, it makes sense to a solution provider to prioritize making these seamless integrations available.
What role does Workato play in solving the critical needs of a business?
There are multiple HR systems like recruitment, benefits, payroll, and core HR platforms that customers are required to integrate. Moreover, the nature of the data to be exchanged is often sensitive.
Considering these scenarios, security and performance become a must-have for solution providers. Not to forget, the time to market and scalability factors play a deciding role in the business success of solution providers. But thanks to Workato, its solutions can help businesses accomplish all these goals.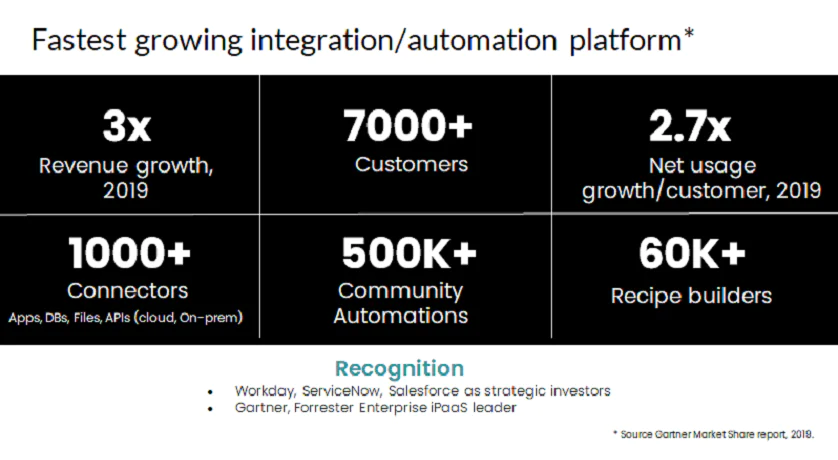 With 1,000+ out-of-the-box connectors and a low-code/no-code platform, Workato is a market-leading integration platform as a service (iPaaS). The next-gen iPaaS offers 500,000+ ready-to-use recipes (sets of instructions that automate complex workflows) for common business processes.
With Workato, solution providers can quickly scale their integration roadmap and enable automation for their customers.
How is Harbinger positioned to partner with Workato?
Harbinger Group, a software services leader, is a Workato Silver Implementation Partner. We bring to the table our 30+ years of rich experience, along with our expertise in HRTech, Learning Tech, HealthTech, and other domains.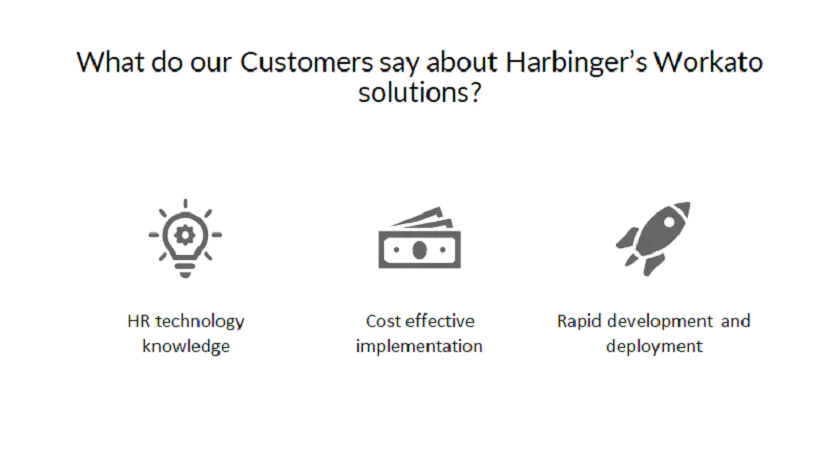 Harbinger teams up with Workato to become an extended part of their team to support their customers. We promise successful Workato implementations for customers in different industry verticals, not just HRTech.
Seema Chaudhary, Head of Global Alliances for Harbinger said, "At Harbinger, enhancing customer value matters to us greatly. Our customers' go-to market strategy very often depends on quick development of multiple integrations and workflow automation."
"By partnering with a market leader like Workato, we can strengthen Harbinger's offering by leveraging ready connectors, thus accelerating our customers' product roadmap and their go-to-market strategy," added Seema.
How can the Harbinger + Workato partnership benefit the ecosystem?
Harbinger's excellence in HRTech and Workato's iPaaS market leadership are a powerful combination that offers a best-of-breed platform and service to HRTech customers. Harbinger's certified Workato developers and Workato architects possess extensive knowledge of the Workato platform. They can get customers up and running with Workato's recipes and custom connectors in quick time.
The Harbinger + Workato partnership allows HRTech customers to accelerate client acquisition with embedded integrations. Furthermore, it positively impacts business outcomes for customers by making data across disparate applications interoperable.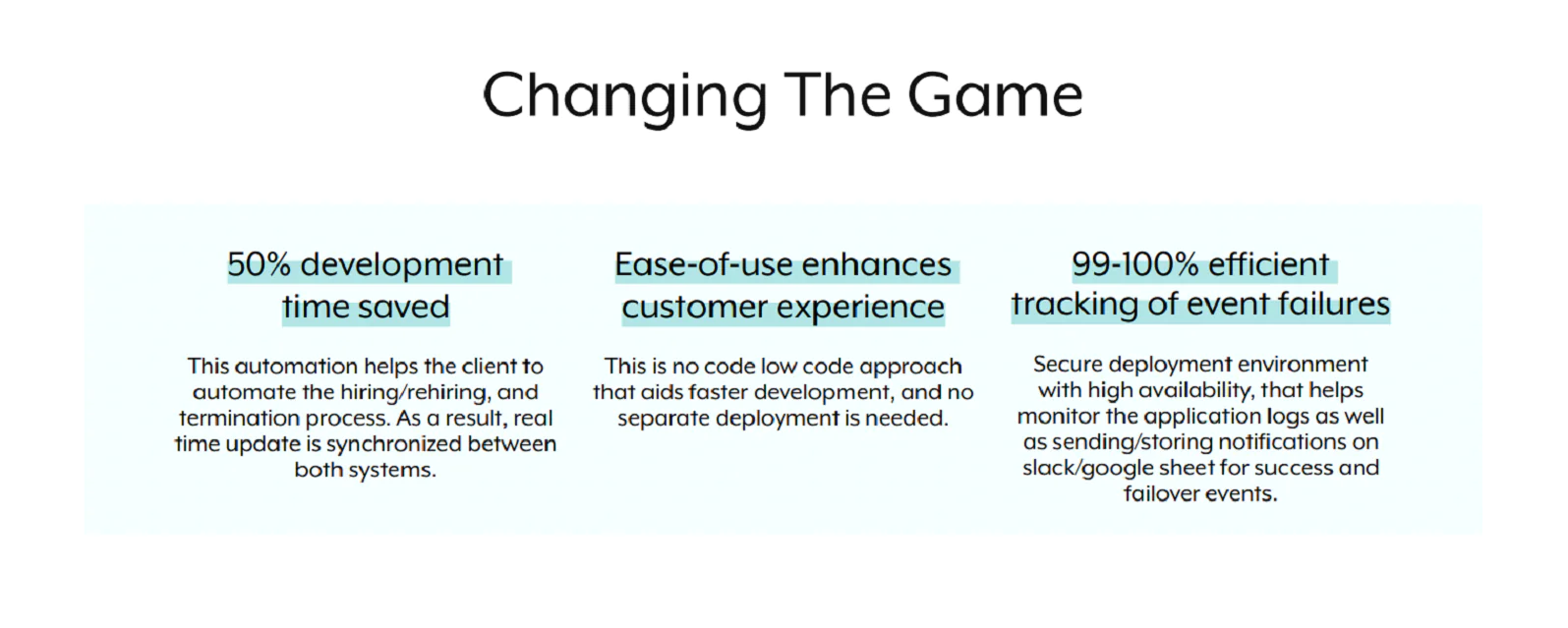 The highlights of the partnership between Harbinger and Workato are:
Why is Workato a great value accelerator?
Workato is hands down a great business enabler. It enables workflow automation and interoperability across complex internal HR systems, allowing enterprises to achieve better business results. Its low-code/no-code platform with several built-in connectors is scalable and easy to deploy.

Workato helps with integrating and automating HR/business workflows between apps, data, and customer-facing or revenue-generating teams. It allows businesses to build integrations at 5X the speed of typical integration platforms. Furthermore, its fully cloud-native architecture that is built for speed and scale largely cuts down overall costs and operational footprint.
How can Harbinger leverage Workato for the benefit of its customers?
Harbinger specializes in providing software product development services to software vendors in multiple industries, including HRTech.
For most software platforms, supporting 'interoperability' across various systems such as human resources information system, customer relationship management, electronic human resources management, and collaboration platforms is a key driver for business growth. In addition, the 'time to market' is often a determining factor when it comes to business growth.
Both the interoperability and time to market factors warrant the need to have an iPaaS solution in place. And what could be a better iPaaS solution than Workato?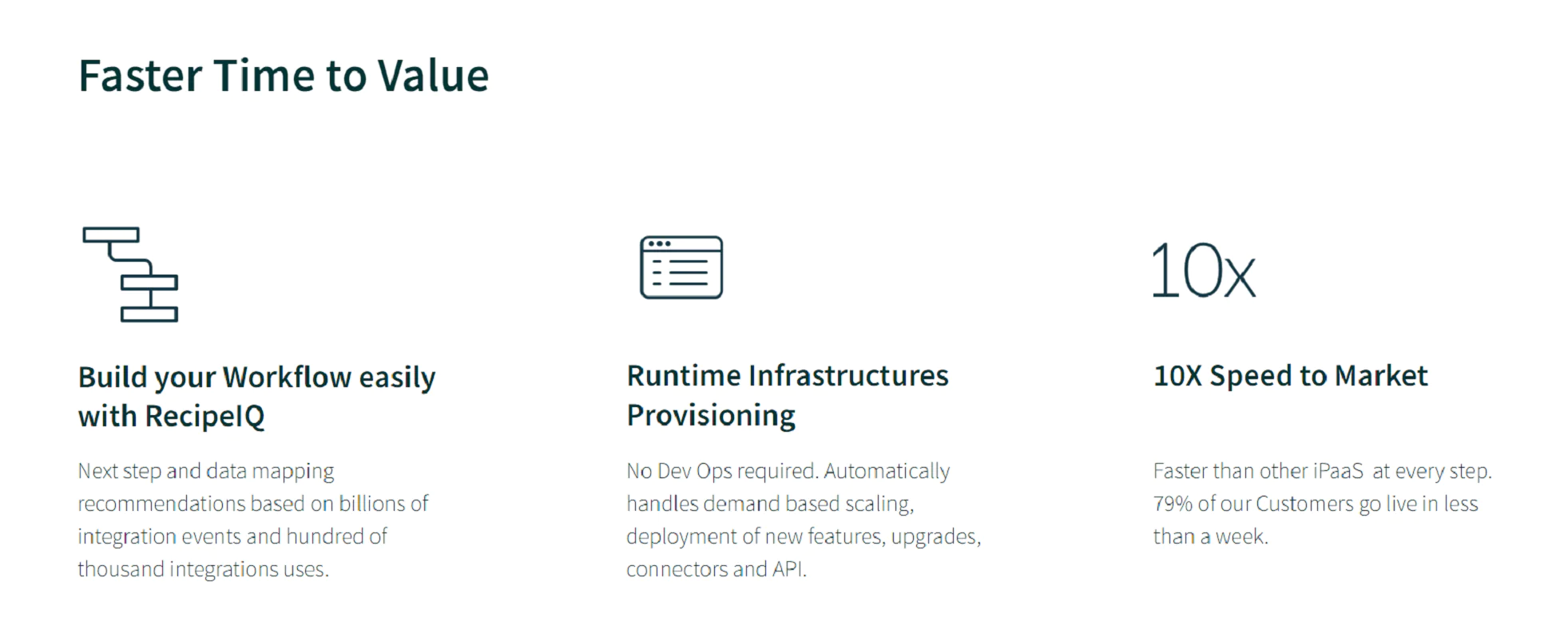 The partnership with Workato allows Harbinger to tap into Workato's modern integration and automation capabilities and extend them to our customers. In 2021, Workato was named a Leader in Magic Quadrant™ Enterprise iPaaS by Gartner for the fourth consecutive year. It's the only iPaaS to receive Perfect rating for ease of Integrating Applications by Forrester.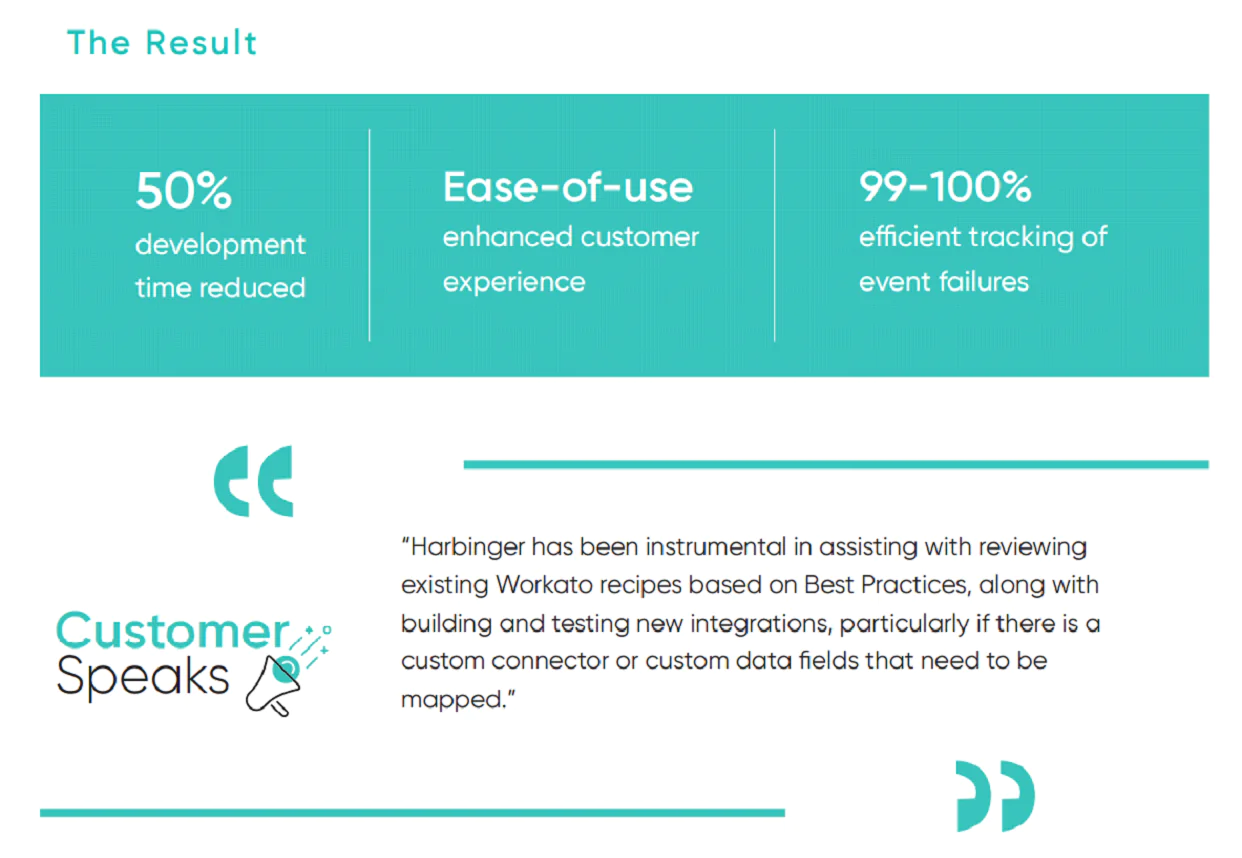 Recently, Harbinger helped a high-volume hourly hiring platform to seamlessly integrate with ADP Vantage using Workato. This allowed the platform to automate the hiring/rehiring and termination processes by synchronizing employee/candidate data in real-time.
There was no additional or separate deployment required. Furthermore, the secure deployment environment helped the client to send/store notifications on Google Sheets/Slack for failover and success events, and to monitor application logs.
So, what are you waiting for? Start integrating and automating with the combined power of Harbinger and Workato. Want to know more? Let's connect.