Future of Learning and Automation for Environmental Health and Safety
Author: Avishek Chakraborty
Posted On Jan 10, 2023 | 5 Mins Read
Environment, Health, and Safety (EHS) are like the three stands of a tripod that supports and maintains the stability of an object placed on it. Industries such as manufacturing and consumer goods on EHS support serve as a wonderful example of this analogy.
It is known that those working in the manufacturing industry are directly exposed to various industrial hazards like:
Accidents due to unsafe conditions and unsafe work practices
Occupational health diseases due to polluted environments
Stress from technology/process change resulting in skill dilution or knowledge gaps
The cost of the workforce lost due to accidents or sickness, the cost of equipment downtime or underutilization due to any of these factors are also not unknown to employers.
According to the International Labor Organization (ILO), 2.3 million men and women across the globe succumb to work-related diseases or accidents each year. This corresponds to 6,000+ deaths each day. Annually, there are some 160 million victims of work-related illnesses and 340 million occupational accidents worldwide.
Hence, it is natural that employers would take certain measures to implement a system for monitoring and controlling these adverse factors. For example, employers would look for their in-house inventory of knowledge or many times, age-old manual techniques which include heavy use of paper/standard operation procedures (SOPs)/rule books.
Considering the digitization of the same, leveraging in-house computer literates would rather be a tall ask. Furthermore, considering that EHS is a multidisciplinary function, professionals come from diverse backgrounds. Such backgrounds majorly lack digital, data, or statistics-intensive skills, such as IT or finance. Hence, the problem statement always remains the same.
Through this blog post, I would like to highlight why it is preferable to go online (i.e., digital) through tailor-made software programmed by professionals in the field, rather than taking a 'do-it-yourself' approach.
Presented below is a compilation of a few major accident-specific case studies as illustrations:
1. The Triangle Shirtwaist Factory Fire | March 25, 1911 (Saturday)
The Triangle Shirtwaist Factory situated in New York City caught fire on the 8th floor packed with cloth and sewing workers. The fire left 146 people dead – charred by flames, suffocated by fumes, or jumped down from windows in panic.
This ghastly workplace accident in the United States redefined the American industrial workforce by giving birth to modern safety regulations. According to shocking revelations from the investigation,
It had been a practice to keep the entry and exit doors closed to prevent workers from sneaking out
Water hoses were dry
Water sprinklers were defunct
The only fire exit was too narrow for the rush
The only elevator's capacity was inadequate to handle evacuation
Had a single factor out of these mentioned been all right, a calamity of such enormous magnitude could have been averted or the severity could have been reduced.
A realization that the 'incidence of any disaster which was avoidable amounts to manmade disaster' formed the basis of 'Industrial Safety' – to which 'Environment' and 'Health' got integrated later and adopted by countries where the process of industrialization was followed.
100 years later…
2. The Tazreen Fashion Factory Fire | November 24, 2012 (Saturday)
The Tazreen Fashion Factory in Dhaka, Bangladesh caught fire on the ground floor warehouse packed with fabric, and flames leaped up to the 9th floor, leaving 117 dead. Revelations from the investigation here too were no different. This tragedy immediately came under the global spotlight because the factory mass-produced T-shirts bearing internationally reputed labels for many big banner retailers.
As a reaction to the fires in garment factories, the European Parliament adopted a resolution on casualty in textile factory fires. The resolution called on governments to effectively implement ILO Core Labor Standards and highlights ILO health and safety conventions, in particular No. 187 and No. 155. The ILO Office strongly welcomed this resolution.
This is just a case in point. Despite this, such incidents take place all over the world.
3. The Lac-Mégantic Train Disaster | July 6, 2013 (Saturday)
A huge freight train containing 72 tanker cars loaded with crude and driven by five engines broke away from the securement applied on it for night parking on an uphill track. It slowly started rolling backward down the slope and finally got derailed on a level crossing while nearing Lac-Mégantic town (Quebec, Canada). The tankers smashed into a chaotic jumble.
Six million gallons of spilled oil formed a 'burning river' sweeping through the sleeping town, consuming 47 people in flames, and destroying most of the buildings. Investigations revealed the reasons behind such a calamity to be pretty simple, like:
Lack of training
Violation of safety norms
Non-adherence to SOPs
Bad repairs, and so on
The human error resulted in the total disaster which was otherwise avoidable if aided by shared knowledge that comes through digitization.
The above case of devastation exemplifies what can happen when computerized information stays compartmentalized in individual sections. Seamless collaborative learning on the job breaks this wall towards always ensuring employee safety standards – even when everyone is sleeping!
Though incidences of industrial accidents are numerous, most of them point out to the fact that accidents do not come without a warning. Taking cues from them, one must take timely actions. It is also said that "only the wearer knows where the shoe pinches."
"An organization needs to make sure that the workplace is safe if they are to stay in the business. An unsafe condition or potential threat that can cause an accident is noticeable to the grassroot-level worker. A smart system that converts their observations to common knowledge is always a good preventive measure."
Accident prevention through a smart system leveraging such actionable insights can also align well to the wise saying – "Prevention is better than cure."
Though benefits derived from digitization have been illustrated in the context of Safety (one leg in the tripod stand analogy), on the same premise, they relate to the other two legs (Environment and Health) as well.
Check out how Harbinger helped a wind turbine manufacturer with the digitization of their classroom-based safety training program. We enabled many business benefits for our client, such as increased outreach of their important safety program for the transport personnel – one of their key business stakeholders and contributors, reduction of logistic and operational costs, and availability of a standardized training program in multiple languages.
Read the success story
Digitalization in Monitoring Industrial Wastewater Management
The purpose of digitally connecting industrial production plants with wastewater treatment plants is demand-oriented, and the dynamic operation of wastewater treatment plants is based on real-time data. This data, together with online measurement data, is used by a digital twin to model the kinetics of wastewater treatment and derive the optimum wastewater treatment operation mode.
Digitalization in Monitoring Industrial Emission (Air Pollution)
The purpose of digitally connecting different sampling and analyzing stations (either using conventional chemical apparatus or IoT-based sensors) is to analyze trends and map the source of air pollutants beyond immediate surroundings. For example the occurrence of acid rain at remote locations from the source and the prevention thereafter.
Digitalization in Monitoring Waste Generation (Soil Contamination)
The purpose is to create a digital platform connecting recyclers, collectors, and waste producers to facilitate traceable material flows and create digital marketplaces. Customers are also enabled for data-driven decision-making and optimization of trash collection routes, frequencies, and vehicle loads as done by operations research techniques.
Digitalization in Monitoring Occupational Health
The purpose of placing occupational health on the digital platform is health surveillance through periodic health checkups, recording, retrieving, and reporting health parameters. This helps with digitally enabling prompt detection of ailments and treatment in the mutual interest of the employer as well as the employee. Remember, a happy and healthy staff is more productive, loyal, and less likely to take time away from work.
Besides, health surveillance can be made mandatory by law, especially for organizations where employees are exposed to occupational hazards like solvents, fumes, dust, vibration, noise, biological agents, and ionizing radiation, giving rise to a host of occupational health diseases.
Considering all the above observations, the panacea for global EHS problems is seamless, collaborative, and effective digital learning. Such learning can be undertaken in any form like instructor-led training (ILT), virtual instructor-led training (vILT), blended learning, nudge-based learning, or gamified learning.
Harbinger: Your Thought Partner
If you need a thought partner to help co-create a new and proven digital transformation and automation strategy to meet all your EHS compliance objectives, Harbinger's learning design and technology consultants are your best bet. Our experts come with over three decades of eLearning product engineering and content services experience and have served 250+ global clients.
Success Story
Here's an interesting case study I would like to share.
Client Profile
Our esteemed client provides biosecurity and biosafety training to local biopharma companies to apply best practices within their organizations
They support an online library to easily access the training courses
Digitization Need
To build a nudge-learning web app for the SOPs and leverage it to reinforce learning for employees of enterprise end customers (B2B)
The web app should send one or more assessment questions as nudges on a periodical basis, along with microlearning content to provide more insights
Provide multilingual support (Spanish and French)
Proposed Solution Summary
Based on the above requirements, Harbinger proposed SprinkleZone (our nudge-learning platform). Further customization of SprinkleZone was proposed to meet the specific requirements of the client.
The nudges were decided to be company specific. We proposed the target system/nudge-learning app to have the capability to randomly select the question for each nudge from the selected topic. We decided to use multiple-choice questions. It was also proposed to provide an assessment and scoring capability at the end of each course.
User-Specific/Functional View (Supporting "n" Level Hierarchy)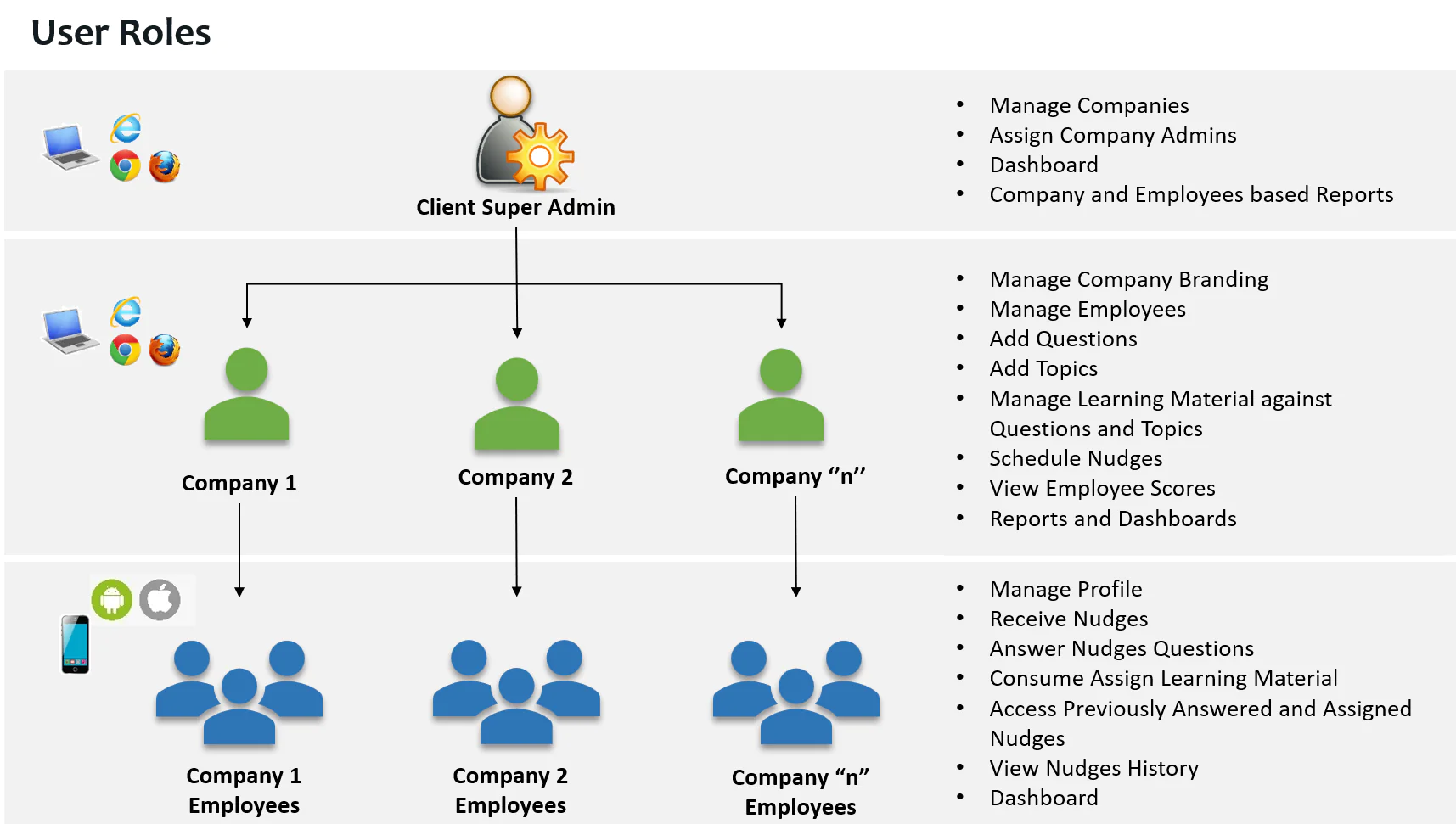 Solution Benefits
Produce significant learning benefits for employees of the companies through quick and everyday nudge assessments, which will be specific to their SOPs
Prevent employees from reading bulky SOPs that can distract them from the content they need not to be engaging with
Periodically nudging employees with reinforcement training material will help:

Drive their own learning
Improve knowledge retention
Increase completion rates
Achieve learning objectives

Holistic compliance in terms of safety and security standards: All the above points will prepare the workforce with continuous reinforcement and learning
A Final Word
It's time for HR and L&D departments of enterprises to start thinking about designing the new learning to handle the ever-growing sustainability needs in terms of EHS and prevention of occupational hazards. While you design and bring this change to your organization, you need a partner that has already done this successfully and can guide you in recommending the most suitable solution.
If you would like to know more about forward-looking and future-ready eLearning practices and tools, or how to develop effective learning solutions, feel free to reach out to us at contact@harbingergroup.com.