Author: Shivam Bansal
Posted On May 05, 2022 | 6 Mins Read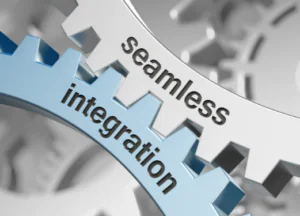 Do you know what the best part of work-life is? Working as a team.
Of course, it's easier said than done. Finding ways to build your brand and valuable network can be difficult, especially in today's hybrid corporate systems. But having access to people you can collaborate with can turn out to be rewarding.
We've experienced this here at Harbinger by building close connections with our embedded iPaaS integration partner, Workato. It has not only brought us business benefits but has also strengthened our offerings.
Before we get into the details of why it is crucial to consider using embedded Integration Platform as a Service (iPaaS) solutions, let us quickly look at what this term entails.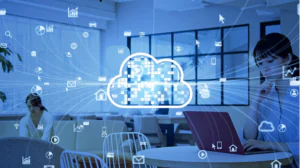 What is iPaaS?
iPaaS provides a set of tools for connecting software applications. iPaaS provides middleware that allows you to develop integration once and then reuse it in various situations.
What is Embedded iPaaS?
While iPaaS allows organizations to solve their internal integration issues, embedded iPaaS is for SaaS vendors who want to offer automation capabilities for integration and workflow into their products.
It is not intended to be used directly by end-users but is seamlessly integrated into third-party products. Embedded iPaaS provides a set of software components, tools, and user interface kits that accelerate integration development, automate workflow, and make integration easier to maintain.
The Business Value of Integration Partnerships
SaaS companies are constantly growing, and software interoperability has become more essential to retain SaaS customers.
For this reason, many SaaS companies are considering integrating embedded iPaaS solutions and looking for iPaaS integration companies who will create integration strategies for them.
Harbinger Systems and Workato recently conducted an HRTech Insights + Whiskey Tasting virtual event, rightly named "TasteTalk." During this webinar, Shrikant Pattathil, President at Harbinger Systems, and Janhavi Padture, Vice President of Strategy & Business Development at Harbinger Systems, shared their:
Ideas about the importance of integration for product companies
Insights on organizational culture, talent retention, management, and data collection
Other vital learnings on embedded iPaaS
As Shrikant mentioned, Harbinger has been helping other product companies build integrations for more than ten years. There are three main aspects that a company needs to keep in mind before opting for an embedded iPaaS integration: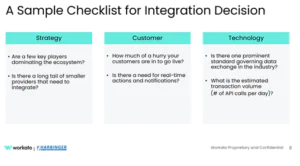 1. Strategy
As a company, you need to consider what business strategy you will be implementing, how many applications you will be integrating in the future as your product gets bigger and which scalable and robust solution will you implement as you don't want to support that via a custom API-based connection.
Let's understand this with an example.
Suppose you provide an emerging learning management system (LMS), and you want adoption in your customer base right when you are launching. You want to integrate with a popular LMS.
At the same time, if you check, there are already 100-200 available LMS.
In such a scenario, you need to look for a scalable integration strategy provider, as that will make your platform much better.
2. Customer
When a sale has already happened, or a platform has already been sold, customers may come back to you with a request that they will opt for the integration only after you are able to complete the integration development. This typically takes 6-12 months, depending upon the requirements. In such a situation, there is a risk of losing the customer.
Furthermore, we excessively hear the terms automation, hyper-automation, and everything happening in real-time.
What companies need here is an iPaaS integration solution so they can communicate the actions in real-time. In fact, some of these solutions are what Harbinger and Workato are trying to bring together with embedded iPaaS.
3. Technology
Integration is not a straightforward process. There isn't a standard governing all applications and tools; it's not just a specific XML format that you can exchange.
There are lot of specific apps and workflow-detailed information you need to trade. It would help if you considered all these things when you come up with an integration plan and what you wish to achieve in the next 6-12 months.
Also, an essential aspect of integration is knowing the consumption volume because if that is now considered upfront, scaling becomes difficult, and your customers may get disappointed.
The Integration Approaches
Typically, there are two types of integration approaches. These depend on the number of integrations you are dealing with, budget, size of the market you are looking to capture, etc. However, at Harbinger, we believe that the future of product-based companies lies in embedded iPaaS if they are focused on providing a scalable solution to their end customers.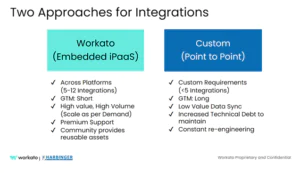 How Harbinger and Workato are Changing the Game Together
"Alone we can do so little; together we can do so much," is how Janhavi described the journey of working with Workato during the TasteTalk session.
Janhavi gave insights into the role of HRTech and the importance of integration. She talked about how Harbinger and Workato are helping product-based companies around the globe in streamlining their recruitment, onboarding, and employee data management process through integration and embedded iPaaS.
Let's read the story of a company that has benefited from the Harbinger + Workato partnership.
The Success Story of Our Customer
About the Customer
The customer is into the recruitment business and runs a recruitment platform that involves faster outsourcing and hiring of employees, especially for industries where high volume hiring takes place, such as restaurant businesses. Given the volume of data that needed to be sent, integrations were critical for their business strategy.
Challenges
Integration with various HRIS and payroll systems
Real-time tracking systems
Data management for hiring, rehiring, and termination
Solution
The customer chose Workato for the connectors to quickly start and reduce engineering spending scalability, to reduce the time to market in terms of data volume and perform onboarding quickly. They then chose Harbinger as their integration partner for their embedded integration platform development.
Result
With immersive experience in the HRTech space, Harbinger helped the customer with:
Recipe building
New integrations based on Workato's best practices
Implementing complex workflows and custom connectors

Wrapping Up
TasteTalk was organized to make organizations aware of the growing importance of embedded iPaaS. The speakers also discussed HRTech trends, integration challenges, the need for embedded iPaaS and the best practices, and growth strategies for B2B SaaS businesses. If you have missed attending the perfectly blended hour of whiskey tasting and HRTech insights, watch the on-demand webinar.
Automation is the only way to ensure operational success in an age of soaring competition and high customer expectations. Integration is an essential element of any automation strategy. Today, embedded iPaaS technology is becoming a critical part of an organization's technology suite and should be considered at the earliest for managing the company's lifecycle.
With the next generation of iPaaS solutions, Harbinger can help you centralize integration and automation on a single platform while reducing the time and resources required to develop and manage those integrations.
If you need more details on embedded iPaaS integration or have any other queries, feel free to connect with our experts at contact@harbingergroup.com.