The New Age of Digital Recruitment
Shilpi Negi
Posted On Aug 12, 2021 | 5 Mins Read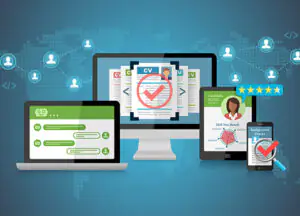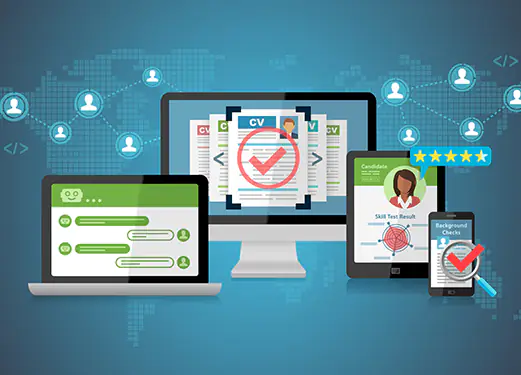 Recruitment is one of the most critical tasks for every HR department. Organizations are always looking for people who have the right blend of technical, functional, business, and behavioral skills while carefully addressing diversity and inclusivity that help them assess whether a candidate is an appropriate fit for their culture. While all these fundamentals have remained the same over the years, recruiting in the remote working era is different – the digitalization of the recruitment process has made it more efficient, accurate, and transparent. Recruitment as a function has evolved into a digital-first HR activity ever since the pandemic began. And as digital recruitments become mainstream, we take a look at some of the important aspects where new-age recruitment tools are creating an impact.
Here's how technology is becoming the key enabler in hiring the right talent:
Use of AI for resume screening
Publishing job requirements on online portals and sourcing resumes online became a regular practice long before the pandemic began. But more and more tools are further being used in the recruitment process after lockdowns began getting enforced. Recruitment platforms like iCIMs, Zoho Recruit, Eightfold, and more are widely used for simplifying the recruitment process. Artificial Intelligence (AI) based tools that leverage Natural Language Processing (NLP) can source and screen candidates, analyze data, support virtual chat, and more. Resume parsers are one of the most popular examples. Some off-the-shelf parsers like RChilli and Affinda are widely used in the market today.
Check out how Harbinger Systems helped a global employment search engine enable faster recruitment by integrating with multiple ATSs to automate candidate matching.
Virtual job interviews and assessments
Virtual interview and assessment technology are imperative for organizations to continue hiring in the current and prospective remote hiring and work environment. Voice-based AI and video interviewing, psychometric testing, and candidate scoring and matching are just a few of the services offered by these technologies to help assist and streamline the interview process.
Conducting tests online for gauging attributes like technical skills, critical reasoning ability, and behavioral aspects are extremely helpful and efficient in screening candidates.
Employers may now keep one step ahead of cheating candidates with virtual proctoring in pre-employment assessments. Virtual proctoring entails supervising digital pre-employment tests through video wherein hiring teams ensure the candidate's authenticity and reliability. Hiring teams can assess if candidates possess the requisite practical skills to succeed in the position they're seeking for. HR professionals can also get a better sense of job candidates' demeanor, temperament, and reactions to test questions, which is often more telling than the answers to the questions themselves.
Social media recruiting
A company's social media presence, especially on platforms like LinkedIn and Twitter, can go a long way in building its perception. Today, it is a powerful way to show what your organization stands for. Social media is not restricted to just marketing anymore – more and more organizations are leveraging social media for tracking and sourcing new hires. Social media recruitment has taken off in recent years and has become a two-way street: the candidates also use social media to run background checks on the organization's culture, read reviews, comments from team members, and so on.
Job aggregators and job boards like LinkedIn, Indeed, Google for Jobs are at the core of the recruiting ecosystem. Many such global brands have embraced social media as their key customer and talent touchpoint as a majority of today's audience lives and breathe social media.
Diversity and inclusion
The importance of diversity and inclusion in hiring cannot possibly be overstated. Organizations must ensure that their hiring decisions are unbiased and provide an equal opportunity to everyone. Hiring people from different backgrounds brings unique perspectives to the table, which is critical in today's competitive world. Multiple research suggests that diverse teams foster innovation and drive significant growth.
Unbiased, diverse recruiting is easier said than done. Technology is playing a key role in this aspect of recruitment as well. Today, many organizations are leveraging Diversity and Inclusivity Tech like artificial intelligence-powered recruiting and selection tools to improve hiring efficiency, accessing a diverse pool of candidates, highlighting bias in job descriptions, uncovering gender-specific language and terms, to help build a diverse and more inclusive, equitable workforce.
Suggested read: Five best practices to exercise diversity, equity, and inclusivity in hiring
Recruitment Analytics
Data Analytics empowers almost every function of an organization, including recruitment. Effective usage of recruitment data can enable an organization to implement a data-driven strategy. See why People Analytics will be the key for a sustainable remote workforce.
Organizations can leverage AI to identify patterns in key metrics such as average time taken to recruit a candidate, average resumes received per position, percentage of selects accepting or rejecting offers, labor market insights such as average salary offered or talent supply in a given location etc. Such recruitment features can help an organization refine its talent acquisition efforts in the right direction, reduce time-to-hire, cost-per-hire, and improve the quality of recruitment.
Remote working is here to stay, and judging by the global trend, remote working will be the new normal. 74% of the organizations plan to permanently shift to a remote working culture in the post-pandemic world, according to a Gartner CFO survey. In such a shift, organizations should leverage technologies to their full extent to ensure that all their business functions continue to evolve and adapt to the digital era. The recruitment process is one of the most critical external touchpoints for an organization, and leveraging the right technologies will enable them to gain a competitive advantage in the market and future-proof their workforce for any challenges.