The Internet of Things- Applications in eLearning– Join us for the Speaker Session at Devlearn 2014 Conference
Author: Marketing Desk
Posted On Aug 20, 2014 | 2 Mins Read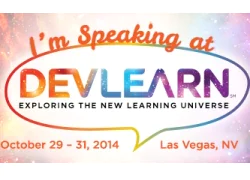 We are pleased to announce the details of our speaker session at Devlearn 2014 Conference & Expo being held at Las Vegas from October 29th -31st ,2014.
Harbinger Systems Speaker Session Title: The Internet of Things—Applications in eLearning
The Internet of Things (IoT) is expected to touch and transform every facet of our lives. From industry automation and automobile connectivity to wearable devices and smart-home appliances, it will make our way of living more enriching. Learning too will undergo many changes as a part of this evolution, though it is likely to be a bumpy road getting there.
In this session, you will explore how the Internet of Things can impact the world of eLearning. The focus will be on specific examples of how IoT can enrich interactive learning, game-based learning, and on-demand learning to improve the overall learning experience. You will examine industry trends on how learning is evolving from the traditional formats to a more social and collaborative culture, and how IoT supports this evolution. The session will bring to light many use cases that will show where IoT fits in the current learning and performance paradigm, and how it will influence our field in the future.
In this session, you will learn:
How Internet of Things key concepts apply in the context of eLearning
How one needs to approach eLearning content creation differently in an IoT environment
How one can make their content ready for IoT devices
How IoT is applicable in eLearning
Though there is a long road for IoT and eLearning to cover together, one thing is for sure, it is going to be amazing. Join us for the session on Thursday, October 30th, 2014 from 10:30am -11:30am and also visit us at our Booth #434. Harbinger is the speaker and exhibitor at DevLearn 2014- the cutting edge training and learning event in North America. We look forward to meet you.