Map-driven Learning in Enterprise Systems (DevLearn 2013- Speaker Session Presentation)
Marketing Desk
Posted On Nov 08, 2013 | 2 Mins Read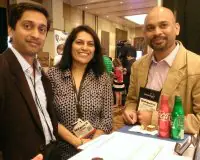 Recently, Harbinger presented a session at DevLearn 2013, an eLearning Guild conference. DevLearn was indeed an unprecedented learning experience for professionals in the eLearning domain. Persuasive technologies, compelling eLearning solutions, mind boggling ideas and next-generation strategies, you name it and it was all there. A big thank you to e-Learning Guild for hosting an excellent event. It was truly a remarkable conference.
In our speaker session, we talked about 'Map-driven Learning in Enterprise Systems'. As mentioned in one of our earlier blog post, the traditional methods of eLearning have their own advantages and limitations. In this presentation, we raised the curtain to the design solutions that can help simplify the overall content presentation of the learning knowledge base.
How graph structures can help in knowledge modeling? – they are visualized as a map with connected nodes which are revealed further at different zoom levels of the map. This model enables learner to view entire relationships of topics with other content topics. It also brings in more granular details in the context or help find bigger abstract view of the topic.
In the 45 minutes session, Shrikant Pattathil, EVP Harbinger Systems and Umesh Kanade, GM-Technology Solutions talked about these aspects and the application of these methods for better learner engagement through personalization and adaptive learning techniques.
The key takeaways from this session were:
Challenges with a large enterprise having multiple learning platforms
A map-based learning model
About personalized learning paths
Technologies supporting a map-driven learning model
Here is the slide deck of the speaker presentation. Hope you find it useful. We look forward to interact with you on similar interests.