Author: Marketing Desk
Posted On Mar 04, 2014 | 2 Mins Read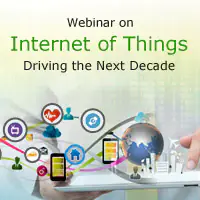 IDC estimates predict Internet of Things (IoT) market to grow to $8.9 trillion with over 212 billion connected things by 2020. With Internet of Things we are talking about internet enabled- connected, smart devices that can network and communicate with each other to manage our world intelligently.
The 'things' under IoT have embedded intelligence with the ability to collect, analyze data and share it via machine to machine (M2M) or in real-time with cloud-based solutions to provide new innovation in business and consumer services/applications like business process automation, home automation, medical device functionality, data center automation, security, building automation and the list goes on. In other words, combining hardware, software, technology mash-ups (mobile, cloud, WSN, analytics), robotics and much more, to improve the quality of our lives.
Harbinger Systems hosted a Webinar on "Internet of Things- Driving the Next Decade" on Thursday, March 13, 2014.This webinar explored the significance of IoT, its early adopters. Also discussed was the role of software companies in this emerging infrastructure along with a case study of an IoT application
Key Takeaways:
What is IoT? Why is it significant?
Which market segments will be early adopters of IoT products/services?
What IoT holds for software services companies?
Who is providing leadership and governance of the IoT specification(s)?
What significant impacts will IoT have on cloud computing, big data and analytics?
What are the new solutions and businesses under development as a result of IoT?
Thank you for the great response to this special webinar!