Author: Marketing Desk
Posted On Nov 20, 2013 | 1 Mins Read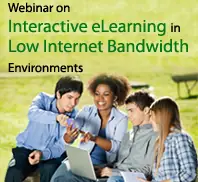 For eLearning to be possible or effective, it is critical to have continuous connectivity (either through intranet or internet) between the learner's device and the learning management system (LMS). However, there are many situations where network connectivity is either unavailable or intermittent and which disrupts the learning process.
Harbinger Systems hosted a Webinar on "Interactive eLearning in Low Internet Bandwidth Environments" on 11th December 2013. This webinar covered a solution that enables organizations to overcome issue of continuous learning in low internet connectivity/offline mode and offer anytime anywhere access to eLearning content to their students and employees.
Key Takeaways:
Challenges organizations face in achieving their eLearning goals
Key considerations and solution concept to overcome these challenges
A plausible architectural implementation of the solution concept
Overview about Harbinger's Offline Player Solution – its key features, benefits and specific implementations
Thank you for the great response to this special webinar!