Author: Marketing Desk
Posted On Aug 12, 2021 | 4 Mins Read
The eLearning industry deserves praise for the way it has evolved during the pandemic. Most of the stakeholders from the industry made the shift to remote learning look seamless. While eLearning was a growing trend in the education sector way before the COVID-19 threat began, the pandemic was the true catalyst for its rapid and widespread adoption. Between 2020 and 2024, the eLearning market could grow by $21 bn at a CAGR of 12%, according to this report by Technavio.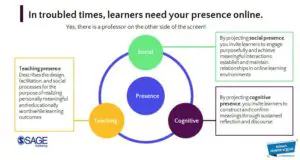 In a traditional learning environment (TLE), learners have been accustomed to a physical learning environment that facilitated closer interaction with teachers, personal rapport building, and socializing with fellow students. But digitization changed the operating ecosystem to a large extent into an online learning environment (OLE). While online education brings great flexibility and enables self-paced learning, many providers have faced challenges related to student engagement and course completion rates. The breakthrough in improved learning outcomes and student engagement is today being driven by the integration of human interactions empowered with technology tools, to allow for more interactive and personalized instruction leading to Social & Innovative Learning Environment (SLE).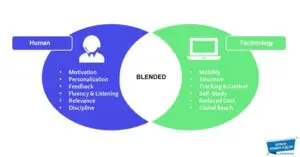 Harbinger recently conducted a Power Hour session where we invited industry experts to share their insights on what edtech companies are doing to embed the Human element in e-learning.
Humanizing eLearning
In the Power Hour session, Lance Huang, Education Lead at Agora, shared how Agora is leveraging human interaction to add value to the eLearning experience through their evolved platform. Agora provides online breakout rooms, live chat features, live streaming, and 1-1 channel messaging that enables and enhances real-time engagement between learners and educators. The platform also provides a virtual whiteboard for sharing notes and collaborating in real-time along with data analytics to provide a comprehensive eLearning experience to the learners.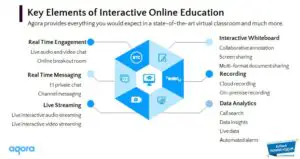 Digital technologies have shrunk the world and provided us with better connectivity and accessibility. Joon Beh, CEO and Co-founder of Hallo shared how the team is revolutionizing learning languages online through human interactions. By interacting with an expert, students can learn new languages much faster. This insight has helped Hallo significantly boost their learner engagement compared to other language teaching platforms, Joon believes.
Approaches to embed human interactions
For educators to truly humanize every aspect of eLearning, they need to embed human interactions in the three key pillars of learning. In the Power Hour session, experts addressed how the three key pillars of learning, viz. The Lesson, The Assessment, and The Assignment can be humanized. This includes powering through various capabilities like online breakout rooms, interactive and collaborative whiteboards, gamification, audio-video calls, and so on.
| The Lesson | The Assessment | The Assignment |
| --- | --- | --- |
| ● Adopt project-based learning | ● Periodically conduct formative assessments | ● Ask students to submit video assignments |
| ● Leverage online breakout rooms and interactive whiteboards | ● Introduce healthy competition, gamified activities, and flashcards powered by audio/ video calls | ● Video assignments not only ensure original work but also allow educators to pinpoint areas of confusion |
It is amply clear that human interaction adds excellent value to the eLearning experience. Synchronized learning enables educators to create a community where teachers and peers support learners, provide personalized learning, foster social-emotional skills development, and create an immersive learning experience. It also adds commercial value to the market players by adding new revenue streams, unlocking new business models, reducing churn by enhancing the learning experience, and increasing the customer lifetime value.
As more and more educators embrace eLearning, humanizing the learning experience becomes an imperative for greater impact, enhanced engagement and better course completion rates.
Learn more about humanizing eLearning and get insights from industry experts in our Power Hour session, now available on-demand.

The Secret Ingredient to Online Learning Success: Human Interaction