Author: Minal Ghorpade
Posted On Feb 09, 2023 | 5 Mins Read
Enabling and providing employees with the right platform and resources to adapt and upskill in a rapidly changing world of work are going to be one of the most crucial challenges for L&D of our times.
Emerging technologies and innovation can lead to a dramatic change in the roles and responsibilities of a workforce, along with their skillset. The rate at which technology is disrupting the way we learn and work makes it essential for businesses to identify the future skills of their workforce and make them ready for future work.
The irony is skills that were relevant in the past might not be relevant in the next five months and undoubtedly not in the next five years. Given the pace of innovation and transforming nature of skills and competencies, it has become inevitable for businesses to skill their workforce rapidly and at scale.
Furthermore, skilling the workforce helps maintain their relevancy in a skills-based economy and ultimately gain an edge over the competition.
"According to the World Economic Forum, 85 million jobs may be displaced by machines by 2025. However, there may be emergence of 97 million new roles that are more adapted to the new division of labor between machines, algorithms, and humans."
Skilling challenges across the world are complex and demand an innovative and sustainable approach. The need to incessantly refresh skills and the idea to stay relevant for the future of work top the charts for everyone, right from the CEO of a company to the trainee. 
Harbinger recently hosted a Power Hour on "How to Design Scalable Solutions for Workforce Skilling." The interactive roundtable discussion was hosted by Dr. Vikas Joshi, CEO & Founder, Harbinger Group. The panelists included Cleon Wellington, Enterprise L&D Professional; Savitha Nair, Head of Customer Onboarding, Adobe; and Umesh Kanade, Vice President, Harbinger Group.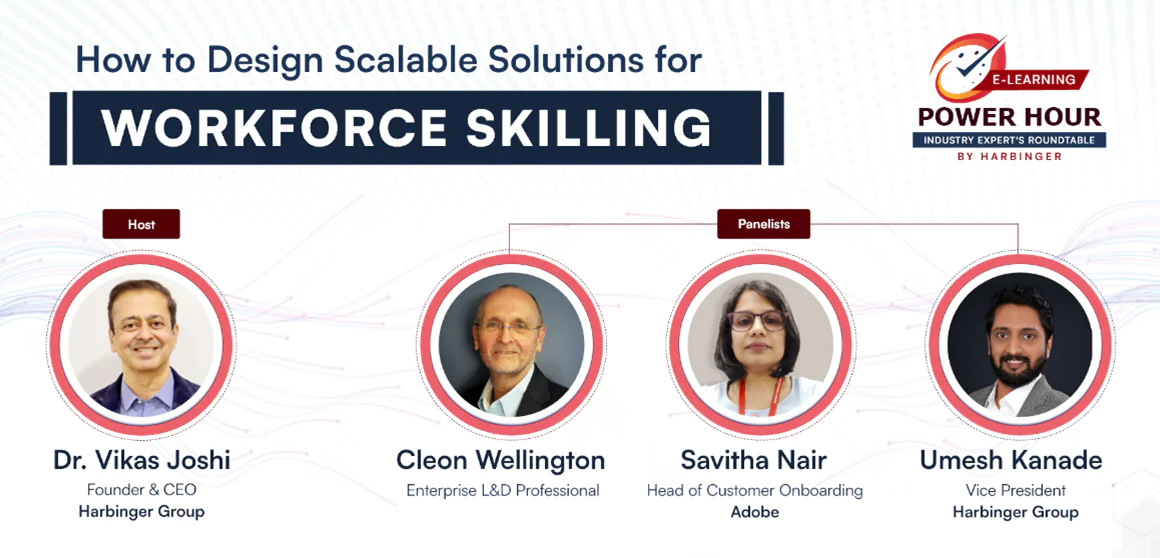 Our expert panelists touched upon the following key topics: 
Why workforce skilling is front and center

 

Unique challenges in skilling – Stories from experts 

 

Skilling at scale – What is different?

 

Framework for designing skilling programs at scale

 
Importance of Skill Development in Building a Future-Ready Workforce 
Modern technology is growing exponentially, with innovation and newer advancements coming up every day that disrupt routine work practices. 
Constant changes and continuous process improvement backed with innovation are compelling businesses to make the shift and adapt to new business models. On the contrary, this has created skill gaps, as the skills offered by the workforce fail to match the mold of roles and requirements needed by the employer. 
With continuous developments in AI, ML, and automation, HR leaders are focusing on a distinct talent ecosystem. The strategy of continuous learning and skilling the workforce at scale is one of the most recommended ones to close the skills gap. 
In addition to tech skills, it is equally important for employers to pay close attention to skilling employees with interpersonal skills or skills of the future which include: 
Complex problem solving

 

Creativity

 

Critical thinking

 

Emotional intelligence

 

Negotiation

 

Cognitive flexibility

 
On the broader front, solving the skills gap challenge, given the changing nature of the work landscape, is of utmost importance. It's time that L&D function of businesses take closer look at ways to reskill, upskill, or cross-skill their workforce to drive business resilience and at the same time, safeguard the interest and develop the careers of their workforce.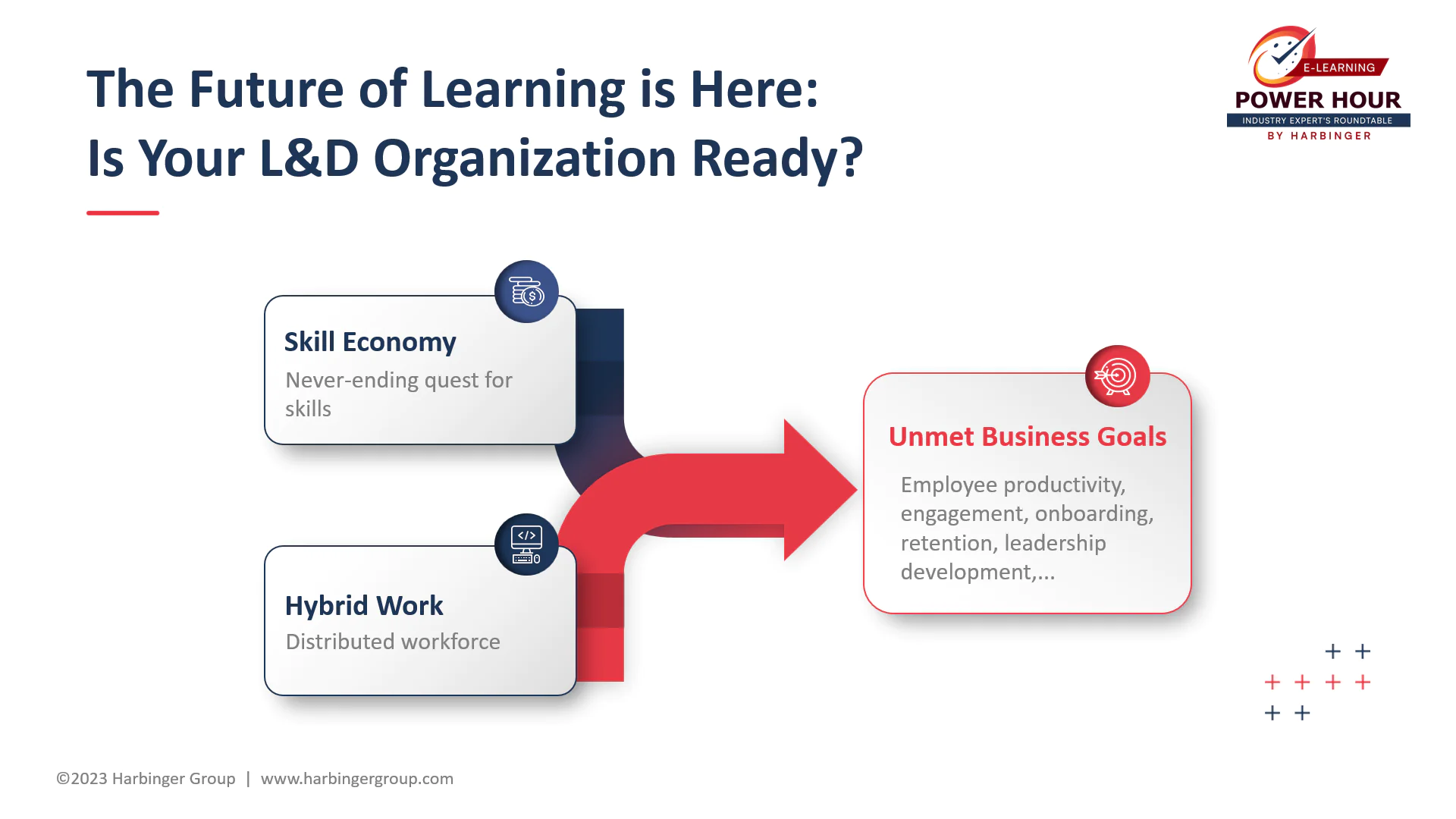 Two Distinctive Shifts in Today's Work Ecosystem 
The fact that the future of learning is here is undeniable. And there are two significant shifts that characterize today's work. 
Number one is the skill economy. There is a need and never-ending quest for new skills. Technology is developing a large amount of work and tasks are getting automated and being replaced by other kinds of work. The other major shift is hybrid work. People want to work from wherever, which births a distributed workforce and demands a skill building program that supports people's desire to be at different places. 
With these two trends, businesses are left with unmet business goals, and one of them boils down to skill building. 
Building Blocks to Designing Scalable Solutions for Workforce Skilling 
Monster's annual global survey showed that despite a strong hiring outlook, employers' top challenge remains, finding candidates with the right skills. Therefore, in order to lead the skilling revolution, companies need to focus on delivering scalable workforce skilling solutions. 
Time and again businesses have come across numerous skill development programs that started off really well but were not able to scale or expand beyond a region. 
Consider the need to skill not hundreds but thousands and tens of thousands of learners including employees, the extended enterprise, franchisees, or customers. In such a case, businesses need to have a skilling program that is robust, sustainable, and easily scalable. 
Let's hear what industry experts have to say. 
How is a skilling program design different from other training programs? 
Cleon: Coming from an enterprise L&D background, Cleon finds this question interesting. He believes traditional training is passive, and skilling is more active. So, it really depends on one's definition of training. 
If you see training as information transfer, then it's very different from skilling. In short, training as just information transfer is communication. On the other hand, skilling can be defined as the outcome of effective training. 
So, training needs to include the application, knowing what to do, learning and practicing skills, receiving feedback, and being able to apply them in the real work situation.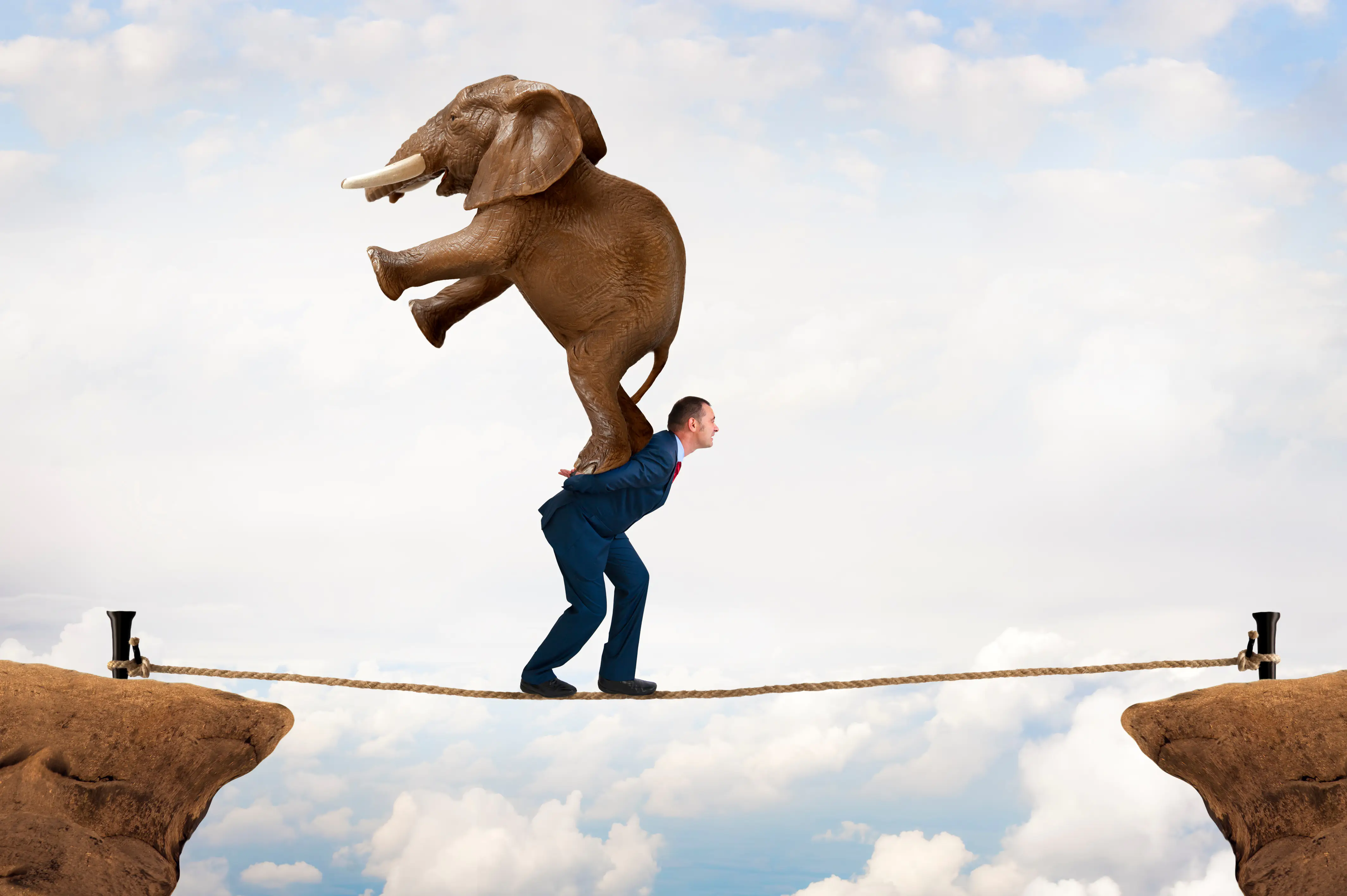 What challenges did you face while implementing a skilling program at scale? 
Savitha: Savitha strongly believes one of the challenges here is that a skilling program is not necessarily a one size fits all solution. Businesses need to think about how many people they need to hire, how many do they need to cross-skill or upskill, how many they need to let go, and several other aspects. 
So, there is an entire ecosystem that needs to be built around this. The primary challenge here would be that even if people are doing the same job, they might not be at the same capability levels. One training program can't bring everybody to the level they need to operate at. 
There are other challenges like categorization that Savitha shed light on in our interesting webinar. 
Focusing on the Themes of Future of Learning 
Umesh brought in his expertise at play in our webinar and shared insights on a Future of Learning framework that can help businesses build a more structured and scalable skilling solution. He spoke about how the Future of Learning framework helps address skilling challenges in a more holistic way by combining both content and technology strategies. 
End Note
When we talk about skilling a workforce at scale, one of the challenges is to build content rapidly and at same time, keep track of the learner's changing needs. There are several other challenges that businesses need to tackle to build a robust and scalable workforce skilling solution.
If you are looking to tackle such challenges or if designing a scalable workforce skilling program is on your priority list, write to us at contact@harbingergroup.com.