How LXP is being adopted by the learning market
Author: Chaitali Acharya
Posted On Dec 27, 2018 | 4 min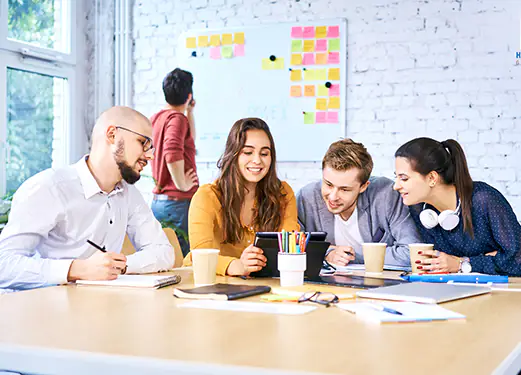 The learning industry has undergone various changes in the last few years. Today the learners want their learning experience to be motivating, millennial oriented, engaging, in the reach of their finger-tips, with a better user interface and intuitive suggestions. The traditional LMS falls short in delivering such experience. According to INC42, traditional LMS is not suitable for 21st-century learning. That explains the shift of the learning market towards the Learning Experience Platforms (LXP/LEP), which deliver personalized learning experience to the learner.
With engaging features like better user experience and analytical abilities, notepad or note-taking skills, LXP has created a good response in the corporate learning segment. According to HR Tech Central, the LMS market accounts to $5 billion in size and grows by 3-4% per year and the LXP market is much smaller (around $200-250M) , but it is growing at 200%. LXPs have different features, but the ones that are gaining more importance in the learning sector are:
Netflix style user experience design
AI -based recommendations for courses
Gamification with points and badges
Microlearning- oriented course structure
Predictive analytics to gain insights on employee learning behavior
Integrations with collaboration tools, file sharing systems, and document creation platforms
To stay competitive in the learning market the LMS vendors have begun to adopt LXP like features. Various LMS vendors such as Docebo, Saba, CornerstoneOnDemand have added LXP features such as engaging user experience, machine learning based search functionality, personalized micro-learning experience and so on. Most of the LMS systems that were restricted to the desktop-only approach, have shifted to the multi-platform approach. Most of them also include the course rating and feedback mechanism.
When it comes to having a wide growth in the LearnTech market, the learning experience platforms are leaving no stones unturned. Be it acquisitions, mergers or fund-raising, the LXPs are doing every bit of it. Start-ups such as Curatr are gaining good response for their innovative offerings. The Valamis LXP has created some buzz as NextGen learning system. It has analytical capabilities that help in understanding and establishing a connection between corporate learning and business goals. Learning experience platform Degreed has acquired Pathgather. This acquisition brings 200 clients, over 4 million licensed users and nearly $100 million in funding. Another LXP, Fuse Universal raised 20 million dollars in May 2018 to expand its learning system with machine learning and AR. To be at the forefront, the LXP EdCast, acquired two companies Sociative, a machine-learning company and, Seattle-based Sales University. Also, to add to the growth, EdCast introduced GuideMe, a digital enablement tool for online performance support systems. Every major LXP is now looking, how it can utilize technology, improve learning capabilities, and grow in LearnTech.
Today the needs of the learners are a major priority. Since LMS has been here long enough, the questions are primarily for LXP. The debate over here is whether LXP is just a hype, a blooming buzzword or simply an extension of LMS. To add to the heat, there is the introduction of terms such as NextGen learning systems. Some say LXPs are the NextGen Learning Systems and for some, to be the NextGen systems you need to be more than the LXPs. Right now, it is really interesting to see how some LXP-like features and the complete LXP suite have had their separate adoptions.
By making the learner's need a priority, LXPs have clearly made a mark in the learning industry. With all the ongoing technological innovations, it would be interesting to see what LXPs can bring more to the table, what say?