How Can HR Chatbots Enhance Employee Experience and Productivity?
Author: Shivam Bansal
Posted On Jun 17, 2022 | 5 min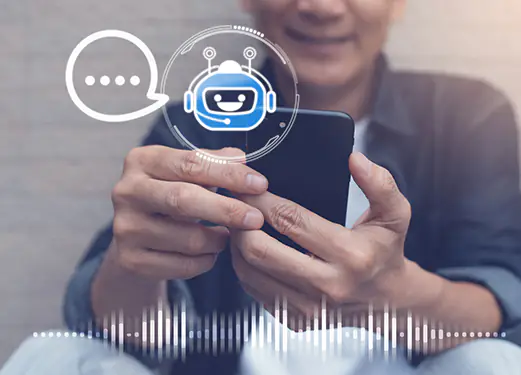 Employee interactions change as per socio-economic happenings around the world. Today's business practices may be irrelevant after a few years, months, or days. For example, some employees could see face-to-face conversations as the most effective way to communicate, while others could be more interested in digital tools like employee engagement chatbot. Therefore, forward-thinking leaders and managers must keep an eye on the latest engagement trends in the corporate world.
Moreover, during the COVID-19 period, remote operations have led to new challenges for decision-makers and HR professionals. Traditional employee engagement tactics, such as a simple two-way communication, conservative employee reward programs, and rigorous classroom training, no longer work in today's competitive corporate landscape.
Also, it's impossible for HR managers to answer every question asked by employees and stay available 24/7 to answer those questions. And, if employees depend on HR managers for every query, it will hinder the overall efficiency of the HR department.
However, with the use of HR chatbots, employees can ask their queries anytime, get insant responses, and take further actions. HR chatbots can be the best choice for both, i.e. employee and employers and to solve their engagement problems.
This blog explores how HR chatbots can help improve employee engagement and productivity. To understand this, we need to be aware of what an HR chatbot is. Let's take a look at it first.
What are HR Chatbots?
An HR chatbot is a virtual assistant that imitates human interaction with employees to automate end-to-end tasks such as candidate screening, interview schedulingresolving employee queries, and collecting employee feedback.
As a conversational interface, an HR chatbot uses AI and ML to support HR in their daily work process. It also uses AI to read and process conversation data and respond appropriately to the sender.
With remote work, relying on email or live messages can sometimes take a while to resolve issues, especially if they are about projects, awards, or team events. Conversational AI for HR can automate processes such as recruitment and onboarding, performance management, and employee satisfaction.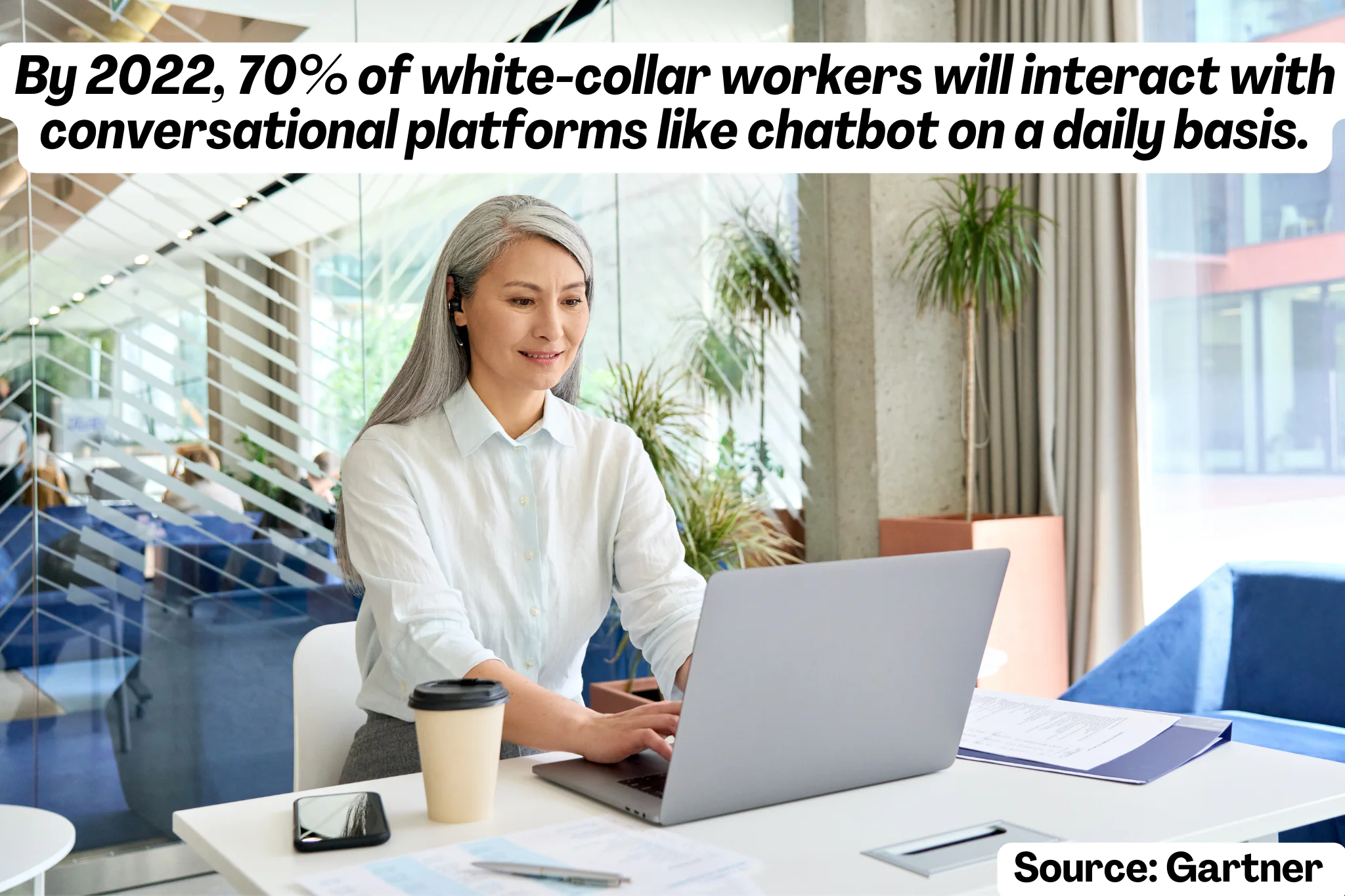 Chatbots for Employee Engagement in the Workplace
1. Conversational AI in HR helps with talent retention
Employees have a lower chance of finding a job elsewhere for at least one year. These are the employees who will stay and work with you for a long time. These are also employees who will be more loyal to the organization and invest more efforts in their work.
Conversational AI is here to stay and can be reactive and proactive across the whole employee lifecycle, from the recruitment process to internal communication, performance management, and more. Every informaiton can be connected to chatbots, where employees can connect and give feedback about any particular project and also ask queries. This leads to transparency in the process.
2. Enhances company culture
Satisfied and happy employees foster a positive work culture and can easily convey their spirit to every coworker or subordinate who interacts with them. This creates a positive and enthusiastic work culture that encourages employees and creates a chain of happiness.
HR chatbots can create efficiencies by streamlining the existing process. This saves time and effort, and employees feel more valued as they can spend their time on completing more meaningful tasks. Furthermore, simple tasks like password resets, email server issues, and other IT hurdles can be sorted by deploying a chatbot. A chatbot can cover all basic issues, and in case of complexity, it can escalate the issue to an actual IT team member.
3. Leads to individual and organizational success
"Engagement is, at best, a symptom of success."
– Ann Latham, a strategic clarity expert and author of THE POWER OF CLARITY: Unleash the True Potential of Workplace Productivity, Confidence, and Empowerment
Engaged employees develop a better work culture and are happier coworkers. More importantly, they use their time consciously in activities that add value to the organization. They understand that their success is directly linked to the company, and their efforts are recognized every time they are successful. Employee engagement chatbots can improve the experience of such employees with the company to take on responsibilities proactively.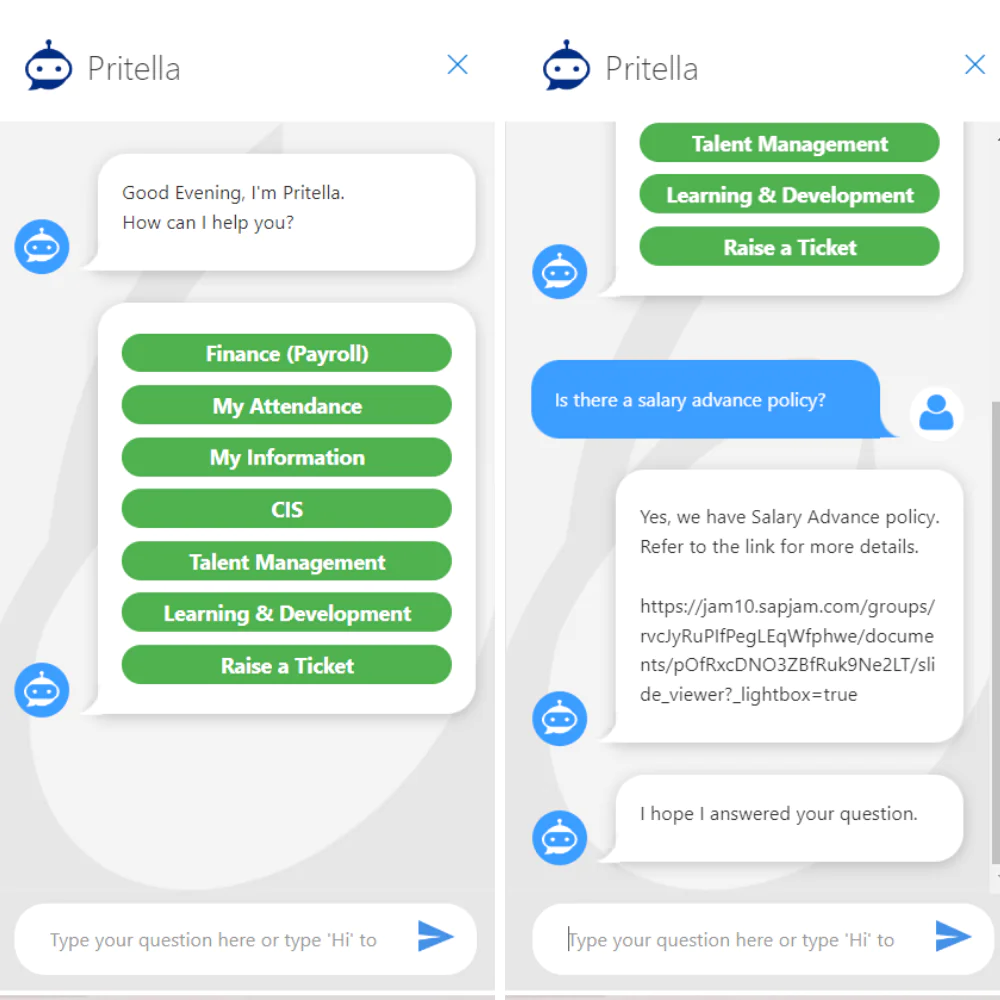 4. Serves as a knowledge base
Since HR often has to answer employee questions, HR chatbots can become a consolidated point of interaction that employees need. The interaction could be about the organization, the benefits offered to employees, or any other topic. HR chatbots can manage HR data efficiently, have a knowledge base that can be updated regularly with the latest information, and facilitate access to information in a simple format.
HR chatbots can be very effective in efficiently answering regular employee inquiries without any intervention from the HR department.
5. Helps with new hires
One of the most challenging and complex tasks for HR is recruiting and onboarding new candidates. HR chatbots can automate this process and ensure a smooth onboarding experience.
With chatbots, HR professionals can focus on the human part of onboarding while the bot handles mechanical onboarding procedures such as signing contracts, sending videos related to company culture, and assigning teams.
6. Collects feedback and assists teams
Gathering feedback is essential because it helps see if the organization successfully meets employee expectations. Gathering feedback at every stage of the employee lifecycle can give organizations much information to work on.
An employee engagement chatbot can analyze the collected data and send detailed reports to the senior management for consideration, thus helping HR teams understand what is causing the disconnection and what is working.
Harbinger developed a feature-rich chatbot for a continuous performance management platform. The chatbot helped significantly boost employee engagement, increase platform usage by 30%, and improve user experience.
7. Conducts work-from-home surveys
Remote working conditions have made life easier for some and more complex for others. One of the things that have become difficult is ensuring employee commitment and keeping track of it. This is where a chatbot for employee productivity and surveys comes into the picture.
HR chatbots can conduct these surveys independently in the form of a simple Q&A session. A chatbot can initiate satisfaction surveys at various interaction points or conversations and make them ideal for measuring employee sentiments.
8. Helps with employer branding
HR chatbots can facilitate hiring and related processes, create a positive experience for new employees, and make them your brand ambassador. They can help simplify the hiring and onboarding process, reduce costs per appointment, and make sure you spend less time finding the perfect candidate.
5 Ways HR Chatbots Can Improve Productivity
HR chatbots have the potential to influence the following critical areas of HR functions:
Decrease recruitment costs and time to hire
Collect employee feedback
Automate the onboarding and offboarding processes
Improve the onboarding experience
Making employee training process effective
Why Automate When We Have the Person?
A good HR chatbot is more than a simple Q&A bot. The real value of HR chatbots is that they can automate repetitive tasks and workflows based on understanding employee intent.
So, if an employee sends a request to Slack or Microsoft Teams to request a PTO credit or time off, the chatbot can trigger the workflow to work on the task and reach the appropriate line manager for PTO approval.
This eliminates significant friction with an employee who has previously logged into different application portals available to them or emailed HR. It also reduces the pressure on HR professionals to respond to regular requests that can be handled by digital assistants easily, allowing them to focus on higher-value tasks.
Here's what happens when HR personnel and HR chatbots work together to improve employee engagement:
Self-service and automated human resource functions reduce administrative costs
HR chatbots increase HR visibility to 24X7
HR chatbots enable natural and frictionless conversations, with an option of human intervention when needed
Improved access to all information related to HR and makes it readily available
Frequent and active communication, which increases employee engagement
Employee engagement across multiple channels, whether it's on messaging apps, a website, or a mobile app
HR chatbots reduce the chances of human error and save time
HR Chatbots – Myths vs. Reality
Although many forward-thinking organizations have already adopted AI-enabled chatbots, some are reluctant to make changes due to the following misconceptions:
Myths
Chatbots will replace human workers
Chatbots do not understand the context
Chatbots lack empathy
Chatbots are an expensive tool
Reality
The reality, on the other hand, is that AI-enabled chatbots work with humans by automating regular and repetitive tasks that take up productive, working hours. Therefore, conversational bots will never replace humans. Instead, they complement each other.
HR chatbots are powered by technologies like AI and NLP and recognize emotions as organically as humans. They can handle user intent and provide customized contextual responses accordingly.
Conclusion
The 21st century is full of innovations. To stay up to date in the current era, organizations need to improve existing processes and create new ones constantly. Deploying HR chatbots is a step towards this.HR chatbot helps create an environment in which employees know whom to approach in case of problems. No wonder, the more employees feel safe and listened to, the more engaged and loyal they are.
Harbinger can help organizations with all their HR chatbot needs. You can connect with our HRTech experts at contact@harbingergroup.com to get answers to any of your questions on this topic.