Author: Steven Chopade
Posted On Feb 11, 2022 | 9 Mins Read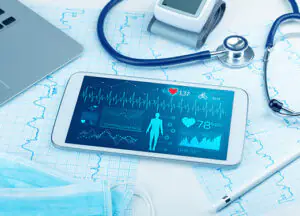 The healthcare technology trends for 2022 have been on everybody's mind in the healthcare industry, even before the beginning of the new year. And why not? HealthTech is critical to driving healthcare development and improving care delivery. The future of healthcare technology is likely to become brighter with more breakthrough innovations and discoveries taking place.
The stage is all set for HealthTech businesses to create a frictionless collaboration and reduce the gap between patients and providers in 2022. In this blog post, we are going to learn about the top HealthTech trends for 2022 through the valuable insights shared by two industry veterans.
Recently, Harbinger's Senior Vice President, Prashant Khambekar was interviewed on the "Diverse Conversations Podcast" by Dr. Aska Patel, a pharmacist and board member for The Society for Canadian Women in Science and Technology. Prashant, a Senior Healthcare Technologist, featured in the first episode of The Future of Pharmacy series, where he shared expert opinions on the future of healthcare innovation.
Prashant has over 20 years of rich experience in engineering, management, and business development of software products. He is a leader of new initiatives like blockchain including Ethereum and Hyperledger, IoT, and data science. He has built up a blockchain team from scratch and does blockchain engineering for multiple US and UK customers. He likes to confabulate about blockchain for healthcare, blockchain for HR, and blockchain for supply chain.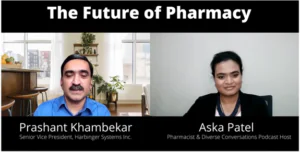 Here's one of the questions that Prashant answered in the interview with Aska.
What are the HealthTech trends that we should be watching out for moving forward?
Prashant: You mentioned the COVID-19 pandemic. Well, telehealth has really taken off, and it is going to be a big trend moving forward. The future of telehealth looks bright as healthcare consumers and even doctors continue to prefer the convenience of telehealth. Harbinger is already helping some people in the countryside of the United States with its telehealth solutions and has added great value to them.
Another HealthTech trend that I'd like to talk about is the use of healthcare data. Whether it is peer-to-peer data, patient data, or the data about hospitals and how they operate, all of it is going to be significant to healthcare. For example, combining data and AI to predict certain things, or simple data analytics in healthcare can prove to be significant in future.
Then, you need to keep an eye on patient experience, physician experience, and the experience of all other HealthTech users—they could be a peer associate or pharmacist working in a pharmacy. The experiences users have with using healthcare technology will become more important and enhanced in a better way in the future.
Increased personalization of treatments is also a key HealthTech trend to watch out for. It includes:
Ensuring healthcare technology accommodates women's health
Personalizing treatments for women
Ensuring women are adequately considered when treatments are provided, medicines are manufactured, and so on
Taking into account the characteristics of different races, background, genetic information of patients, etc.
Recommending a combination of medicines
We also got the opportunity to gather crucial insights on HealthTech trends for 2022 from another expert mind in the industry, Don Gordon. Currently, Don works as Principal Consultant for ProviderVision. Previously, he worked as Chief Operating Officer General Manager for Hispanic Physicians IPA and Clinica Medica General.
As a technology and operations leader, Don has contributed to the efficiency, success, and sustainability of medium to large-sized organizations for over 20 years. He is an expert in the management of complex business process design as well as a leader in the field of information systems and operations management.
What emerging healthcare trends from 2021 are expected to shape the future of HealthTech in 2022?
Don: I would basically divide the healthcare industry into two fundamental areas. The first is what we might call the provision of healthcare. So, it includes primary healthcare, allied health, and so on. And those that we might call the core technologies are the other area. The second area is what I might call the administration of healthcare.
If you look at healthcare expenditures, you'll realize that the administration of healthcare is expensive, if not more expensive than the provision of healthcare. So, we see a lot of effort being put into making healthcare cheaper. Obviously, we are still in the middle of a horrible pandemic. There is a tremendous amount of illness and death going on right now, and that has really changed a lot of things in our society and your society.
With regards to our industry, as a rule, what we've seen in 2021 is a movement toward a lot of intensive care. You know, a lot of resources are going into trying to keep people alive during the middle of what may be one of the worst pandemics in history. These numbers are starting to approach the numbers of the great Flu Epidemic of 1918. And if you look at the trends of sickness (COVID-19), they're almost identical to this epidemic.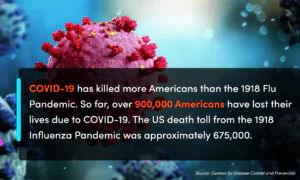 So, you have you know the first (COVID-19) wave, everybody freaks out, everyone goes inside, and then it starts to go down. Everybody comes outside, and then boom! A huge wave comes by, and then there's an even huger wave. That's what we're experiencing now. It's sort of the dynamic of the epidemiology of these viruses, especially respiratory viruses.
What that has brought into the provision of healthcare technology is something we call the messenger ribonucleic acid (mRNA) technology development, which has been nothing short of amazing.
Could you please elaborate on the development of the mRNA healthcare technology?
Don: The mRNA technology development is something that we've been working on for almost 30 years, and the United States was the primary investor in this technology. But the ability to create the vaccines, and in the very short period that we did, is almost unheard of in human development.
It's really an amazing development and an amazing technological thing. It's equivalent to going to the moon. I mean, it's truly amazing. This technology, I think, will become one of the bases for renaissance in healthcare. Our ability to basically create a set of instructions for the human body to produce its own defenses against cancer or other types of infectious disease is amazing.
I mean, vaccine technology prior to this has revolved around basically modifying an existing organism to deliver a vaccine, either a neutralized form of the actual pathogen or some other pathogen that carries elements of this. But creating a completely artificial vaccine is unheard of.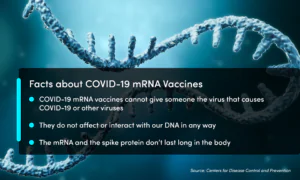 There are problems with it, of course. We're learning some lessons about this technology like it doesn't confer the same level of immunity as the older vaccines did. It's looking like we're getting about six or seven months of immunity out of these things, rather than years and years that we would be getting out of old technology.
mRNA is just beginning. And I believe at some point we're going to go to the hospital. We're going to take a blood sample. They're going to put it in a machine. They're going to sequence your DNA. And they're going to generate a custom mRNA vaccine for you that you can stick in your body and will cure your cancer.
There's a whole bunch of genetic technologies and a lot of advancements in that area. Unfortunately, they're highly proprietary, highly expensive, and the purview of some very large drug companies.
What are the other HealthTech trends for 2022 you would like to talk about?
Don: There are obviously new drug developments going on right now, as always. There are technologies that are becoming more mature, like proton beam, surgical robots, and so on. Those are sort of, I think, the core technologies we haven't had as much development and as much progress going on over the past few years because of COVID-19.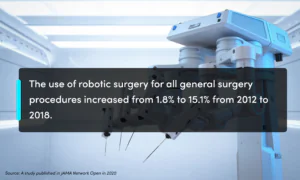 Then there's some cool stuff coming out. For example, Israel is working on focused surgical systems that can do things like brain surgery without having to open up your skull. They had this machine that focused two beams to destroy tumors internally. But a lot of the large-scale clinical trials are sort of grinding to a halt because, well, we're in the middle of a plague.
On the administrative side as well, things are kind of slow because of this issue. I mean, there's not a lot of elective surgeries and there's not a lot of primary care going on. Things are artificially depressed with regards to that.
But there are a few interesting things that have come out in the administrative space. One of them is the No Surprises Act. It's a US Federal bill that just came out. It prohibits out-of-network providers for charging exorbitant fees to patients who are seeking care in or out of network. So, this is an incredibly big opportunity for us to develop technologies to help resolve that.
Artificial intelligence (AI) is another biggest single thing in administration. We're seeing a tremendous interest in AI, both in the provision of care and in the administrative space. And obviously, telemedicine has had a fairly large renaissance. I feel like that space is very crowded and there are a lot of players in it. Then you have things like electronic medical record techniques that are ongoing.
Wrapping Up
Whether you're a provider, payer, technology expert, or any other healthcare professional, the 2022 HealthTech trends discussed here are important to know. Technology drives success in almost all aspects of the healthcare industry: enabling people to live a healthier life, developing new medicines, effectively fighting illnesses, and so on.
The digitization of healthcare, mainly due to the ongoing COVID-19 pandemic, has certainly increased HealthTech development and adoption. Over the next five years, 80% of healthcare providers plan to increase investment in digital and technology solutions, as per a HIMSS Future of Healthcare Report.
If you would like to gain more insights about the 2022 HealthTech trends, simply connect with our industry experts at hsinfo@harbingergroup.com. You can also go through our other interesting resources to get a deeper understanding of the future of HealthTech.