Author: Steven Chopade
Posted On Feb 01, 2022 | 5 Mins Read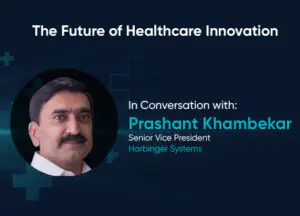 The future of healthcare innovation is expected to only become more promising with the growing intersection between healthcare and digital technology. Disruptive technologies like virtual health and AI have brought about aggressive, valuable changes in the healthcare ecosystem. We are already witnessing the evolution of the role of pharmacists and pharmacy due to the rapid HealthTech advancement.
Healthcare innovation has made it possible to deliver highly customized solutions, increased convenience, and better healthcare access to patients. Whether you're a healthcare provider or payer, you would agree that technological breakthroughs are crucial to meet the dynamic demands of consumers focused on improved well-being.
It's safe to say healthcare technology innovation and the opportunities it creates are a critical factor that the future of healthcare, especially pharmacy, hangs on. Recently, Prashant Khambekar, Senior Vice President at Harbinger Systems, shared his expert opinions on how HealthTech will disrupt healthcare in the future.
The Senior Healthcare Technologist was interviewed by Dr. Aska Patel, a pharmacist and board member for The Society for Canadian Women in Science and Technology, on her "Diverse Conversations Podcast." The episode The Future of Healthcare Innovation that Prashant featured in is the first of the series The Future of Pharmacy presented by the Diverse Conversations Podcast.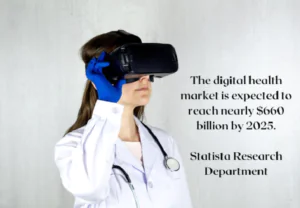 Here are some powerful insights about healthcare technology and the future of healthcare innovation gathered from the podcast interview:
Aska: What led you to HealthTech and your current role?
Prashant: It has been several years that I've been working in the HealthTech space. There is no specific moment that got me involved in HealthTech. But of course, as a patient, I got to know what a patient goes through during treatment, what technology doctors use, etc.
I remember the time when I had a knee surgery. The technology used was not software, but it was wonderful. So, that's one thing that got me attracted to HealthTech. Another thing that I'd like to point out is my association with Harbinger and its customers which helped me understand how the HealthTech landscape is evolving.
These two events mainly pushed me to learn and explore more about HealthTech and operate deeper into the industry. I am happy to help providers, pharmacists, and other healthcare professionals to take their vision forward.
Aska: What is the future of remote patient monitoring (RPM) and what patients can expect?
Prashant: RPM has a fantastic future. It helps everybody and saves time, effort, and even gas [laughs] by reducing the need to travel from one place to another. There will be more medical devices monitoring different aspects of patient health and be available to patients and caretakers in close vicinity.
Some of the medical devices could be affordable to patients while others may not. However, they would probably be available to patients in immediate vicinity. Take CBS as an example—it is going to convert some of its stores into clinics. Other than CBS, it could also be churches or gyms dedicating rooms to keep certain types of monitors and where people can "pay for use."
This will benefit everybody. Furthermore, medical devices are going to more pervasive and accessible to people. In addition, more types of medical devices will be covered. So, you will not see just the pulse oximeter for COVID monitoring being made available. But you will also see the availability of blood pressure monitoring, electrocardiogram monitoring, and many other devices. There will be more ailments and afflictions covered in RPM.
Aska: What are the challenges to healthcare innovation, and that you see when helping your own customers?
Prashant: Receiving proper approvals is one of the primary challenges to delivering HealthTech innovation. You know, the medical devices need to be sterile and reusable, the monitor in a doctor's office needs to be of a certain class, type, and quality. The approval process takes time to complete. Also, you need to convince doctors that your idea is good, etc.
Furthermore, the insights of doctors, nurses, and pharmacists should be considered important. It shouldn't be that your HealthTech team decides to apply a technology like AI out of the blue. Ideally, the doctor (your client) should be allowed or encouraged to specify their problem and ask what kind of HealthTech innovation can be applied.
When I communicate with doctors, they say, for example, "we need to propagate our cancer-related information or properly educate people." Then the HealthTech team, having knowledge of healthcare technology, suggests best ways to go about it.
One of the barriers to adopting innovative health solutions is not taking doctors and other healthcare professionals into confidence. So, your end users need to be taken more into confidence or you need to work with champions among your end users to solve the adoption issue.
More questions answered from an expert point of view
Prashant's in-depth interview with Aska unveiled more of his informative inputs on healthcare innovation and the future of healthcare technology. He has answered other interesting questions like:
With big players coming into healthcare and disrupting it, how does it impact healthcare innovation? Does it restrict competition?
Do you have a piece of advice for healthcare providers wanting to enter HealthTech? What resources would you recommend them?
How does HealthTech disruption affect the pharmacy sector? How do you see the pharmacy sector being disrupted in the future?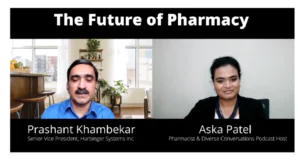 To get Prashant's other expert opinions on healthcare technology innovation and its future, watch the complete interview video.