Author: Shivam Bansal
Posted On Oct 28, 2022 | 8 Mins Read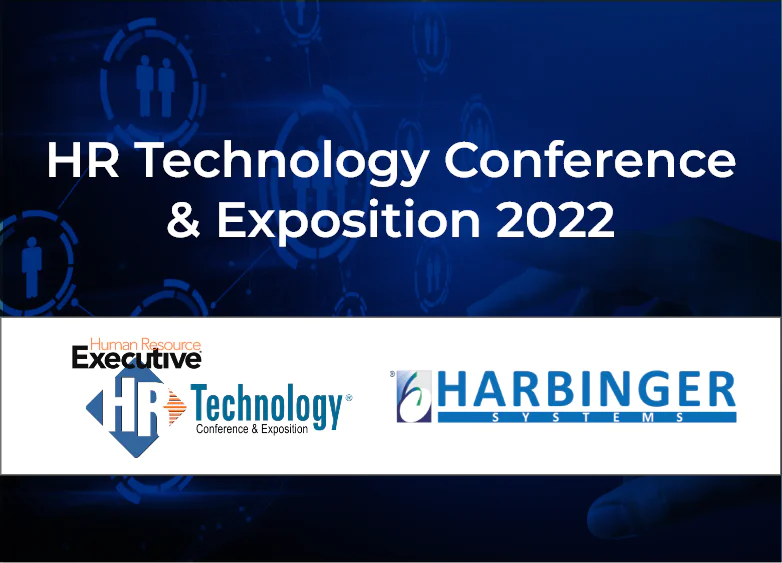 A globally renowned independent event of the industry, the HR Technology Conference & Exposition conducted in September 2022 was an incredible experience for HR and IT professionals from across the globe. Harbinger Systems was one of the many exhibitors at the event that hosts the world's largest HRTech marketplace.
And we must say our HRTech team had a rewarding time being part of the HR Technology Conference 2022: exhibiting, networking, exchanging ideas, and gaining and sharing new perspectives on HR and technology. This multi-day event that was primarily focused on driving HR success through technology took place at Mandalay Bay in Las Vegas.
The HR Technology Conference is an excellent avenue for HR leaders to explore thousands of products from hundreds of vendors, ranging from established organizations to HR startups. For the Harbinger team, it was an exceptional opportunity to hear from some of the most accomplished industry analysts.
Experts and influencers like Josh Bersin, Stacey Harris, and Madeline Laurano shared their insights on the HRTech market, HR systems, talent acquisition, and various other critical topics of discussion. Attendees and exhibitors gained a lot from their expertise, insights, and industry exposure to shape the future of HR. They were also enabled to build strategies that help HR organizations prosper in the digital age, now and in the future.
According to SHRM, Josh said when speaking at the HR Technology Conference 2022, "The focus on employee experience has led to an explosion of tech. Everyone assumes the core HR system works. You don't get credit for that anymore. HCM technology is now used for recruiting, onboarding, training, and all aspects of employee experience. Usability, integration into the flow of work, integration into core systems – those are the keys to workplace technology success."
Our Experience Exhibiting at the HR Technology Conference 2022
We were stationed at Booth #2936 at the HR Technology Conference 2022 venue. Harbinger was represented by our HRTech experts Prashant Khambekar, Senior Vice President; Janhavi Padture, Vice President, Strategy and Business Development; Seema Chaudhary, Chief Alliance Officer; Ajay Todkar, Director, HRTech BizDev; and Avinash Lele, Chief Growth Officer.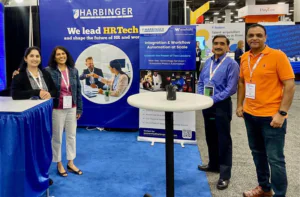 We had the opportunity to connect with HRTech specialists to discuss on some of the hottest trends like the current role of technology in retaining talent, reskilling the workforce, and the latest outlook on leveraging AI in HR. Furthermore, we enjoyed having value-adding, fun conversations with HR professionals and the innovative minds in HRTech.
Let's read through the experiences, thoughts, and takeaways from the HR Technology Conference 2022 shared by our team.
1. What was your main goal of exhibiting at the conference?
HRTech is one of the most vital tools for HR and business leaders. With new HR challenges arising, Harbinger has been on our toes to develop modern and future-ready HRTech solutions to help organizations address the challenges.
The HR Technology Conference 2022 was not only a marketplace for partnership opportunities but also exploring new and innovative products to better strengthen HR. At the conference, our primary goal was to make HR and technology organizations aware of the various cutting-edge solutions we provide to make the job of HR easier and embrace the future of work.
When exhibiting at the conference, we also had the opportunity to listen to the specific HR needs, know what HR expects from technology, and what can be done better in terms of HRTech.
2. What were the latest HRTech trends you spotted at the conference?
The most significant HRTech trend that has emerged from the pandemic is the use of technology to meet the need for more diverse sources of talent. With unemployment reaching a record high just two years ago, employers are still struggling to fill open positions.
At the HR Technology Conference 2022, we noticed that organizations were more inclined toward improving each component of the HRTech value chain such as talent development, talent operations, employee engagement, pre-employment screening, and talent sourcing. Surely, there are significant investments being made in HRTech.
3. What kinds of discussions did you have with attendees and other exhibitors?
Everyone claims to know the secret to innovation. But there is no single path to innovation or creativity. Different situations and problems need different approaches to solve them. We met many people from various backgrounds at our booth. We discussed in detail the critical role HRTech can play in building organizations that can innovate in multiple ways.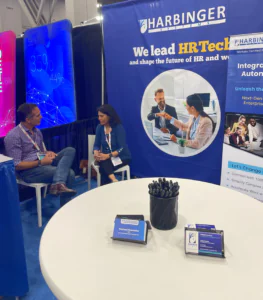 We also discussed the specific skill sets and tools HR and business leaders need to get employees to embrace this new mindset and make it a reality. Moreover, people were interested in exploring various options to find the best product development/implementation partner that can meet their HRTech needs.
4. What were the profiles of our booth visitors? Were they relevant to our target audience?
Yes, a fair number of attendees were relevant to our target audience. They were curious to learn about Harbinger and our offerings. Harbinger hit a home run when it came to providing booth visitors what they were looking for at the HR Technology Conference 2022.
Our HRTech team connected with the attendees and offered them the right recommendations, shared their own experiences, exchanged game-changing ideas, suggested suitable solutions, and had fun conversations.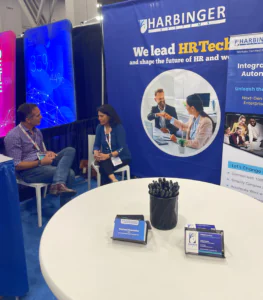 5. What were the attendees expecting from the conference?
The world of HRTech is changing significantly. While cloud and remote work have been hot topics in HRTech for the last few years, we are now experiencing a completely new HRTech architecture based on teams, applications, and a new breed of AI-based solutions.
So, this was one of the things people were expecting from the HR Technology Conference 2022. HR leaders, especially, were keen to know the latest trends in HRTech, digital HR architecture, talent management, recruiting, and employee engagement in real time.
6. What was your most favorite or memorable moment at the conference?
The HR Technology Conference 2022 was challenging and exciting in countless ways. Yes, there were some incredible moments we experienced at the conference, and there is one we would like to highlight. It was a moment of joy for us when an exhibitor came and said that after five years of receiving emails from Harbinger, it was time to talk.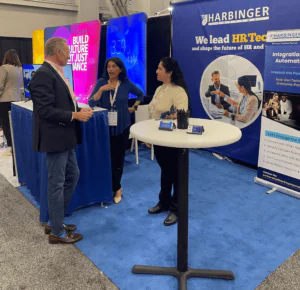 7. How was this conference different from other HR events you previously attended or exhibited at?
We agree that the HR Technology Conference is arguably the biggest HRTech conference in the world. It attracts HR leaders, technology experts, and innovators from different parts of the world. Furthermore, it brings a host of workshops, lectures, and networking opportunities to the table.
The conference covers a wide range of HRTech topics and includes demos from some of the big names in the industry such as Oracle and Workday. Not to forget, you get an opportunity to gather insights from thought leaders and presentations on emerging HRTech trends.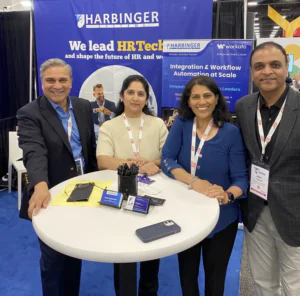 8. How do conferences like this one add value to you as an HRTech/business professional?
The HRTech market is thriving, bringing a slew of modern approaches to an industry that is traditionally slow to adopt new technology. Events like the HR Technology Conference 2022 help us get educated about the market in a deeper way. This not only allows us to know the current and future HR needs, but also develop most suitable technological solutions and improve their adoption.
And yes, such events also help us build our professional profile further. Although the global pandemic has changed the way we organize events, one thing has remained constant: the need for knowledge sharing, insights gathering, and networking. This conference has clearly highlighted and met that need to a large extent in the HRTech space.
9. How was your overall experience exhibiting at the conference? What are your key takeaways?
There has been an explosion of new software in HRTech that promise to improve recruitment, employee engagement, and other HR functions. The HR Technology Conference is a great marketplace to explore new HRTech products and services and gain inspiration from their developers.
Moreover, events like the HR Technology Conference 2022 allow us to meet people face to face, whether they are experts, influencers, or other people like us. A conference like this one enables us to step outside our comfort zone and look at things from a different perspective. Furthermore, we get to walk away inspired and with full of actionable ideas.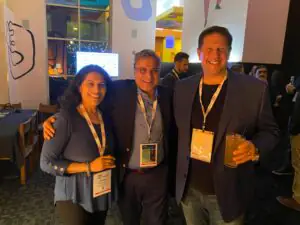 This conference certainly tops the list of must-attend HRTech events. Being part of it ensures you stay on top of the latest HR and technology trends. In addition, you get to collect key industry research insights from top analysts. Besides, there are actionable takeaways you can leverage to build and find solutions and strategies to help companies succeed in the digital age.
10. Any final thoughts or significant observations from the conference you would like to share?
HR digital transformation strategy adds significant value to an organization. If HRTech is implemented in the best way possible for HR professionals, it will quantify and articulate that value to business and financial leaders in their organizations.
The HR Technology Conference is a great way to support this idea. With each passing year, we are seeing improvements in this conference. We look forward to being part of the next conference in 2023.
So, this was all about our experience at the HR Technology Conference 2022. We'll keep attending such events in future as there is a lot of learning, networking, and exposure involved, and HRTech is expanding continuously.
Have you attended any of the HR Technology Conferences before? We'd love to hear your opinions and thoughts. Also, if you would like to connect with our HRTech experts, email us at contact@harbingergroup.com.