Five Ways Artificial Intelligence is Transforming HealthTech
Author: Marketing Desk
Posted On Dec 04, 2020 | 5 Mins Read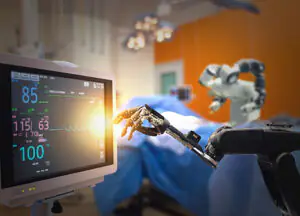 Does Artificial Intelligence (AI) take away human jobs? Or is it creating new job positions? This million-dollar question has been around for a while now. Either way, the purpose of AI is to enhance the way technology and humans function together.
The Rise of AI in HealthTech
The AI sector is growing exponentially and is projected to reach $150 billion by 2026. To be more specific, according to a recent survey, AI in the healthcare market is expected to reach USD 45.2 billion by 2026 at a CAGR of 44.9% during the forecast period of 2020 to 2026. It is a known fact that the healthcare industry is one of the slowest adopters of technology. Yet, with the recent global events, topped with the advancements in technologies like AI, the picture is gradually transforming.
AI integrates with a collection of diverse technologies that enable machines to perceive, learn, and act. From robot-assisted surgeries to virtual nursing assistants, here's a compilation of the top AI applications in healthcare:
Patient Data Management
Mining and managing trillions of patients' data points is a challenge for many organizations. Using AI, healthcare organizations can access any patient's medical history within minutes, enabling doctors to diagnose and decide on future treatment. The global events of 2020 forced the healthcare facilities to deliver remote care, resulting in a surge in healthcare integrations. Healthcare integrations enable faster and remote care, automate tedious processes, and create a seamless ecosystem to deliver the best patient care.
Also read: Why healthcare integration is a one-stop answer to providing the best patient care
Many pharmaceutical and insurance companies are also leveraging AI to gather medical records and provide a suitable healthcare plan. Here's an example of how HL7 and FHIR-based integration between a pharmacy and Electronic Health Records (EHR) helped a company to automate the medication dispensing process and allowed EHR customers to connect immediately with an external pharmacy.
Medical imaging is another field where organizations are using AI algorithms to interpret images and diagnose precisely. AI is also being used to mine data from various sources, analyze them, and predict patient outcomes.
Diagnostics
AI-assisted systems can prevent, predict, and diagnose illnesses better and faster, in many cases. It can help doctors formulate a treatment plan keeping in mind the patient's medical history and the diagnosis, and monitor health conditions as well. Errors occurring due to incomplete medical histories, large caseloads, etc. can be avoided due to its huge processing capacity. IBM's Watson for Health is one such example. Watson reviews and stores huge amounts of health data, including symptoms and case studies of treatments, and helps healthcare organizations apply cognitive technology to power diagnosis.
Wearable Technology
With the slew of information available on the Internet, patients are inclining towards basic self-diagnosis and treatment. Smart wearables and mobile apps assist in tracking and preventing a variety of health issues. Wearable technology like smartwatches enable doctors to remotely monitor a patient's health and foster the doctor-patient relationship. For example, read how a patient care app helped to get rid of the traditional "call-bell" system with a faster, accurate communication system using a smartwatch.
Virtual Nursing Assistants
A virtual assistant within a healthcare organization can help the staff provide a superior patient experience. AI-assisted virtual nursing assistants can converse with the patients, register and recognize their concerns, monitor their health, schedule an appointment with the doctor, and do much more. They are available round the clock, which makes them more accessible.
Robotics
Integrating robotics with AI is a highly promising endeavor. AI-assisted robots enable doctors to perform surgeries with precision and flexibility that go beyond human capabilities. It helps eliminate the human element of fatigue that healthcare professionals can possibly experience. From minimally invasive procedures to open-heart surgeries, AI's integration with robotics leads to fewer surgical complications and improves recovery time.
Patient experience is of utmost importance in the healthcare industry. Where trusting technology to guide decisions on human life can become daunting, AI-powered Chatbots can set an example of how organizations can provide a superior healthcare experience to those seeking treatment. Such Chatbots can give intelligent prompts to the users and efficiently utilize medical information databases and ease the querying process. AI can also tackle healthcare organizations' operational challenges (think of the medical professionals quickly accessing the database of scenarios to deal with a tricky case in the clinic).
There is a tremendous amount of data in healthcare. However, the healthcare industry is still getting conversant with capturing data digitally and making it useful for AI algorithms. Does this sound like a huge potential that is yet untapped?
References
https://www.accenture.com/t20171215T032059Z__w__/us-en/_acnmedia/PDF-49/Accenture-Health-Artificial-Intelligence.pdf#zoom=50
https://www.marketsandmarkets.com/Market-Reports/artificial-intelligence-healthcare-market-54679303.html#:~:text=%5B%20255%20Pages%20Reports%5D%20The%20global,44.9%25%20during%20the%20forecast%20period
https://www.pwc.com/gx/en/industries/healthcare/publications/ai-robotics-new-health/transforming-healthcare.html