Enterprise Mobility: Trends for 2013
Author: Sushant Saraswat
Posted On May 07, 2013 | 4 Mins Read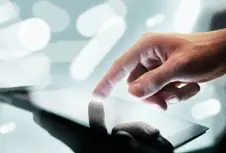 In today's enterprise, the consumerization of IT has led to many interesting developments in Enterprise Mobility space. Based on my reading of various industry reports by market analysts, I anticipate that year 2013 will witness these key trends in the world of enterprise mobility.
1- It's a Multi-Device World
People today are using more than one device computer, tablet, phone, etc and they use it in complimentary fashion. Conventional Desktops and laptops are being mainly used to produce information; tablets to consume and smart phones to communicate that information. In this scenario, it becomes imminent that organizations take the different form factors and capabilities of each device into account when designing their mobility strategy.
2- Shift from MDM to MAM
As device diversity becomes the standard as pointed out in the first trend, the focus will shift from mobile device management to mobile application management and broaden the mobility solutions to encompass much more capabilities and a better experience.
3- Adoption of Tablets in the Workplace
The adoption of tablets by the enterprises is growing at a phenomenal pace as it is proving to be very effective in the field and as stated in the Gartner's report , the enterprise could account for as much as 35% of total worldwide tablet sales by 2015.
4- Data Security Remains a Concern
Security of Data on mobile devices is still the number one roadblock in widespread adoption of mobility by enterprises. Enterprises will choose a mobility partner who will impress the CIOs and the IT executives by displaying strength in areas such as device management, end to end encryption, application management, authentication techniques and many more.
5- Enterprise apps development to increase OR the year of the App
A recent IDC report showed that the world's mobile worker population will reach 1.3 billion by 2015. Gartner says more than 40 percent of enterprise applications will have mobile apps by 2014. The need for function specific apps as generic apps just do not satisfy the enterprise requirements and it is further fuelling the growing app development industry.
6- Big Companies will muscle into the mobile management game
MDM and MAM products in 2012 were mostly produced by specialized vendors like Mobile Iron, Airwatch, Zenprise and Good Technology. With growing acquisitions of the likes of Zenprise by Cisco and Beetil by Citrix, it is apparent that many large organizations will get on with the mobility services game.
7- HTML5 apps will become more popular
There are three key players in mobile platform iOS, Android and windows phone and as there is no mutual development technology shared between them, the development of native apps becomes very expensive and time consuming. Enterprises and consumers need for web based apps which provide similar functionality and experience of native apps.
Gartner predicts that there will be significant shift from native apps to Web apps as HTML matures.
8- Virtualization and Cloud will Become Bigger Deals
Current practitioners of BYOD use app containers and encrypted wrappers to control how data is used on a device. However the IT administrators are not that happy due to the fact that data resides locally in the device and thus not fully secure. This year we can see organizations experiment with alternate approaches to storing data locally on device with virtualization and cloud based solutions.
9- Investment in mobile solutions to boost
As Mobile technology starts to satiate the need of enterprises to increase productivity, faster decision making and supporting collaboration. Many organizations will allocate a bigger slice of their budget pie for mobility solutions. As Forrester points out in its poll of more than 1000 IT Executives, the increased usage of mobile technology will increase services budget in IT to pay for these new services.
The above mentioned trends give us a sense of direction where the mobility industry would be heading. In subsequent posts we will discuss about factors in selecting an enterprise mobility partner.
References: