Author: Vibhuti Agarwal
Posted On Jan 29, 2016 | 3 min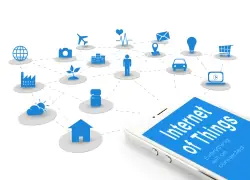 With Internet of Things reaching the peak of the emerging technologies on the Gartner Hype curve, the interactions are now not limited to specific context or scales. IoT has raised many challenges and requires new ways of working, critical of which is the cross-platform design. It requires the combination of dynamic and customizable interface that can manage secure and fluid flow of data between sensors, devices, applications, and people along with clarity of data representation and interpretations. UX & Visual designers need to ensure that the design serves fluidity and clarity in the experience.
Talking about the various aspects of design in IoT services, a good product would require thinking across various layers. As illustrated in the figure below, these layers vary from the ones that are less visible like Platform Design, Productization, Service Design, Conceptual Model and Interusability to the more visible ones like Interaction Design, Industrial Design and Visual Design. To strengthen the higher visible layers it is important to take critical UX decisions at the early stage of the design.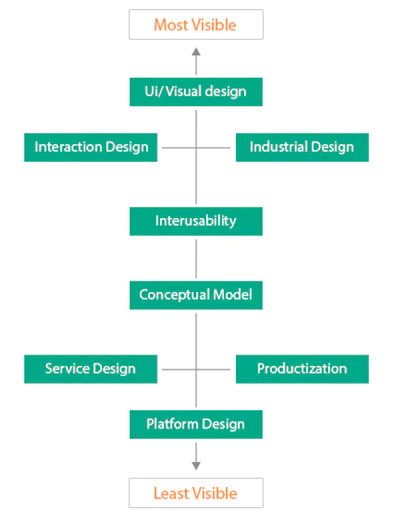 Interusability plays a vital role in Internet of Things. Involvement of many devices may have several different form factors, functionalities and capabilities, they might not have visual or audio interaction features and hence, the interaction would need to be handled by web or Smartphone apps. It is important to make the overall experience feel like a unified service. To achieve the same output, designers need to come up with simplified elegant design solutions which do not have complex navigations and are free of unnecessary gimmicks. Smart cross–device dashboards are significant to enable ease of use and analysis. Applications with dashboards that can be customized by the user will be more popular going ahead.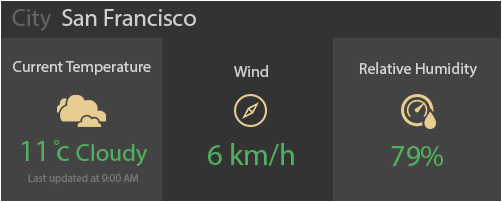 With current input mechanism becoming more dynamic than ever before, interface designs that are not visual i.e. interface based on gestures and voice inputs, need special care in defining the aesthetics to impart value. The overall design of such inputs should be in the holistic context of the device.
Additionally, with the context of use changing, designing for IoT applications becomes more challenging. Compared to working on a platform based application, the in-context poses different issues pertaining to the real world environment where the product will be used. In this case, it becomes important to review the user experience on the actual devices in the similar physical place.
To summarize, in order to help IoT products, businesses and consumers from experiencing unwanted or misleading information, it will be crucial to follow the best of UX and UI design practices.
Ref – Designing Connected Products: UX for the Consumer Internet of Things