Author: Marketing Desk
Posted On Aug 23, 2013 | 1 Mins Read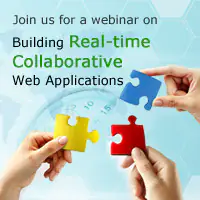 The digital revolution has brought in a change in the way we communicate and collaborate. Research shows that number of mobile workers will reach up to 1.3 billion by 2015. The pace of information flow has been astounding. These factors have fueled the pressing demand among customers, businesses, for real-time web applications.
Real-time web applications have been around for many years. But today, the users expect collaborative, personalized and an amazingly interactive experience using real-time web technologies.
Harbinger Systems hosted a Webinar on "Building Real-Time Collaborative Web Applications".
Key Takeaways:
Key technology enablers for real-time collaboration
Supporting open source technologies such as Node.js, WebSocket and HTML5
Enriching user experience with real-time collaboration
Demonstration of a sample real-time collaborative web application
Performance benchmarks
Thank you for the great response to this special webinar!
You can Watch the webinar recording here.