Big Data and Analytics Trends
Author: Sushant Saraswat
Posted On Apr 17, 2014 | 7 Mins Read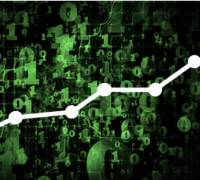 In 2013, organizations were overseeing developments in big data space from the sidelines. In 2014, their focus has shifted from what is big data to what can I do with big data. They are actively researching and implementing various big data solutions to help them in this global competitive landscape.
A recent IDC forecast shows that the Big Data technology and services market will grow at a 27% compound annual growth rate (CAGR) to $32.4 billion through 2017, now that's a very fast growth rate for a relatively newer field, also Gartner Predicts Business Intelligence and Analytics Will Remain Top Focus for CIOs through 2017.
Based on my analysis of various industry reports, I have compiled a list of major trends I expect will be the movers and shakers in big data and analytics domain:
1-'Big data-as- a- service'- cloud computing enables on demand business intelligence
In a Big data environment, data gathered from multiple sources grows so big that it requires specialized platforms to perform parallel computing like Hadoop Distributed File System (HDFS) with its Map Reduce Engine. This requires large computing infrastructures and that's where cloud computing becomes very attractive especially for startups and small to medium sized organizations, who can reap the benefits of big data systems without significant upfront investments by deploying them in cloud.
Thus moving big data in cloud will give rise to a new model "Big data as a service" which comprises of Analytics as a service and Infrastructure as a service (data warehousing). Cloud based analytics services and solutions use SaaS like licensing model that allows firms to pay only for the services they require to conduct the analytics.
Also, with the advent of Hybrid clouds, which offers best of both worlds- Security principles used in private cloud and the speed and flexibility offered by public cloud deployments, Big data as a service will spin itself into a virtuous cycle.
2-Predictive Analytics- The elusive crystal ball takes center stage
With growing level of competition at global scale, organizations today are finding it difficult to sustain let alone gain competitive advantage. The decision makers in these enterprises wish for a crystal ball to make accurate strategic decisions.
Here is where Predictive analytics comes to the fore, instead of showing what happened in last year or quarter, Predictive analytics as the name suggests is about simulation and extrapolation based on historical data, from forecasting growing consumer segments to gaining crucial insights on consumer habits. This provides the much needed factual base for accurate decision making.
3-Data Visualization Goes Mainstream
We all are familiar with the quote "A picture speaks a thousand words". The earlier methods of depicting data in graphs and pie charts might still survive for the time being, but with the growing connections and data being generated at a rapid pace, enterprises would feel the need for the right mechanism/approach and tool to show the findings in a way which would be more receptive to humans.
Tech giant IBM has acclaimed that data visualization will be the key differentiator in big data analytics systems. It is working on a project called Neo, which takes big data streams and converts them into a graphical medium.
The visualization tools which are well designed, user friendly and offer interactivity along meaningful use will be in demand.
4-Big data and Mobile to be tightly coupled
Mobile devices serve a double purpose in big data space. They are a source of data for information systems as well as a delivery mechanism.
Recently advertisers are targeting consumers/prospects with tailor made advertisements based on the location information captured by their smartphones and tablets. Also the sheer number of social transactions being done by mobile devices continues to increase and will generate lots of valuable data for enterprises to analyze.
Based on the insights from analyzing above mobile data source, enterprises can optimize their engagement tactics and delivery of services through mobile devices itself. Also mobile devices serve as an alerting mechanism to personnel that require access to timely information to perform critical functions like compliance management in various industries.
5-Big data to help in Securing IT
In this hyper connected world, enterprises in a bid to be more mobile and agile are exposed at many end points, from web portals, to cloud storage to employees bringing their own device. Cyber threat has become more difficult to manage with the traditional IT security systems in place. According to Gartner by 2016, 25% of large global companies would have adopted big data based security systems to counteract the growing menace of cyber threat. With real time analytics and scalable computing power provided by cloud, enterprises can look for known patterns of security violations and suspicious transactions.
6-Alternatives to Hadoop
Hadoop with Map reduce has proven itself to be a robust platform for big data analytics. However, it proves itself to be an incorrect fit for low latency applications and iterative computations. In memory computing has emerged as an alternative where the applications would not be required to always tackle the three V's of big data paradigm.
Its ability to process large amounts of consistent homogenous data streams at a dashing pace makes it a perfect fit in handling considerable intersection between volume and velocity.
Once awareness of big data systems among enterprises increases we would see some unique set of requirements to solve complex analytical and advanced business intelligence requirements which need to be tackled with specific platforms like BashReduce, Disco Project, Spark, GraphLab etc. other than Hadoop.
7-Internet of Things will have a huge impact on Big Data analytics landscape
IDC estimates predict Internet of Things (IoT) market to grow to $8.9 trillion with over 212 billion connected things by 2020. The 'things' under IoT have embedded intelligence with the ability to collect, analyze and share data with other things, infrastructure/systems around them or with people.
When you have billions of devices connected and generating data at a rapid pace, traditional ETL based data systems just wouldn't make the cut to support this emerging revolution. Many enterprises big and small have entered this market and mulled developing solutions and platforms like Oracle's In-memory computing and Sap's Hana platform, to brace for this tsunami of data.
To tap the complete potential from IoT, enterprises would have to build analytics solution which can tap into data streams from multiple heterogeneous devices and applications to trigger outcomes or associated actions.
8-Big data security- cloud remains a concern
Even when we have big data platforms and technologies being used for securing the IT infrastructure, the number one roadblock in widespread adoption of big data amongst enterprises is security. As many CIO's are still skeptical about data security in cloud and if they choose to keep the data in-house, the high upfront investments in infrastructure are surely a hindrance for many.
Till the security aspect of cloud is improved, organizations will selectively deploy applications and systems to the cloud while keeping the sensitive data in-house.
9-Talent shortage
According to Mckinsey global, by 2018, there will be a shortage of talent especially of people with expertise in statistics and machine learning. Mckinsey Global projects the need of 1.5 million managers and trained data analysts who can understand and make sense of the complex and huge amounts of information big data can generate. Enterprises should take this talent crunch seriously, else it can hamper the complete and optimal utilization of big data technology for their growth.
The above-mentioned trends give us a sense of direction where big data and analytics domain are heading. It will be interesting to see how the enterprises are able to leverage big data systems to gather previously unknown patterns and insights. Do share your opinion in big data and analytics domain and more trends which can be added to the post, in the comments below, and don't forget to subscribe to our blog to get notified on our next post.
References: