A Comprehensive and Easy to Follow Storyboard Template for Free Download
Author: Todd Kasenberg
Posted On Jun 03, 2015 |
n my previous blog – Storyboarding – A Primer and Current Perspective – I identified common barriers and challenges to storyboarding. Based on my experience, I believe that storyboarding is central to eLearning course development. For any course, a comprehensive storyboard set provides a clear and approvable plan to all those involved in its creation. A great storyboard set defines the desired learning experience, structures key content, and links each screen to learner needs and course outcomes.
So is there a standard template for storyboarding?
A e-learning storyboard broadly specifies the onscreen text, narration script, audio and visual elements, and navigation and interaction instructions. While there are many options that you may find online, there has yet to be a consensus about a standard template for a storyboard. However, a good storyboard should include the following information per screen (or interactivity, depending on the level of detail):
A numbering scheme for the storyboard set (that helps you understand sequences and branching paradigms
A representation of the screen itself (sometimes a sketch)
On-screen text
Audio narrative
Explanation of interactives, transitions, etc
Branching and navigation guidance
Learning outcomes addressed or contributed to by the screen
Click here to access a sample storyboard template, which includes these elements.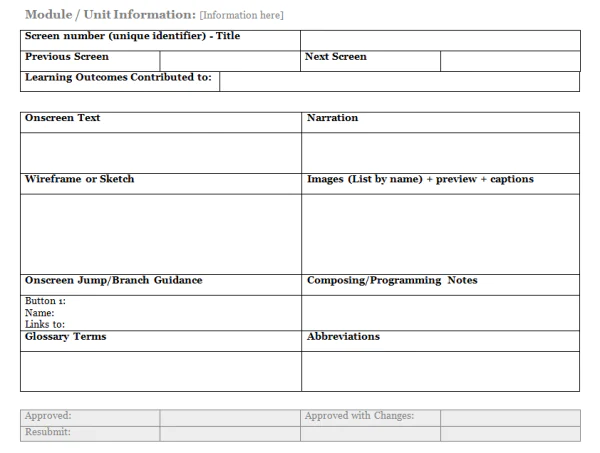 You can pull all/specific sections from this template to suit your needs. Happy storyboarding!
About Author
With career stints in both the for-profit and not-for-profit sectors, Todd Kasenberg, Principal of Guiding Star Communications and Consulting, brings years of experience and expertise in group processes, adult learning, online learning and marketing communications to his clients. Todd first dipped his toes into the e-learning pond in 2005, and since has used some of the best available e-learning composing tools, including Raptivity, to delight a number of clients in both the for-profit and not-for-profit sectors. Todd's work has reached and delighted thousands of online learners, in both formal and informal learning contexts. He is an often invited speaker and workshop facilitator, loves to talk apps, mobile learning, and job aids, and is a software entrepreneur. Know more about Todd at http://raptivity.com/toddkasenberg.html