Top 7 HRIS SaaS Trends to Look Out for in 2022
Prachi Kulkarni
Posted On Mar 14, 2022 | 8 Mins Read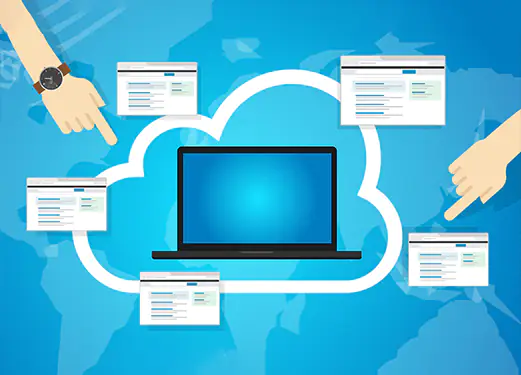 From the time it was conceptualized in the '90s, software as a service, or SaaS, has had everyone's attention with its pay-per-use and cloud-based access models. Off late, advancements in data gathering and cloud technology have bolstered the adoption of SaaS across verticals, including finance, healthcare, and most lately in the human resource information system (HRIS) or the human capital management (HCM) space.
Today, we associate SaaS with fast-paced development, product-led growth, and secure data handling, in addition to the pay-per-use functionality on the cloud. In fact, according to Gartner's research, every small and medium-sized business (SMB) and enterprise makes budget allocations for SaaS across departments, with every employee accessing SaaS applications every day, one way or the other.
A closer look will reveal that a large chunk of these SaaS-based applications in an employee's daily routine is related to the HRIS. The HRIS segment has been a late adaptor of SaaS. Traditionally HR has always been 'on-premise.' However, Gartner predicts that by 2025, 60% of global midmarket and large enterprises will have invested in a cloud-deployed HCM suite for administrative HR and talent management.
This begs the million-dollar question – How will SaaS developments shape and influence HRIS in the future?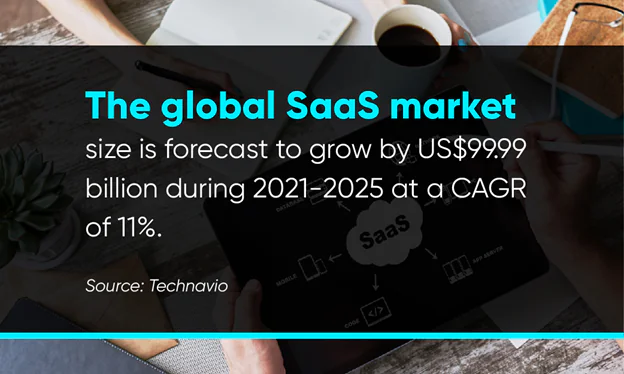 Key HRIS SaaS trends to follow in 2022
While there are many HRIS SaaS trends to watch out for in 2022, my discussions with companies adopting or evaluating SaaS options have been eye-opening. I've brought those discussions here, even though some of them may overlap or depend on one another. Let's learn about each of them.
1. Vertical SaaS
One of the easiest ways to describe vertical SaaS is to contrast it with the other form of SaaS, known as horizontal SaaS. The main difference between horizontal and vertical SaaS is their purpose.
Vertical SaaS is a trend where all functionality/tools specific to an industry vertical are available in one product suite. While horizontal SaaS solutions cover a specific business problem (such as invoicing software), vertical SaaS products provide everything related to a specific industry in one suite. Such offerings could also be treated as a collection of relevant modules.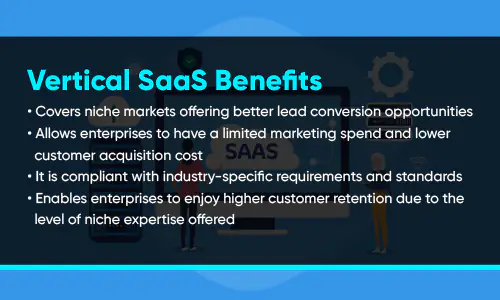 This enables SMBs to derive more from a single solution provider. Such product suites usually include website templates and workflow processes aligned to the given industry, which is generally preferred over customization of a generic horizontal product.
Vertical SaaS also helps providers retain their customers because every additional module enhances the solutions' capabilities, thus increasing revenue possibilities. For example, ServiceTitan – an all-in-one service management software – comes with customer relationship management (CRM), market and business analytics, workflow, invoice and payments, and many other modules.
Similarly, the HRIS products have also started becoming more vertical/industry-focused to cater to all possible market needs. Vertical SaaS will continue to grow in popularity in 2022 as companies seek more specialized and cost-effective HRIS software solutions.
2. Product unbundling
At a conceptual level, SaaS started with making end-to-end product functionality available as needed, charging for every use. It is apparent now that SMBs do not necessarily need an end-to-end product functionality, and there is value in making the functionality modular and making individual modules available for consumption.
The term "unbundling of SaaS" refers to the growing number of startups that offer software solutions packaged in the form of an API rather than the typical "full-featured" solution. These types of enterprises are on the rise, and they are performing very well in the SaaS market.
Availability of exposed APIs makes unbundling possible, where users can integrate required modules through the APIs. Multiple HRIS products make modules such as one-on-one, goal setting, feedback, and rewards individually available, instead of selling them as a bundle. These modules are not very closely coupled with an underlying platform, so they can be integrated with the existing SMB product easily.
3. Artificial intelligence
Artificial intelligence (AI) is a significant technology trend dominating the HR industry. It is, in fact, one of the top HRIS SaaS trends for 2022. One of the key shifts in SaaS is its adoption of AI and machine learning (ML). The HRIS domain expands products with AI and natural language processing (NLP) to offer improved user experience and software capabilities.
For instance, improved versions of recruitment software offer more accurate candidate matching due to the use of NLP. Furthermore, learning portals applying AL/ML to understand a learner's preferences, learning patterns, and goals while recommending courses are good examples of the use of AI and data analysis.
Harbinger developed an AI-powered candidate and job matching solution for a recruitment independent software vendor to improve search experiences of candidates and hiring managers.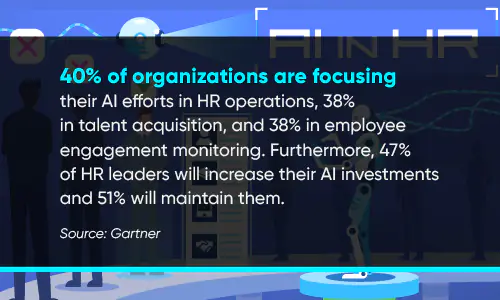 4. Exposed API connections
The availability of APIs for integrations is a trend that has increased the pace of software development many folds. Several portals make their functionality available for use through APIs. Low coding platforms like Salesforce also provide seamless integration with an underlying platform and other applications available on the platform using exposed APIs.
In addition, building connectors using exposed APIs so that any two applications in the HRIS domain (for example, a recruiting platform and a background check software) can exchange information seamlessly, is a popular development trend in the HRIS domain
5. Micro-SaaS and product positioning
One last trend worth mentioning here is Micro-SaaS. With the explosion of SaaS products, small businesses have started offering a multitude of even smaller products. These products are usually in the form of small tools augmenting a larger suite of products via extensions or add-ons.
Many times, the target products for such Micro-SaaS tools are the ones that serve the niche industry need. For example, in the highly competitive content management system (CMS) industry, a Micro-SaaS product will work with the established CMS giants like WordPress and Joomla, in the form of extensions like Grammarly.
6. Low-code/no-code (LCNC) platforms
While low-code/no-code tools or platforms have gathered significant attention in the aftermath of the COVID-19 outbreak, these tools existed long before the pandemic began. More organizations are delving into low-code development, allowing professionals outside of IT to design and develop their own solutions to problems relevant to their function.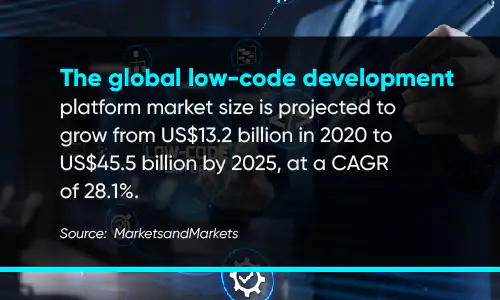 By developing its own software, HR can save a lot of development time and expenses. These platforms will enable HR departments to replace cumbersome spreadsheets with more efficient workflows, develop surveys, create talent analytics dashboards, develop surveys, and reduce manual tasks.
7. Mobile-centric approach
As the world transitions to a more mobile-centric era, we'll certainly see more SaaS products follow the lead. An average smartphone user checks his phone 47 times per day or 17,155 times per year. Thus, the mobile-centric or mobile-first approach is the most lucrative market for SaaS companies to explore in the coming years.
Enhanced mobile experiences for your product can help users make more informed and timely decisions. Indeed, HR teams will benefit from the mobile-first approach since it improves productivity and efficiency, not to mention enhanced employee experiences and improved business outcomes.
A Final Word
What I find interesting about all the trends discussed here is how closely they overlap. For example, product unbundling could be considered the first step of vertical SaaS, which is a top trending HRIS SaaS trend for 2022. Also, these trends will benefit from exposed API connections.
A couple of challenges worth mentioning, if you are considering adopting any of these trends, would be SaaS product churn and SaaS waste. Tons of new products come up every year, providing a choice for consumers to shift to newer and better alternatives. This typically results in orphaned or duplicate products and services.
I feel, in this context, the important trends described above will help us get a better perspective on the future of the HRIS SaaS product landscape.
Takeaway
Without a doubt, SaaS will be an intriguing sector in 2022. We're going to witness several industries and organizations embrace a broader range of modern technologies, such as AI, ML, and low-code development. With this, there will be a paradigm shift in how businesses and customers interact with these services.
SaaS solutions, particularly for HRIS, offer simple and cost-effective ways to update products and develop custom solutions too. As an added benefit, these solutions are updated by the providers themselves, saving companies considerable costs and time needed to host an on-premise solution.
Are you ready for these 2022 HRIS SaaS trends? Which one do you believe will be the market leader in 2022? It would be great to know your thoughts on this. Do comment below or write back to us at contact@harbingergroup.com.
Do you have an innovative idea for the next revolutionary SaaS product? Talk to our SaaS experts and get free, personalized recommendations for your business needs.