Author: Maheshkumar Kharade
Posted On Jul 13, 2020 | 4 min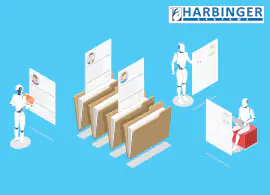 Recruitment processes have been constantly evolving over the years. Technology has played a key role in its evolution, and the trend is expected to grow in the years to come. According to a recent survey, the average time-to-hire is about 3 weeks, which is why more companies are looking to automate their recruitment process using technologies like Artificial Intelligence (AI) and Neuro-Linguistic Programming (NLP) to speed up the process.
Why We Appreciate the Change
Traditional recruitment processes consumed a lot of time and money, and often required manual intervention. In a world where the competition for talent acquisition is fierce, companies need to act fast to get to the right candidate. Automation in recruitment is designed to help recruiters enhance the hiring process at each stage of the recruitment cycle. Such automated recruitment systems help businesses search for the right candidate, and get them on-board quicker.
From candidate searching to onboarding, here's how various stages of candidate workflow can be automated throughout the hiring cycle:
Pre-screening Candidates
The use of AI in talent search and talent acquisition is one of the best examples of technology adoption in recruitment. Applicant Tracking Systems (ATS) and other platforms have already been making use of technology for recruitment. With the use of AI and NLP, recruitment function is further able to adopt advanced trends.
It is a crucial task finding the right candidate for a certain profile. While automating, technologies like NLP and Chatbots are increasingly gaining importance to "chat" with the applicants beforehand, to ask them a set of pre-defined questions, build relationships with the candidates, and provide them with regular updates and feedback. The answers from these candidates are then assessed using AI, to gauge candidate's response, word choices, etc.
As an example, see this video on how Harbinger Systems created a Chatbot that interacts with users and helps them in recruitment activities like interview scheduling, status updates on job applications, and more.
Resume Parsing
Resume parsing remains one of the biggest bottlenecks in the recruitment process. Recent trends show how NLP and AI can help in screening applicant resumes. AI can be used to learn the profile requirements and match it with candidates' skills for a faster time-to-hire. AI can also be used to predict which candidates might be successful among the applicants.
Check out how Harbinger helped a popular job application system add a candidate shortlisting feature that reduced manual screening of resumes.
Talent Pool Management
Advanced ML algorithms backed by data play a key role in assessing applicants and providing the best matches based on various parameters like location, experience, education, etc. Existing recruitment systems can be automated by using AI to identify better employees, thereby saving time and human bias. One of the smart ways to find the right candidate is to create and nurture a pipeline of previously screened candidates. Businesses can speed up their hiring process by maintaining and engaging with a talent pool.
Interview Paneling and Scheduling
Automated recruitment software can create a list of highly suitable employees of the company as interview panelist based on candidate's skills, thus enabling a smoother and comfortable interview process. For example, read on to know how Harbinger used NLP and ML to put together a more effective interview panel for candidate selection during recruitment.
The candidates get to see the available interview slots and choose the one which best suits them, which can otherwise be a time consuming process. Digitalized interviews enable recruiters to use technologies like AI, NLP, and voice recognition to gauge the candidate's response, their use of words, facial expressions, etc. and predict the candidate's performance. It provides additional data points to the recruiters to make an informed decision.
Employee Onboarding
The onboarding process of a candidate can get monotonous. Using AI, onboarding tasks like welcome emails, introduction to managers and peers, and more, can be personalized. Use of Chatbots, AI, and other technologies can further ease the HR to automate the workflow. Read on to know more about Harbinger Systems' voice-based assistant as a state-of-the-art voice interface for employee onboarding.
All for Smoother Processes
Automating candidate workflows not only enables businesses find the right candidate, but also helps bring consistency to their hiring process. It improves their HR and recruitment teams' productivity, saves time, cuts costs, improves efficiency with data, reduces errors, and improves candidate experience. Automating tedious recruitment processes also allows recruiters to assess candidates by other parameters like their soft skills, cultural fit, etc.
Do reach out to us to know more about automating candidate workflows and other HR Tech related requirements. We'll be happy to be of help.