Software Testing Services Trends – 2014
Author: Anuradha Divakaran
Posted On Mar 21, 2014 | 5 Mins Read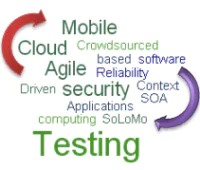 Growing technological advancement in the IT sector is having a significant impact on the evolution of software testing landscape. With the advent of service oriented architecture (SOA), increase in virtualization and adoption of cloud computing, testers today have a lot of new aspects to consider. The pressing demands on quick time to market, cutting operational costs and emphasis on regulatory compliance, adds to the complexity.
A research report by Nelson Hall suggests that independent software testing services is expected to grow by 9.5% year on year till 2018. That's not all, going forward industry experts and specialists expect a lot more interesting trends in the software testing domain. Here are some paradigms increasing in popularity because they offer solutions to clients' needs and expectations.
1. Transformation in the Software Testing Landscape – to a more service driven test management process
The software testing landscape is increasingly moving towards becoming a joint effort across various levels of the organization through a more service-driven test management process, leaving behind the traditional testing center of excellence model (which though shows signs of growth). This transformation, industry experts believe, reflects the continuing maturity of testing as it goes on to adopt a model that supports overall IT modernization and optimization activities by doing away with large volumes of manual testing, which is time-consuming and resource-intensive.
2. Growth in SoLoMo (Social Media, Localization, Mobility) leading to increased focus on security and reliability of software applications
The emergence of SoLoMo has resulted in software being integrated virtually into everything. This constant integration calls for a special set of technical skills on the part of the testers as they face a whole new range of issues and aspects that require testing. With a lot of sensitive and critical data getting transferred to and from SoLoMo technologies, there is immense pressure to ensure that apps are reliable, scalable, private and secure across a multiple platforms including handsets, tablets, OS, browsers and locations.
3. Testing in the Agile Development Environment and Testing in Production
Companies are working hard to build a sound testing approach that fits with the agile development methodology and brings in right test tools. Continuous testing is something that we will be seeing a lot this year as companies today are more focused on getting into the delivery phase without having to wait for long. Testing in production is one approach that will be commonly used by testers in order to provide a constant flow of updates on how the software is shaping up with respect to its features and value to business.
4. Rapid growth in Mobile testing
With the upsurge of mobile devices in the market, there is a significant increase in mobile testing activity, including functionality, performance and security of mobile applications and devices. The software tester works its way through the overwhelming variety of mobile devices keeping a sharp focus on mobile user interface testing, the kind of device settings and utilizing complex scripting techniques and tools. The bottom line is efficiency and performance. According to a research report, mobile testing is now carried out by 55% of organizations, compared to 31% in 2012, a rise that is reflected across all sectors, with Healthcare and Life Sciences setting the pace.
Moreover, with organizations' increasing reliance on the use of mobile devices for core customer or operational transactions, mobile security is expected to be the number one quality and testing area of focus within the next two years.
5. Cloud-based Testing
As cloud computing becomes an increasing part of the IT mainstream with about 26% of software applications to be hosted on cloud by 2015, IT professionals and experts see a positive growth in the adoption of cloud based testing. For the simple reason, cloud infrastructure offers a convenient solution unlike other test environments which can be difficult and expensive to build and maintain. Having said that, there are concerns related to data security and performance in cloud based environments which organizations view as a medium term challenge that will be soon addressed.
6. Context-driven Testing
A one-size fits all approach is not something that we can rely on when it comes to testing of software applications. There is a need to be adaptable in the event the context changes. This has made context-driven software testing a trend that we expect will emerge strongly in the coming years. According to software testing leaders in the industry, the most successful testers in the future will be the ones that can bring the most skills to the table for any given context or business situation.
7. Security Testing
The increased connectivity of data and information systems along with the rise of cloud based computing and the phenomenon of Internet of Things taking center stage in the IT industry, security testing of software applications is going to be of top priority in 2014.
8. Crowdsourced Software testing
This form of testing is slowly gaining popularity as it helps organizations thrift its budget for software development. It is helpful in situations where in the testing team may not have all the resources to test the software in different environments and in different situations.
All these trends are testimony of the fact that the software testing industry is evolving at an enormous pace. What will be interesting for us to watch is how this industry is going to adapt itself to the growing demands of technology and innovation in the IT sector. Do share your analysis of the sector and more trends which can be added to the post, in the comments below, and don't forget to subscribe to the blog to get notified on our next post.
References: