Author: Jasmine Khan
Posted On Nov 27, 2014 | 2 Mins Read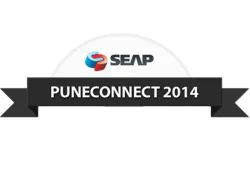 November 8th 2014, it was sunny but felt like it would rain. The city traffic towards Westin – the venue for the 3rd Pune Connect Conference was prominent. Pune Connect is a flagship event of SEAP (Software Exporters Association of Pune).
Along with the ecosystem partners (Nasscom, TiE, PuneTech, MCCIA, SME JoinUp, Pune Coffee Club, HIA, IACC & CIIE – Ahmedabad) over 300 visitors, 20 exhibitors, 8 inspirational speakers were also a part of the event.
The theme for the Conference was "Cloud & Mobility – Anywhere, Anytime, Anything!" and the session on "Cloud a reason to cheer or fear" looked promising. Gaurav Mehra, President of SEAP welcomed the attendees and commenced the event.
Some of the highlights of the conference were:
The event focused on "Bridging Pune Start Ups & Enterprises" by helping Pune entrepreneurs define and capitalize on the opportunities in IT and make the ecosystem more vibrant and collaborative to nurture start up talent in the city
Prominent Angel Investors and venture capitalists took part in the event to understand new possibilities that can foster the start-up sector
"Think Pune- The start up destination" book and the free version of the report was launched by CIIE (Centre for Innovation Incubation and Entrepreneurship).The report addressed the unique strengths and success stories about Pune startup ecosystem.
The Panelists discussed "The reasons to Cheer and Fear Cloud". It was an interesting session as it ensured I made key notes to throw some light on the coming trends:
Cloud computing has emerged as an extremely successful paradigm for deploying web applications. By 2015, approximately 20% of all cloud services will be consumed via internal or external cloud service brokerages, rather than directly.
Cloud security continues to be a cause of concern and can pose a threat in near future if proper arrangements are not made in regards to securing sensitive data
Cloud Scalability has been the desirable attribute of any system. Algorithms that have more scalable designs, frameworks and incorporate best practices will give us a reason to progress in the near/far future.
By 2020, Cloud Services would be the most-in-demand technology service
Overall, it was a great experience to attend the Pune Connect Conference 2014. It will be interesting to see the various solutions coming up for cloud security and how mobility continues to enrich our lives.