People Analytics – The Answer to Drive Decision-Making In 2021
Author: Manasi Mehendale
Posted On Dec 29, 2020 | 5 Mins Read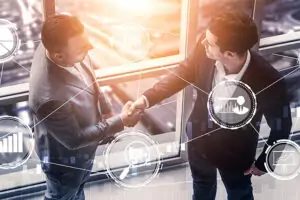 People Analytics is about using statistical insights from employee data to make talent management decisions. It is, in fact, proving useful to manage the increasingly distributed workforce. In the coming times, People Analytics will further get mainstream attention from companies across the globe, especially to sustain the digital shift.
What Makes People Analytics Necessary?
People Analytics helps team leaders use powerful data insights to improve team performance, and in turn, the business outcomes. These analytics can be fruitful in devising talent-management strategies, evaluating candidates, streamlining the recruiting process, and much more. Google's Project Oxygen is a good example of implementing People Analytics. It studied the practices of Google's best managers and then used them in coaching sessions to improve the work of low performers.
Today, what is driving People Analytics is the work-from-home setup. As per the Global Workforce Analytics Forecast, 25-30% of the workforce will continue to work from home on multiple days a week till the end of 2021. The Sapient Insights 2019-20 HR Survey mentions that during the pandemic, data-driven organizations had better business outcomes – and they tracked at least 5 or more HR metrics. Statistics such as these highlight the fact that HR is hugely dependent on information. To adapt to the market shifts and the future of work demands, People Analytics will play an important role when formulating the HR strategies of an organization.
What Is the Data Source for People Analytics?
In the current remote work scenario, collaboration tools are a major data source for People Analytics. Data collection is not just restricted to the data that is available from the HR. But it is expanding towards collaboration tools like Teams and productivity tools as well.
                          WorkTech – Span of Data Sources is Multiplying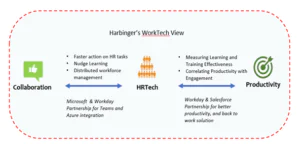 All the information that can be gathered from the collaboration tools can be collated to come up with better solutions for the employees.
How Do You Accomplish People Analytics?
In a Virtual Collaboration Zone session that Harbinger led this month, Shrikant Pattathil, President, Harbinger Systems, shared how integrations between HRTech systems and productivity and collaboration tools need to be seen as an enabler in driving People Analytics.
Most of the integrations we do from an analytics viewpoint are to drive business outcomes. Typically, when we use a single tool, we are focused on things like increasing efficiency and effectiveness. But when we integrate, we drive a business outcome by collecting key pieces of information from all those systems. In fact, there are several approaches one can choose to collaborate with multiple platforms and provide effective solutions.

In the very session, Andy Najjar, COO at FutureSolve, shared his experience in integrating and collecting data from different platforms for People Analytics. "It is important to have an innovative way of analyzing the data by providing some really good insights which were previously not available, or it is white labeled so that people are getting data and analytics at one place," he said.
What About Data Ownership?
No doubt, data ownership is a sensitive topic. Andrea Wade, Portfolio Director AI/ML at iCIMS, and a co-panelist at the Virtual Collaboration Zone, explained why there are data challenges, especially those related to ownership.
According to her, when you think of companies' data strategies, there is a dual framework of a defensive strategy and an offensive strategy. Defensive strategy is when the objectives are around ensuring data security, data privacy, integrity, quality, government regulatory compliance, etc. Whereas some of the activities that relate to the offensive strategy are optimizing data extraction, standardization, storage, access, and so on. However, she insisted that when companies deal with highly sensitive data, accessing data, tapping into data, working with data, the answer to who owns the data is that it is always the candidate. "Candidates should be able to see what we do with their data, how their data is being productized."
Transparency is the key here with companies clearly indicating to their employees that any communication on the company-owned tools will be tracked and analyzed.
What Does the Future Hold?
People Analytics is increasingly becoming relevant as it shows an important link between employee wellbeing and company revenue. Sam Thayer, Sr. Director People Analytics at Compass Group, during the session, emphasized the very point, "We need to move from People Analytics to what I like to call Decision Analytics, to understand what decisions we are making. Also, valuing soft skills is going to get more important. If you can measure the soft skills of an employee, find out how they are most successful for the organization, tie those to your learning programs and development, and track them over time. What does that result in? As you follow that trail, the very last step is, it increases revenue."
Our research at Harbinger aligns with Gartner's strategic tech trends for 2021 which have the capacity to leverage technology and design trends to deliver better analytics. These are – Hyper Automation, Internet of Behaviors, and Total Experience. Hyper Automation brings together Robotic Process Automation (RPA), Artificial Intelligence (AI), and Machine Learning (ML), so that you can take decisions in real-time. Internet of Behaviors stresses how more tools will be required to collect information, to help us design a safer and better workplace that is remote and still highly productive. Together, it comes down to providing a Total Experience, one that caters to all the users in the system.
The view of HR is expanding as well as the number of stakeholders that HR talks to. People Analytics, in that sense, holds the key to data-driven decision making in today's remote world. Do share your thoughts on this at  contact@harbingergroup.com. We will be happy to hear.
References
https://globalworkplaceanalytics.com/work-at-home-after-covid-19-our-forecast
https://sapientinsightsresearch.com
https://www.mckinsey.com/solutions/orgsolutions/overview/people-analytics
https://www.gartner.com/smarterwithgartner/gartner-top-strategic-technology-trends-for-2021/