Pebble Time, Twilio and the Importance of Voice Communication
Author: Marketing Desk
Posted On Jun 18, 2015 | 3 min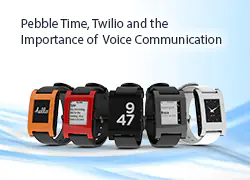 Smartwatches will account for 59% of total wearable device shipments in 2015, and they will command to just over 70% of shipments by 2019, says a recent BI Intelligence report. Now that Google and Apple are in this market space, you can be rest assured that voice messaging could potentially be the strongest feature for any wearable devices. In other words, can we say voice communication will become more mainstream than ever?
Kickstarter witnessed the recent launch of Pebble Time, a third generation smart watch, unlocking new horizons for the wearable device industry. Pebble, as we know, is one of the pioneers in developing smart watches. Lately, Pebble Time has advanced a step further with its striking feature of a Microphone on its chassis, giving voice communication a new dimension.
Voice interactivity through Pebble Time will not only provide the much needed scale but will also offer massive opportunities in terms of responsiveness, adaptability and improved productivity for business enterprises. Twilio's voice application allows one to make and receive phone calls as well as send and receive text messages, using its web service APIs. This webinar will talk about the significance of voice communication within your Pebble Time, especially since a wearable device is like an extension of the human body. It will cover the nuts and bolts of Twilio and give a walk-through of the business use cases demonstrating the dual power of Pebble Time and Twilio.
Harbinger Systems hosted a live webinar " Pebble Time, Twilio and the Importance of Voice Communication" on July 22, 2015. Attendees got insights on how to implement voice connectivity in a wearable device along with an interesting live demo of a sample app.
The Webinar Key Takeaways:
Pebble Time

Salient Features of new Pebble Time
The timeline API in Pebble SDK
A simple demo of timeline interface
Microphone and voice input

Importance of voice communication within your Pebble Time:

      The challenges with Pebble Time
The advantages of voice communication
Discussion on various use cases
How Twilio can assist in Voice communication within your Applications:

Introduction to Twilio APIs
Quickly learn how Twilio can be used to send SMS or voice messages
Pebble Time and Twilio demonstration in a live app

Doctor – Patient communication using Pebble Time and Twilio
Medicine reminder alerts for patients on Pebble Time
Recording feedback from patients at regular intervals
Patient reporting in critical or urgent situation to a Doctor
Thank you for the great response to this special webinar!
You can view the presentation and the webinar video here