New Themes in HR Tech that 2018 gave us
Author: Lalit Kumar
Posted On Mar 19, 2019 | 4 min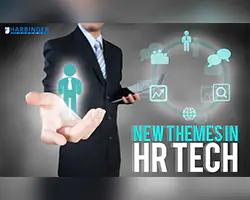 In recent years, HR Tech market has been disrupted in many ways. Tech giants like Google and Microsoft have entered the arena with Google Hire and Dynamic 365 Talent. The year 2018, saw investments worth more than $4B across 266 HR Tech deals. The market is swamped with innovative solutions built using latest technologies like AI, the blockchain, analytics etc. These solutions are innovative from business points of as well because they solve newer challenges CHRO's face today. Few examples of such problem are operating multi-generational workforce, cultural fitment of new hires, reskilling workforce etc. All these indicators suggest HR Tech is evolving and is evolving fast. The year 2018 brought out some compelling themes which caught everyone's attention. Let's talk about those themes now.
1. Diversity and Inclusion (D&I)
Organizations face the challenge of building a diverse workforce and an inclusive culture. They must ensure fairness and transparency in their practice of hiring, promotion, pay etc. Today technology has created solutions to do this in many ways. Organizations can measure D&I metrics across teams, departments, role, location, levels and then benchmark them against industry figures. Example of such a metric is demographic diversity in the organization. AI-based tools such as text analyzer and writing assistant help employees to detect and prevent bias from creeping into the processes. Such tool flags inappropriate words and suggests replacements too. Organizations are also using technology to deliver small nuggets of coaching to foster an inclusive culture.
2. On Demand Pay
There is enough evidence from multiple pieces of research to show that most employees in the U.S are living paycheck to paycheck. In fact, they do not have enough funds to cover an emergency. To solve this problem, a new breed of solutions has emerged that puts employees in control of when they are paid. Employees get access to their earned wages at any time during the pay cycle. Any funds accessed before the payday are deducted from the next paycheck. This provides financial freedom and peace of mind to employees. Walmart has already rolled this out to its employees. The on-demand pay solutions are built as per mobile-first strategy so that employee can quickly access earned wages. Seamless integration with a time tracking and payroll solution is critical for these solutions.
3. Employee Wellness Beyond Health
Till about 3-4 years ago, the phrase "employee wellness" encompassed only physical health of employees. Software solutions also catered to physical aspects of health through features risk assessment, biometric screening, tracking activities and so on. Next entrant into employee wellness was financial wellness. These solutions help employees track earnings expenses, offered coaching around investment, saving and providing counseling services. The latest entrant under the employee wellness umbrella is mental and emotional wellness. These solutions built for mental wellness include mental health education, identify employees at risk, mental exercise, counseling and expert advice by experts.
4. Benefits for Contingent Workers
Employees are covered for different risks through insurance and benefits provided by their employer. But the same is not true for contingent workers. As a result, they are either not covered or are under covered for risks. On the other hand, the number of people opting for alternative work is increasing and by 2027 the majority of workers are expected to be freelancing. This status quo around this needs to be changed. In May 2018, the bill Portable Benefits for Independent Workers Pilot Program Act was introduced. If approved, it would incentivize states to experiment with portable benefits. Startups are using technologies to build solutions to offer benefits and insurance coverage for the contingent workforce.
5. Improved Continuous Performance Management
In recent year's organizations have adopted continuous performance process and implemented software solutions to shift to this model. These solutions provide features like goal tracking, one-on-one meetings, peer feedback and so on. There's no doubt that continuous performance gives a better result than annual reviews. But it is not built into our day of work. It is still one more thing to do. We work every hour, every day but goal tracking or one-on-one are at best snapshot of performance a week apart. We work with internal teams and external partners, vendors and customer but current continuous performance is built around internal teams. We are seeing solutions that integrate with tools like MS Team and Slack and enable people to recognize and appreciate each other in real-time. These data points when aggregated gives a more reliable view of employee performance.
I can say exciting time lies ahead for HR Tech market. We at Harbinger Systems having build solutions in some of the above areas are equally excited. We can help you create such new solutions with modern technology.