My experience of presenting at the UX India 2017 Conference
Author: Smita Kanakula
Posted On Dec 20, 2017 | 4 min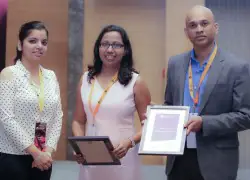 It was a great pleasure to be part of one of India's largest User Experience (UX) conference and present as a speaker along with Shrikant Pattathil, President Harbinger Systems. It was an amazing experience with 4 days of mentally stimulating and highly motivating talks from various UX leaders across the globe with insightful workshops conducted on latest and cutting edge technologies like Agentive Tech and Artificial intelligence. There were total of 50 speakers convened from across the globe and over 700 attendees sharing the same passion for creating an exemplary user experience. We are proud to be selected as one of the speakers along with other renowned industry leaders at India's biggest UX conference.
The conference was held in Bangalore, India from November 1 to 4, 2017. Conference sessions revolved around the theme, "Transformation by Design"; how we can aim at reaching new horizons in the information technology age and making it a reality, how will Artificial Intelligence (AI) and Machine Learning impact various aspects of our lives and,  how can Mobility, Cloud, IOT and Augmented Reality be a game changer for businesses. There were three different tracks looking at how this transformation could be achieved:
Experience Transformation
Business Transformation
Skill Transformation
Our talk was titled 'Chatbot – Building it for Humans' and how AI and Machine Learning can transform the experience for the user.
As we know, chatbots have become a part of the next wave of Digital Transformation. More and more companies are investing in building conversational AI platforms to boost their customer services. As companies continue to expand their chatbot investments, there is a constant need to build a better, smarter user experience in the products business. Creating an engaging user experience involves a deeper understanding of specifically modeled user-centric design approach and the technology considered for development. Our presentation illustrated this with a few case studies where we designed a chatbot for one of our clients in the HRTech domain.Three major takeaways from our demonstration of building an effective chatbot for humans were
Get to know Chatbots.
UX process to design an effective Chatbot
Case studies to understand its implementation
Overall, we received a great response from the attendees and we hope we helped our fellow UXers get to know how an effective chatbot can enhance the user experience and support the wave of digital transformation.