Author: Shilpi Negi
Posted On Jun 03, 2021 | 7 Mins Read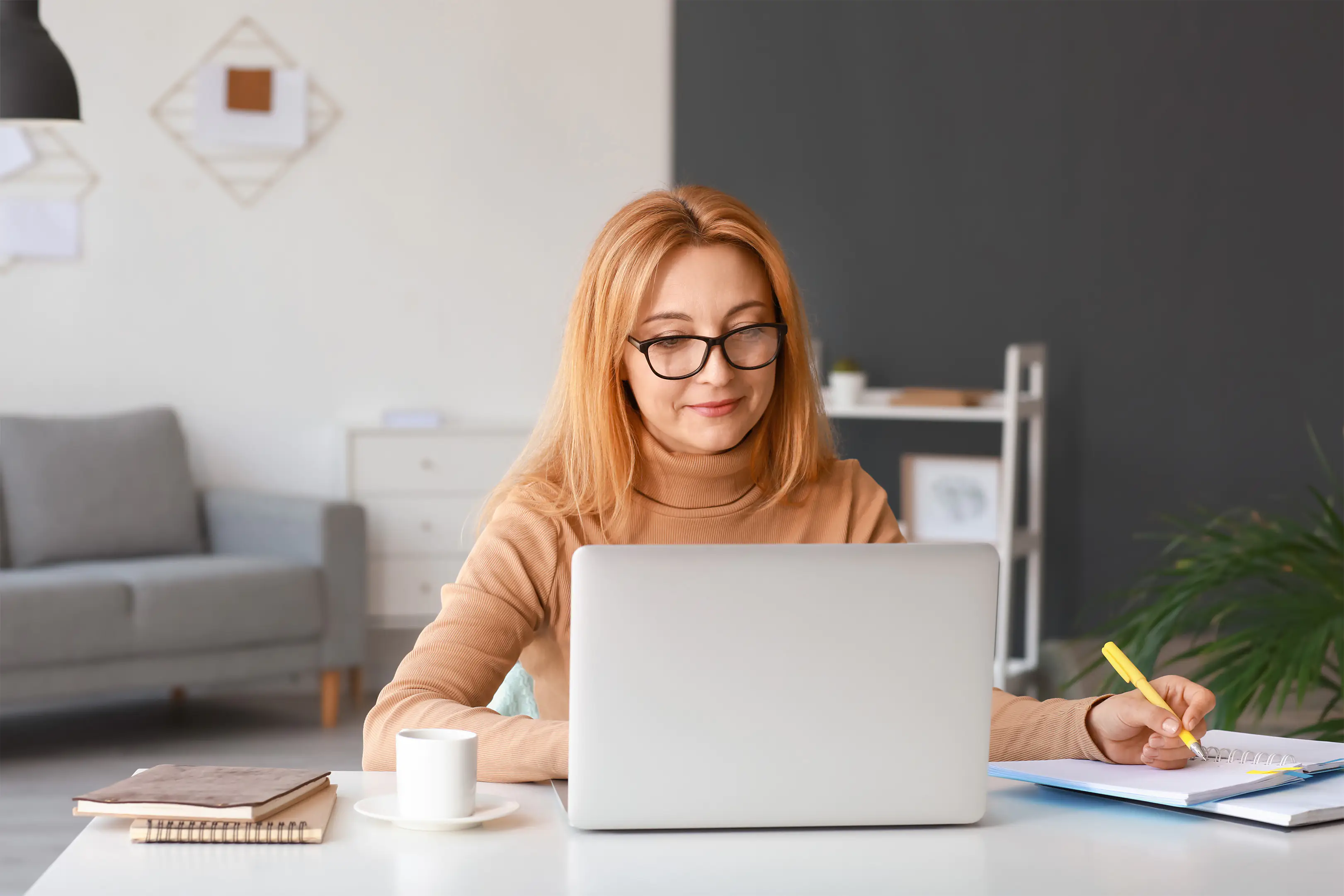 There has been a drastic change in the work culture post-pandemic. Over the past year, we have observed the transition from everyday office to remote and flexible work environments, and the growing importance of upskilling and reskilling. However, one area that needs due diligence is the need to change how employees learn on the job. Organizations are required to create learning opportunities that support real-time performance scrutiny and are integrated into daily workflow, allowing employees to learn while on the job.
According to a survey of over 4,000 learning and development (L&D) and business professionals, when asked how their workplace learning could be improved, the most common response was that people don't have enough time to acquire new skills. This has been a long-standing challenge. Josh Bersin came up with the concept of learning in the flow of work to foster learning challenges within an organization. He described the concept as pertaining to informal learning that employees do throughout the day and then apply it to the tasks they're currently working on.
Learning in the Flow of Work – Explained
Employees rarely consider their organization's learning management system (LMS) as an exciting, and flexible tool to enhance their skills. A traditional corporate LMS at times is merely a bland collection of clickable PowerPoint lectures and exams. Finding appropriate learning content comes at a cost of too many unnecessary clicks. Most of the time the learning content is long and complex. This makes it difficult to retain the attention of the employee for long. On top of that, employee forgetfulness has been an emerging pattern because of an employee's altered focus. These learners tend to forget the majority of what they learn, particularly when newly acquired knowledge and skills aren't implemented right away or reinforced regularly.
An employee's pain increases when managers decide on what courses learners should complete and by when. In this manner, they are bound to follow a rigid learning pattern.  Also, when asked to devote time to formal learning, an average modern employee finds it challenging to square up. The reason being, innumerable tasks lined up in a day, pressing deadlines, and their involvement in multiple projects within an organization. Employees become tired, dejected, and have little free time as a result of the relentless juggling in between projects. Owing to such inefficiencies in the traditional learning system and changing workforce requirements, the paradigm of learning in the flow of work came into the picture.
Learning in the flow of work refers to the ability to find an answer or a short piece of learning material that does not interrupt an employee's daily work routine. Instead of compelling learners to set aside specific time to learn, the concept of on-the-job learning is to integrate learning into and around a learner's everyday work life. To make the process seamless, the learning content needs to be accessible, relevant, engaging, and should be available in the time of need.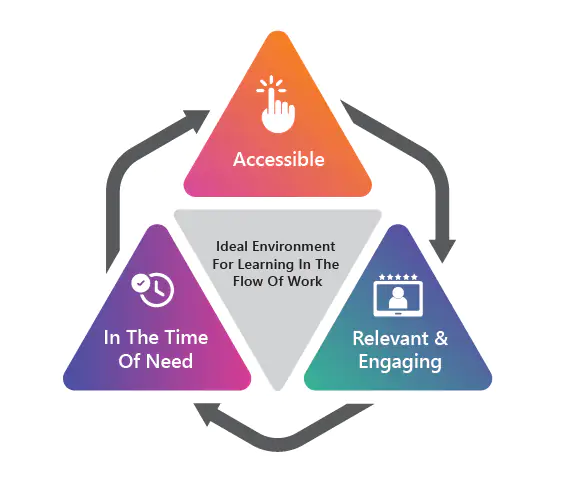 Modern learning technologies and platforms seek to make it easier to meet these changing needs and promote learning in the workplace. To facilitate seamless incorporation of learning in everyday work life L&D leaders are required to go past traditional learning management systems and select from the latest tools and technologies.
Artificial Intelligence (AI) can help achieve the objective of intelligent learning and performance support in the flow by backing up with fast content indexing technologies, data integration interfaces, and big data. According to a report from MarketsandMarkets, by 2025, the AI sector will grow to a $190 billion industry. Many organizations have already adopted AI as part of their learning strategy. Our team of experts at Harbinger has helped multiple clients to setup AI-powered learning systems. Reach out to us if you would like to see a demo.
And now, let's move on to discuss how AI can facilitate learning in the workplace.
AI Comes to the Rescue
Bridging Knowledge Gaps
There are chances that an employee may already possess the skill that the LMS is suggesting. The strategy of 'same course material for all' is a poor approach to follow in the modern-workplace landscape.AI is here to save the day. Using technologies like machine learning and predictive analysis, AI can not only analyze large data sets but also draw conclusions.
Thus, AI can be used to create learner profiles by combining disparate data sources, which would take days if performed manually. Also, it can accurately identify the skills that are lacking in the employees. Once the gap is identified, the L&D team can work on adjusting their existing strategy to address the knowledge gap.
Personalized and Relevant Learning Content
We all are well aware of how Google filters data when we type in a query in the Google search box. Similarly, AI scans the Internet, LMS, and other organizational content sources to auto-suggest the most relevant learning content for a learner. This way it saves a lot of time for the employees because they don't have to spend hours manually going through countless pages of search results.
Furthermore, AI enables personalized learning based on the learner's pace, role, and identified skill-gaps demographics. Employee learning styles are also tracked and identified by AI, which then optimizes the learning experience for best results.
Bite-sized Learning Nuggets for Anytime-Anywhere Learning
The modern workforce is distracted and overloaded. Their expectations and learning preferences are diverse. They prefer information that can be grasped and is accessible in one go, that too in the moment of need. With the delivery of learning content in small, relatable micro-nuggets, employees can consume information while they are working, at their device, pace, and place.
AI-powered chatbots and virtual coaches can make this possible. They can ask what an employee is looking for and offer content in response to the request. A virtual coach is also available round-the-clock to address learner queries. This virtual coach makes the query-response process smooth, much like chatting with a customer service agent. Stay tuned for a detailed post on this very topic, shortly.
Also, with real-time data analytics, data mining capability of AI, relevant relatable learning nuggets can be displayed on a user's screen. The best part of these nuggets is they can be completed in a short span, giving employees a sense of achievement and engagement.
Additional reading: Sprinklezone: – A Nudge-Learning Platform
Repurposing Existing Organizational Content
Content creation is a heavy-duty task. Traditional content generation processes are manual, repetitive, and engulf a lot of time. With its capability of data sourcing from multiple organizational systems, AI consolidates all the extracted data and presents it in meaningful information.
Besides this, Natural Language Processing (NLP) allows the conversion of presentation videos, podcasts, webinars, and lectures into text, with minimum effort. NLP software is capable of generating narratives to describe structured data in a couple of milliseconds.
Pivotal Learning Insights
AI-powered tools collect data as per the learning journey, evaluate the learner's performance, and provide immediate feedback. This helps in keeping learners up to date on their learning path. Also, this data proves to be beneficial for organizations to track and form insights into an employee's learning and development progress. These tools can give critical insights into course efficacy, areas where an employee lacks, and important employee learning patterns.
Performance Support at the Point of Need
There is a possibility that employees may get stuck in between when they hear a buzzword or technology or anything difficult to understand. They might be well equipped for their job roles but at times, even they can run into challenges and seek help from a variety of sources including coworkers and organizational content repositories. How about getting the information with a few clicks on their smartphone or a computer?
An AI-powered chatbot, voice, and virtual assistants could assist in finding answers to the most common questions. The availability of such just-in-time performance support tools in the flow of work can offer instant solutions to address those challenges, consequently, enhancing employee productivity, reducing errors, and improving work quality.
Learning in the flow of work is the need of the hour and is going to stay here for quite some time. AI is the black box and is going to revolutionize learning and development, for sure. It is up to L&D leaders to figure out how to get the most out of it.
What is your opinion on the use of AI in making learning an everyday part of work? Drop us a line at: contact@harbingergroup.com to discuss more.
References:
https://joshbersin.com/2018/06/a-new-paradigm-for-corporate-training-learning-in-the-flow-of-work/
https://www.marketsandmarkets.com/Market-Reports/artificial-intelligence-market-74851580.html