Author: Pankaj Ojha
Posted On Oct 01, 2020 | 5 min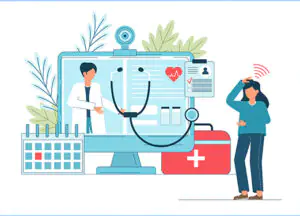 The world has changed a lot after the current COVID-19 pandemic and the healthcare industry is leading this change from the front. Remote Patient Monitoring (RPM) is no more just a good to have features for Healthcare providers but now it's a must to have. In the current situation when an in-person visit to healthcare facilities is limited to only emergencies, it becomes more important to do remote patient monitoring more intelligently. Intelligent Remote Patient Monitoring is, doing patient care more proactively and taking decisions from insights/alerts generated by data combined with the power of Artificial Intelligence (AI) and Machine Learning (ML) algorithms.
With the advancement in technology and improved support from technology platform providers like Microsoft and AWS now it's more seamless, and secure to implement RPM as compared to an earlier situation.
Here is an example of how Microsoft platform is supporting RPM

Benefits of Intelligent Remote Patient Monitoring
· Reduce Hospital Readmission
· Realtime monitoring
· Getting early warnings and taking actions before the actual problem occurs
· Get new insights to improve the patient care process
· Improve the patient satisfaction index/rating
· Get insights to understand the gap and plan the required training, standard operating procedures (SOPs)
· Reduce healthcare cost
GE Healthcare's Mural which is a cloud-based virtual care solution (or remote-monitoring tool) to give hospitals visibility across their ventilated patient population, helping clinicians identify patients at risk of deterioration is a good example of using a platform for building RPM solutions.
Feel free to write to me if you want to know more about RPM or related to the platform based or custom implementation. My team can also help in developing other components of RPM like Chatbot for pre-assessment, appointment booking app, Telehealth/Telemedicine, or integration with other healthcare facilities/systems like Pharmacy or labs or any other similar systems.
Let's work together to make healthcare more affordable and patient-centric for more personalized and efficient care.
Disclaimer: This content was original published on LinkedIn and re published here only for the information purpose.
Here is a link to the original blog – https://www.linkedin.com/pulse/intelligent-remote-patient-monitoring-data-driven-decisions-ojha/?trackingId=sb6SEWEWTl29RGDN1kvx4w%3D%3D