Intelligent Content Automation with ChatGPT and AI Models
Author: Rahul Niraj
Posted On Mar 15, 2023 | 7 Mins Read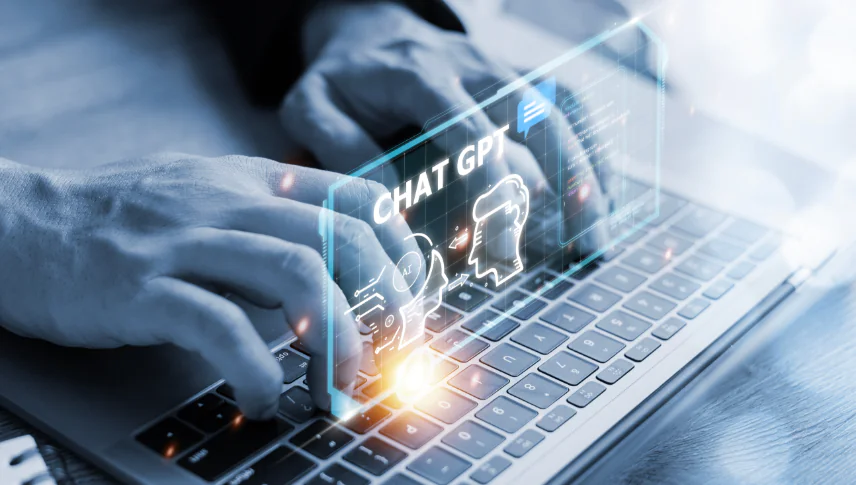 ChatGPT and other generative artificial intelligence models have become game-changers for businesses worldwide. With intelligent content automation, these foundational technologies are changing the way companies operate and process sensitive data.
Generative AI models help reduce costs, increase workforce efficiency, and unlock potential business opportunities like never before. Human-driven time-consuming tasks can now be automated to produce well-optimized results within stipulated timelines.
Leveraging AI models leads to more informed decisions by introducing advanced cognitive capabilities. They are exploiting assistive technologies and cloud environments with an aim to personalize content distribution without compromising on quality.
"According To Gartner, Cloud-Based AI Will Increase 5X By 2023. On The Other Hand, 40% Of Infrastructure and Operations Teams Across Large Organizations Will Use AI-Augmented Automation, Leading To Higher IT Productivity, Agility, And Scalability.
With digital transformation taking the center stage, investments in intelligent content automation are a must. However, to make the most of these investments, business professionals should understand the nitty-gritty of ChatGPT and underlying AI models.
Harbinger recently conducted a Power Hour on "Enabling Intelligent Content Automation Using ChatGPT and other AI Models." The interactive roundtable discussion was hosted by Dr. Vikas Joshi, Founder & CEO, Harbinger Group. The panelists included Andreea Wade, Vice President of Product Strategy, iCIMS and Shrikant Pattathil, Chief Technology Officer, Harbinger Group.
Our expert panelists shed light on the following key topics:
Large Language Models (LLM) and its impact on product management and engineering
Intelligent content automation and the key business opportunities it creates
Transforming traditional content operations into intelligent content automation
Challenges in adopting and integrating ChatGPT for intelligent content automation
Framework for selecting intelligent content automation approaches
Role of AI in Content Automation
AI helps automate the entire process of content planning, creation, publishing, and analysis across the required channels and platforms. It intends to focus on users, understands their requirements, and generates satisfactory results in real-time.
AI-based applications exploit large data sets to reflect necessary information. They ensure complete exposure to complex ML algorithms to help professionals make sense of business-critical data and deliver seamless user experiences.
AI Models are Here to Complement Human Efforts
Many believe that AI will replace jobs or make human effort less relevant in the coming times. But that's not the case. In fact, AI models are trained to maximize human-driven outcomes and save time.
These models are bound to expose business environments to intelligent content automation. They facilitate a collaborative approach that enhances manual capabilities while driving accuracy and company-wide scalability.
With ChatGPT and generative AI models, workforces can easily acknowledge technology integrations. What's more interesting is that they can train their content to produce desired results and boost their system capabilities.
There are many other points discussed in our technology Power Hour that will help you understand the importance of AI in intelligent content automation. So, without further ado, let's check out the views of industry experts on how generative AI models are making a difference.
How is AI-Based Intelligent Content Automation Different from Traditional Content Automation?
Andreea: With years of experience working with global brands, she believes that AI models are here to make things better. We are already moving from automating repetitive tasks and rule-based processes to intelligent automation, which incorporates AI, ML, and NLP.
We need LLMs that could unlock multiple use cases. When correctly understood, supervised, gated, and consulted, these models will increase efficiency and create new business opportunities. Altogether, it is a way toward digital transformation.
Shrikant: He believes that there have been massive changes in how content is stored and executed. Earlier, we stored content in a CMS to manage large volumes of data. However, there is an increasing demand to rank content, offer better interpretation, and create better insights and summaries.
That's where intelligent content automation comes into play. However, the whole generative capability and accuracy of content generation depend on how we use LLMs and ChatGPT-like models in the future.
Can You Share a Real-Life Story?
Andreea: She spoke about a business messaging company that came up with a bunch of ChatGPT-powered features focusing on summarizing conversations. We can make drafting messages or emails easier by exploiting additional features like adjusting the tone of the messages/emails or generating a help center.
Shrikant: Talking about eLearning content, he mentioned that translation is a huge problem. He shared the example of a company that was unable to cater to users in multiple geographies because their content was not localized. LLMs and intelligent application automation have made the content translation, publishing, and assembly more efficient. Now, we can quickly translate large volumes of content. For example, Harbinger helped a customer translate thousands of videos in a few months at a high quality with minimal manual intervention.
What is the Impact of Intelligent Content Automation on Businesses?
Andreea: She talks about an instance where the CEO of a startup claimed to use ChatGPT for various business purposes including content creation and marketing. The implementation of ChatGPT excluded the need to hire a professional.
On the other hand, we're still learning how to use these tools. And if we focus on learning these tools, new jobs, specialties, and competencies are bound to be created.
What is the Need for Intelligent Content Automation Framework?
Shrikant: He strongly believes that every technology company must use an intelligent content automation framework while building apps in the future. At Harbinger, we are creating base models for areas like HR, learning, compliance, and marketing. We are also creating engines to parse data from different content sources such as videos, documents, images, and so on. The Harbinger framework is designed to facilitate data-centric decision-making and improve the user experience when it comes to speed and accuracy.
What are the Opportunities or Risks with Implementing Intelligent Content Automation?
Andreea: LLMs and AI models still require intensive monitoring and fact-checking as they don't understand questions the way humans do.
Shrikant: Very soon, we may see a paradigm shift from a search-assisted to an AI-assisted workforce. In the future, AI-assisted work will transform the way we work and learn.
Over to You
ChatGPT and other AI models play a vital role in facilitating intelligent content automation across several industries. They are accelerating digital transformation with dynamic capabilities, collaborative approach, and interactive user experiences.
As a business owner, you need to effectively leverage such models to reduce operational costs. You need to successfully implement these technologies to enhance workforce efficiency and generate profitable outcomes in the long run.
If you want to integrate AI with your existing system or introduce ChatGPT-like models to automate content creation, management, delivery, or analytics, write to us at contact@harbingergroup.com. Our technology experts would be more than happy to help you.