Increase Usability of your Mobile App – Onboard Deep linking
Author: Lalit Kumar
Posted On Dec 30, 2015 | 4 min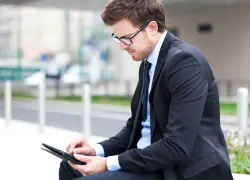 In the past half-decade or so mobile internet and apps have redefined the way in which digital information is being consumed. Consumers are spending more time on mobile devices than ever before. Mobile apps have become the primary gateway to access the online world from Smartphone's. Google's play store and Apple's app store have more than 3 million apps available for download. Just the sheer number of apps on these stores gives an indication of how competitive and crowded the app market has become. With so many apps to choose, tolerance level in consumers is lower than ever before and they are quick to abandon or even delete an app. In such a competitive scenario user retention is becoming a greater challenge for the app developers. One of the key reasons why consumers move away from the app is the lack in the usability of the app. One of the ways to overcome this would be to enhance the usability of the app by using deep links.
In the context of mobile apps, deep link refers to a link that point to a specific location within a mobile app. In terms of functionality, they are very similar to a web URL that redirects user to a specific page on a website.  An example of deep link would be a link that takes the user directly to a specific product screen in an e-commerce mobile app.  Prior to deep links, links could launch an app on home screen or would redirect to download page if the app is not installed on the device. Deep linking essentially removes the unnecessary navigational barriers to specific content and screen in the mobile app. Let us quickly see how deep links would help apps to retain and engage users.
Enhanced Usability: Looking for specific content in a mobile app could be a major turn off for any user. The longer it takes to find the content more are the chances of losing the user. With deep links in place, users can directly get to the specific content in the mobile apps. User spends literally no time looking for content. This brings about an overall positive experience for the user. Deep links also enables sharing of the content with other users. Imagine a scenario where a user buys a book on a mobile app and recommends the book to his/her friends. Without deep links, users would have to manually search for the book in the mobile app whereas with deep links user could just share the link to the screen listing the book. A user is more likely buy the book in the latter case.
Be More Searchable: Google search engine indexes deep links in mobile apps. As a result of indexing, deep links resurface in search results. These deep links would trigger the specific content in the mobile app resulting in a seamless experience across search results and mobile apps.
Advertise New Feature: Push notification, email and social media advertising can be made more effective by using deep links. An advertising email or a post on social media using deep link would take the user to specific advertised content in the mobile app. In this scenario user is more likely to try out the new feature of the mobile app as compared to a regular link which would take the user to the home screen. In the latter scenario, the user may not even proceed beyond the home screen rendering the advertising campaign ineffective.
Better Analytics:  Deep links in mobile would enable better analytics on how the applications are being installed, how data and functionality are being accessed by the user. This could help in creating a simple and intuitive lightweight app and also group your users into groups such as consumer and creator of content.
There are certainly many more advantages of deep linking especially for startup ISVs as it can help them in carving out a strong differentiator, quick monetization, increase in user base and many more.
Here at Harbinger, we have created some amazing mobile apps leveraging our significant experience and domain knowledge in developing mobile solutions for healthcare, human resources, benefits, retail, travel, eLearning, sports domain, etc.
With Google and Apple supporting deep links the market seems to be maturing now. App developers and marketers are starting to understand the benefits of using deep links in mobile apps. It would be interesting to see how deep linking can be extended to wearable devices, considering the surge in a number of people using them.