Author: Marketing Desk
Posted On Aug 01, 2014 | 2 Mins Read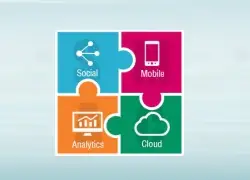 Human Capital Management continues to transform and grow. The pressing need for fresh talent, the rise of millennial workers and the rapid influx of technology has radically transformed HR business models. Companies are coming up with new strategies to help accelerate and innovate their recruitment, development, and workforce management capabilities. What are the new drivers for excellence in modern HCM? How can HR departments improve their work performance and efficiency?
It is the ascendance of SMAC (Social, Mobility, Analytics and Cloud) technology solutions that has enabled this transformation. Human capital management solutions based on social, mobile, analytics and cloud are helping human resources teams to improve employee engagement, enhance performance and optimize workforce management.
Harbinger Systems hosted a webinar "Impact of SMAC Technology in Human Capital Management" on August 27, 2014. Attendees got insights on the HCM market scenarios and some interesting use cases highlighting the role of SMAC in various human capital management activities
Webinar Key Takeaways:
Overview of modern HCM solutions – Market insights, business needs
Empowering HCM solutions with SMAC – Challenges, opportunities and the technical considerations
Real world business scenarios showcasing SMAC for talent acquisition, skill mapping, benefit enrollment system and learning and development
Thank you for the great response to this special webinar!
You can view the webinar presentation here.