Author: Vibhuti Agarwal
Posted On Oct 23, 2020 | 5 min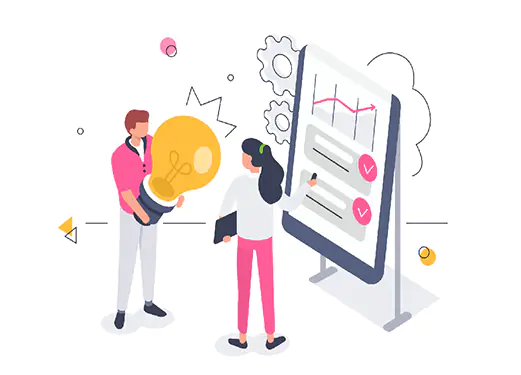 The current pandemic has impacted different sectors in multiple ways. For HRTech, it brought in WorkTech – a progression into technology solutions, created for the virtual workplace, allowing workers to do their day-to-day work efficiently. And the reason is understandable. Majority of the workforce will continue to work from home in the days to come. This demands exhausting amount of collaboration, to support the projects and skillsets, and make of course make customers happy.
Microsoft Teams, Slack, Facebook Workplace, Zoom etc. are some of popular collaboration tools being used in the workplace. And then, there are HR Tech systems such as Hiring systems, Learning systems and many other day-to-day work systems such as Salesforce, ERP systems, Design tools, Code tools – all residing in the same technology ecosystem of the company.
What WorkTech Entails
Work Tech is a combination of three core aspects of work – Productivity, Collaboration, and HRTech. Just because HRTech alone isn't enough to satisfy the work needs of remote workers. WorkTech brings along elements of productivity systems and collaborations systems, enabling the virtual workforce. According to a CIO Tech Poll, 71% of respondents opine that the current situation has created a more positive view of remote workplace policies and will likely impact how they plan for office space, tech staffing, and overall staffing in the future. It doesn't seem surprising then that unless companies facilitate collaboration, having a seamless productive workflow for any job function seems impossible. A collaborative environment connects teams to shorten timelines, improve productivity, and thus lower costs. Which, interestingly, creates a suitable workplace.
What is the challenge, then?
When collaboration becomes so important, and there is a rush to acquire readymade tools and as a result, product users tend to look at collaboration just as a standalone tool. However, we have noticed that the most important aspects of work today – collaboration and productivity, aren't really tied to the flow of work. Can you ask a clarification on Salesforce, while your checking your remote sales teams' activity logs? Or in the flow of work?
Work suffers and multiple pockets of repetitive and monotonous work start surfacing.
How Should Product Builders Look at WorkTech
When product builders look at WorkTech, as their next product destination, it is natural to go looking for competition, market intuitions and the overall business environment. If I could make a list of all the HRTech products making a dash towards MS Teams, I'd be a millionaire!
Not that it's wrong to line up for platforms that enable collaboration but choosing a product design approach that overlooks the end users' perspective usually leads to more re-work. For example, think of all the features that product developers usually copy from the web version of the product to the mobile compatible version of the same product, and you'll know what I'm talking about. Or product developers choosing to build a marketplace version of their product, in the wrong marketplace!
What missing usually in the feature selection process, is usually a structured way of getting to know the end user's perspective and the various paths he or she traverses in his or her work journey. At Harbinger, we use an approach to help product companies focus more on the end user and her requirements instead of relying on competition, developer forced features and the pressure to go to market.
Called Design Thinking, the approach helps product builders with observing and empathizing with the target user. It questions the assumptions, solutions, implications to define the specific user needs. After ideating for innovative solutions and later prototyping those, the final stage consists of testing the solution. You may think, what's new, but read on.
For HRTech, Design Thinking is a chance to transform and build capabilities. And when used in the WorkTech context, it allows building features closest to the user working remotely.
For example, in the case of recruitment workflow, there may be at least a dozen steps that a recruiter and his or her team takes till the candidate is selected. Imagine the classic workflow for how the steps look with 'n' number of systems being used (see figure below). SF stands for SuccessFactors and is representative of any similar system of record that may be used by the recruiting organization.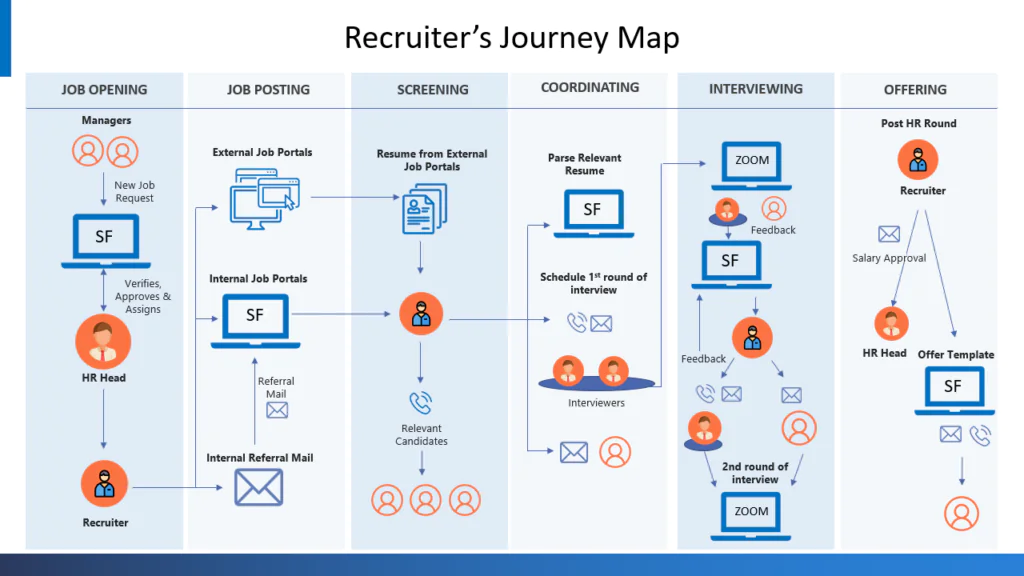 Clearly, you see how a monstrous number of workflow steps combine with a higher number of technology systems are used, including the collaboration tools such as Zoom, Teams, Skype etc.
Can your product solve this problem using WorkTech?
Yes, with the first step being – using a Design Thinking approach with a framework that helps you look at the number of actors, the number of workflows, the number of levels and even the amount of collaboration needed.
The same workflow, solved with a Design Thinking workflow could be represented as,
Here, three stages could be simplified – Coordinating, Interviewing, and Offer Generation with HR managers coming together on a common Microsoft Teams group to expedite interview stages. Top it with a SuccessFactors integration as well to measure productivity of the entire effort. Such combinations allow better integrated workflows between HRTech solutions and productivity/collaboration tools.
Integration with such collaboration platforms with the design thinking approach, could also assist in employee onboarding, performance management, payroll management, etc. For example, sentiment analytics is a powerful tool and can be integrated with platforms to help understand and analyze employee-drivers and devise apt engagement and retention policies and practices. Or a project management integration with collaboration platforms can provide updates, project activity suggestions, reminders for important tasks, and more.
Design Thinking for WorkTech
The beauty of using Design Thinking framework for collaboration and productivity features is that it uses a framework consisting of actors, workflows, multi-level steps, collaboration amount, and a few other parameters that can be used by product designers and architects for feature selection.
For instance, if there are several people participating in the workflow, the framework can consider the different ways of facilitating tasks, maybe by using Microsoft Teams Groups. If the task requires a multilevel approach – in the case of an employee applying for a leave and the manager rejecting the application, thus resulting in two steps – the framework accommodates so. It also tracks the response time and the impact of the workflow completion.
As Josh Bersin puts it, "Design Thinking casts HR in a new role. It transforms HR from a "process developer" into an "experience architect, reimagining every aspect of the HR organization."
Right from recruitment to retention to building work culture, the ROI on Work Tech justifies it all. It has been the backbone of all the companies in this pandemic, especially in supporting the remote work scenario. If your customers can have product features combined with supportive tools to make it easier for their HR, wouldn't it be worth it all?
Know more about Harbinger Systems' WorkTech Services.