How to Successfully Tackle Pre-Hire Requirements in the New WorkTech World
Author: Saritha Suryawanshi
Posted On Nov 06, 2020 | 5 min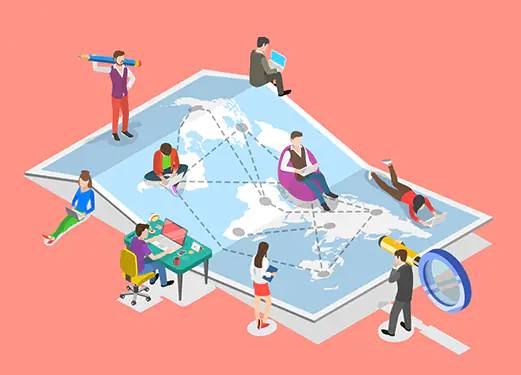 The last eight-odd months gave the much-needed push to digital transformation, which we all were looking forward to, but didn't know where to really begin with. In terms of technology, remote work brought the focus on collaboration tools and productivity tools. Thankfully, there's a simpler term for this – WorkTech. Or simply put, technology that helps employees to do their jobs efficiently.
WorkTech for Pre-Hiring Solutions
Pre-Hire systems range from sourcing and hiring tools, reference checks, interviewing till prior to offer finalization. Typically, all these activities happen independently without too much focus on collaboration – before the pandemic, or before remote work.
Interestingly, a couple of workforce trends brought in a whole new set of changes. Today, there is an increased load on recruiters with 5x growth in the applicants per job opening (iCIMS Research, May 2020); only 16% new hires have all the skills to do their jobs today and in future (Gartner Survey, October 2020); HR will face challenges to relocate new hires (4 Corner Resources, May 2020). Meaning recruiters and many others working the recruitment flows are faced with collaboration and productivity challenges.
This is where WorkTech jumps in – by modernizing pre-hire for WorkTech, or rather by allowing WorkTech integrations, pre-hire products can leverage collaboration technologies and tools for real-time communication with stakeholders and provide virtual interaction with candidates. In the flow of their work. Without having to jump from a collaboration tool to a ATS tool, to mark their job as complete.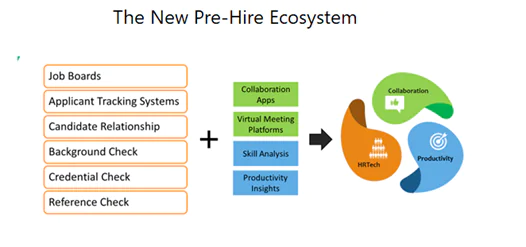 Similarly, by integrating with productivity systems, pre-hire products can tap into the large volume of data stored by these systems, such as productivity of past hires, skill gaps with respect to new job positions, and do better predictions for talent recommendations. This will add value to a solution by training predictive models based on performance data of hired candidates. Not to forget, adding monetization and sales opportunities to HRTech.
This and more such statistics indicate that the hiring solution market is shifting to prediction, automation, virtualization, gig workers, and diversity and inclusion. A shift to Work technology will equip pre-hire to effectively deal with these new work demands.
Technologies to Consider
As a technology product company or solution provider, technology most undoubtedly needs to be one of the main competitive advantages. If not, we've seen that it eventually catches up with you and you need to act then. So why not now?
When we think about seamless integrated workflows, and modernized technology and better user experiences – you need an upgrade in technology too. In that sense, technologies like AI, Blockchain, Integration, analytics augmented with collaboration tools, and video interactions are critical to gain advantage in this space.
For the recruitment function to transform itself and adopt and implement WorkTech, recruitment systems like Job Boards, ATSs, candidate relation management platforms, background checks, etc. should work together with collaboration tools and productivity tools to measure the success.
Some of the questions that such an integration should be able to answer are:
Can Zoom update the recording, status, and candidate confidence levels by processing videos directly into the ATSs?
Or can an interviewer provide the interview feedback from within MS Teams itself? Or maybe even can the recruitment marketing happen from within collaboration tools?
The core though is that whichever technology one decides to implement, maintaining diversity and inclusion should remain the focus.
In the Virtual Collaboration Zone that Harbinger led last month, Ray Bixler, CEO, Skill Survey, reiterated this point by saying that "whatever technologies are used in the hiring process, avoid biases at all costs. Company's brands are ever more important now to indicate to a person, whether a job candidate or a consumer, that their hiring process is going to treat everybody fairly."
Implementing WorkTech in Pre-hiring Solutions
So, how does a solution vendor leverage these technologies sufficiently and quickly to fast track new solutions? Time to market is critical especially in the current situation and hence building a robust solution faster is an important factor for success.
There are two ways to achieve this. Either you build faster or you partner and integrate with someone who has already built a solution.
As Elaine Orler, Founder/CEO, TalVista Inc. mentioned in the VCZ, "Our goal is decision support in a couple of key areas but not being what everybody else is into. So, integration is really important. We develop upon just the areas we are in and integration becomes critical for the rest of the ecosystem because we are not going to be doing applicant tracking or some of the other job requisition components and pieces. It makes it a lot easier to just say that we can connect into whatever that ecosystem and tech stack is that each employer has."
Other panelists in the discussion agreed as well, as at times, it becomes a wise decision to integrate with the partner offering the required solution.
But at the same time, if the needs are unique and requires customizations then it is better to build the solution from scratch. However, one other possibility which also exists is there are many open-source tools that can be customized and configured within a short time and integrated. A wise implementation strategy needs to be devised based on the solution to be built.
WorkTech – For the Future
Pre-hire workflows have shifted from conventional to remote hiring, gig work, D&I, and deep automation. As a solution vendor, one should cautiously create a roadmap considering market demands, targeted market segments, primary customer needs, etc.
And as we saw previously, it will be WorkTech to help us all out in this process. It is the technology that will help us in the new normal. Integrating the new technologies – say for instance, AI for recommendations and skill matching, Blockchain for pre-hire checks, and other collaboration platform integrations for better workflows, will help you position your HRTech product to WorkTech.
Interested in knowing about Harbinger's WorkTech Services? Click here!