Author: Marketing Desk
Posted On Jun 10, 2021 | 4 Mins Read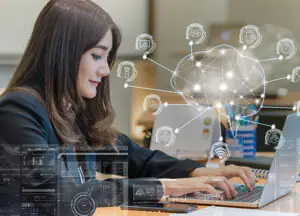 Use of AI in Learning and Development
Over the last decade, disruptive technologies like Artificial Intelligence (AI) and Machine Learning (ML) have fundamentally altered many functions from product development to service delivery and customer service interactions. The Learning and Development (L&D) function is no exception. Many organizations are increasingly addressing the skill gap in their workforce, and Artificial Intelligence is playing a key role in enabling these organizations to create customized learning and development initiatives.
The use of AI to create, design, and manage training content will have a significant impact on the L&D sector and the overall development of organizations. For instance, AI will enable the concept of "mass customization" in training – personalizing the individual's learning experience as per their preferred learning style, current skillset, and knowledge gaps.
Here's how AI is transforming the L&D efforts of an organization:
Creating content for training courses
Developing training content is a highly time-consuming endeavor. Along with extracting relevant information, course designers also need to spend time designing and visualizing the content to create a better learning experience. Keeping the training content live and up-to-date is also one of the major challenges for organizations.
AI can play a key role in creating and augmenting digital training content. It can help extract relevant information from the web and convert it into usable formats. This gives course designers more time to focus on the synthesis and design of the training content. AI can also play a vital role in augmenting existing content by updating it with relevant and evolving information. Check out how to extract and tag useful content from systems to design a process and convert it into learning experiences.
Personalized employee training
In a typical classroom training session, which was the norm until a few years ago in most organizations, the biggest challenge was to make the training lessons relevant to every attendee. This was nearly impossible when you invariably had people from different functions, experience range, and educational backgrounds in one batch.
With a shift to a digital model of learning, the L&D sector took its first steps towards custom training content. AI is going to play a decisive role in personalizing employee training, taking into account their preferred learning styles, educational background, skillset, and learning areas. This kind of customization at scale is making a positive difference in the effectiveness of training programs, improving their engagement levels significantly. It also helps in improving the completion rates of training programs.
Content accessibility
As a society, we have been becoming increasingly sensitive to the needs of specially-abled people. The same awareness extends to the creation of training content for such employees in the workforce. By leveraging AI, organizations can overcome the limitations in sensory and other areas of the trainee and make the content accessible to everyone in their workforce. For example, AI can create captions for videos for people with hearing limitations. Text-to-voice capabilities help the visually impaired to assimilate better.
Collection of data and data analysis
Performance data of employees is a big source of information for organizations to develop insights from an L&D perspective. AI, when used to analyze such data, can identify performance improvement areas along with recommendations for relevant training areas for the employee. AI can also help in benchmarking and employee assessments post completion of training. Employees can then be benchmarked against each other and suitable training courses can be designed to help them improve. Content analytics helps content creators develop insights for improving the quality and reach of the content.
AI-based tutoring
AI-based tutors can be great mentors/ teachers in the L&D initiatives. In addition to 24/7 accessibility, they also provide additional benefits of providing calibrated and adaptive learning to the trainee. Some experiments have shown that AI-based tutors have been more effective than human trainers when it comes to skill level improvement of the trainee. With the increasing usage of AI in learning and development space, AI-based tutors may take a bigger share of the load for conducting training sessions.
AI is revolutionizing the way organizations conduct their training initiatives. Increasing the involvement of AI is going to play a critical role in developing training content, providing personalized learning, and improving content accessibility. Organizations need to adopt a focused strategy to leverage AI and create a future-ready workforce.