HealthKit vs Google Fit: A Comparative Analysis
Author: Sayali Gujrathi
Posted On Apr 14, 2015 | 4 min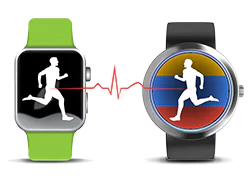 As digital health gains momentum, tech giants Apple and Google both have entered the Healthcare domain with their respective health platforms/frameworks last year.
With iOS 8, latest OS for Apple's smart devices, comes the Health Kit framework which works alongside its inbuilt Health app. And Google has announced that it has health tracking platform which runs on its web portal and android devices running 4.0 and above.
Google Fit is a healthcare platform, developed by (no brownie points for guessing) "Google". It utilizes various APIs to track/record data of various fitness activities performed by user such as walking, cycling etc. from multiple apps and devices.
Apple Health kit in simple terms is a framework which third party developers can use to build fitness apps that can interact with the "Health App" on iOS.
Third party vendors (app developers, device manufacturers, etc.) all over are evaluating both platforms and looking for ways to get involved and evolve the products. Let us see some parameters in brief through which we can understand the similarities and differences in both of these frameworks:
Parameter
Google Fit
HealthKit
Wearable Support   

Both the platforms support communication with devices via the GATT specified Bluetooth communication or through Wi-Fi.  Google Fit steals the show here, as there are many android-wear devices like- Moto 360, LG watch R, which can be easily connected to Google Fit automatically.

iOS Health Kit will support the recently released Apple Watch along with Nike and Fit bit.The silver lining here, for Apple would be that most of the 3rd party vendors (hardware manufacturers, app providers) should provide support to both the platforms.

Device support

Google Fit is available on phones and tablets as well

Health kit currently is available with iPhones only

Data Storage

Google Fit stores data at a common single place where various apps can contribute to a composite profile of your activities and health. So, it's a kind of central database to access and store the recorded health data.

Like Google Fit, HealhKit also stores the recorded health related data at a centralized location.

Displaying of data/design

Google Fit follows the same UI design as one can expect from material design (newly introduced UI design by Google).
Users can view each information in a detailed manner like- amount of hours spent cycling, running, walking etc, by simply swiping their screens.
Users who achieve a goal set by them are rewarded with animation snippets.

HealthKit offers all of the details similar to Google Fit. But the feature which tilts the balance towards Apple is HealthKit's ability to allow users to compare the metrics in a single screen. Thus, users can get more insights about their health like sleep pattern vs alcohol intake.

Security

Data can be shared with 3rd party apps only upon seeking the user's permission

HealthKit also enables user to decide which data can be shared with other apps. Also the apps built with HealthKit have their health data stored in an encrypted format.

Data types captured/covered

According to the official list of data types, Google Fit covers the following: activity times and types, calories burned, pedaling rate, wheel speed, distance covered, heart rate, height, weight, power generated in a workout, steps taken and elevation.The point to be noted here is that Google Fit allows apps to create their own custom data types.

HealthKit provides a relatively more comprehensive list of data types to the developer. It includes – user height, weight, walking activity, heart rate, body temperature, sleep, analysis, diet, identifiers, blood type, workout duration, blood alcohol level, blood glucose, diet, cycling activity and more. However, unlike Googl Fit, a developer cannot create their own custom data type. They would have to stick with the official list.

Partners

Google currently has an impressive list of partners on their website: Adidas, Asus, Azumio, Basis, Fatsecret, HTC, Intel, Lg and many more.

Apple announced its partnership with Nike, Fitbit, Runkeeper and Withings at their keynote last year. Apple has a relatively less number of partners for Healtkit, however,  it has gone one step ahead by focusing on health rather than fitness by having tie ups like Mayo clinic and EPIC software.
There is no clear winner here. Google has a wide list of compatible device and partners; Apple appends this by a more comprehensive view towards user health. Google Fit offers more flexibility; HealthKit offers more security of the sensitive content. But one thing we can surely say is that with HealthKit and Google Fit, we have officially entered the commercial phase of digital health revolution.
Reference:
https://developer.apple.com/documentation/healthkit/
https://developers.google.com/fit/android/