Harbinger Systems at the SHRM Annual Conference and Expo 2016 – The 'Breakthrough' Highlights!
Author: Mahesh Keni
Posted On Jul 04, 2016 | 3 min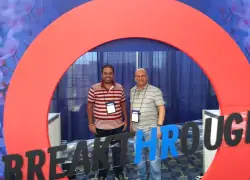 The dynamic nature of modern workplace environment has given rise to new age challenges for businesses and enterprises. To withstand these challenges, thrive on competition and achieve business objectives in a cost-effective manner, organizations need to develop the targeted HR strategies and implement cutting-edge tools and solutions for successful HR practices
Over 1500 Human Resource professionals collaborated at the SHRM Annual Conference and Expo 2016, held in the capital city Washington, DC, from June 19-22. Harbinger Systems attended the SHRM event and witnessed various innovations and disruptions making their way to the HR space. The theme this year was 'Breakthrough', the focus being strategies and innovations that help HR to transform the modern workplace environment. The conference featured over 200+ concurrent sessions. The sessions were compelling and covered a broad range of topics, right from the fundamentals in HR and innovative HR strategies to hot trends in global HR. To mention the highlights of these sessions, the prominent focus was strategic talent management practices to increase employee engagement and workforce analytics to make better business decisions.
We were glad to connect and interact with the globally-recognized HR leaders and share insights with the global HR community at this conference. It was a great opportunity to exchange mutual ideas and views on transforming the modern age workplaces with solutions in People Analytics, Cloud Enablement and Employee Engagement. Talking about the SHRM Exposition, over 650 exhibitors showcased a wide range of HR solutions from core to specialized HR. It was indeed a great place to meet many knowledgeable HR solution providers to learn and inspire from them. We had one-on-one interactions with many HR solution providers and thought leaders. We showcased the innovative HCM solutions that we have built for our HCM ISV partners, in the domains such as Recruitment, Onboarding, Employee Engagement, Benefits, Performance Management, etc. The innovations presented, received great response from the audiences and HR leaders. It was a great opportunity to view the HR product demos and cutting-edge solutions in the employee engagement space.
At Harbinger Systems, we believe in complete technology transformation of HR processes and delivery to create more efficient digital workplaces. With a strong thought leadership in employee engagement and Learning & Development space, we provide solutions, consulting and technology services to organizations across the globe. You can also get in touch with Harbinger Systems and learn more about how we can help you build innovative service offerings for "Recruit to Retire" HCM Service Offerings.
The SHRM Conference this year was a great event with great people and great content. We are keenly looking forward to being a part of this event next year as well. Look forward to meeting you next year!