Harbinger Partners with Adobe, Becomes Adobe Bronze Solution Partner
Author: Minal Ghorpade
Posted On Nov 08, 2022 | 6 Mins Read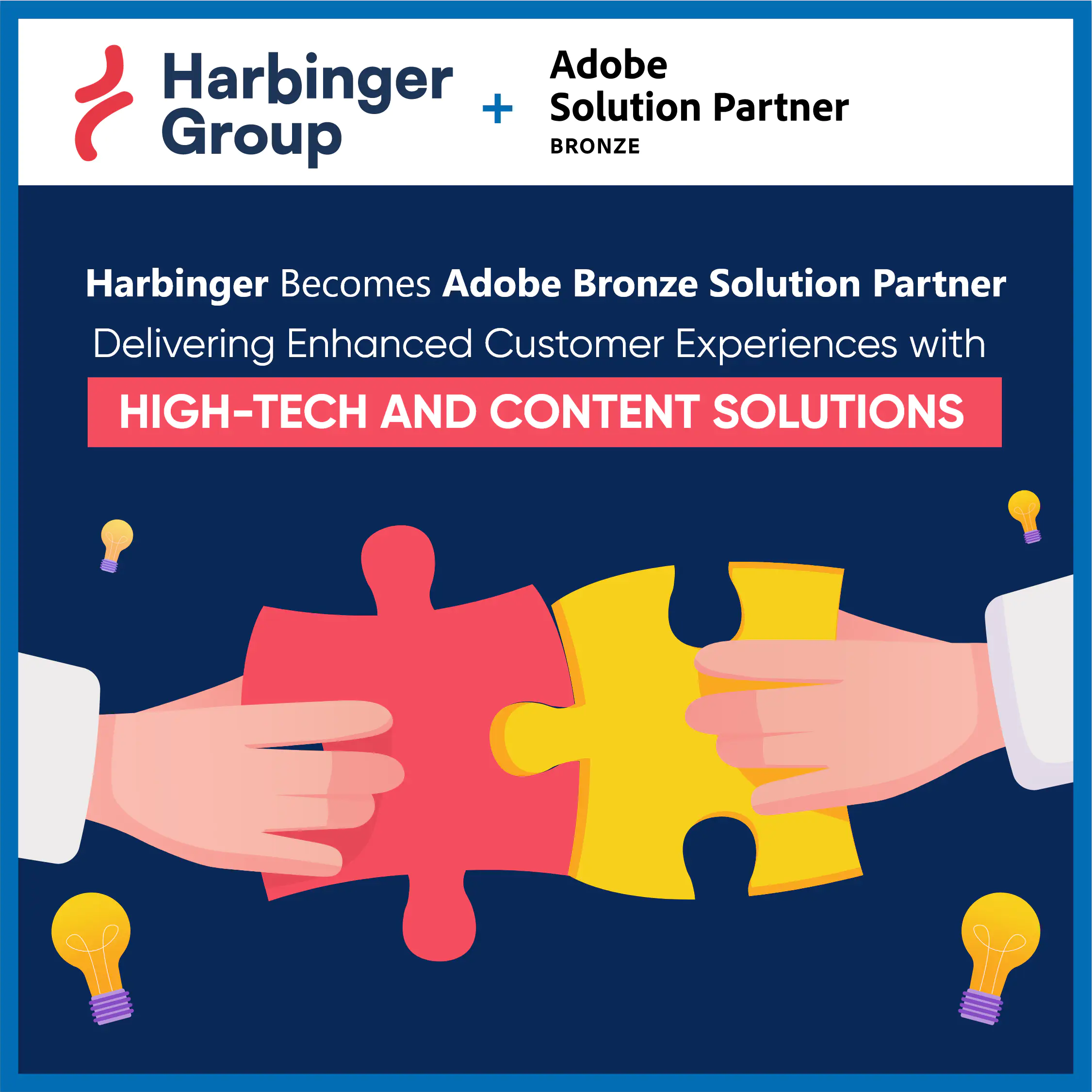 As Harbinger continues to grow, we ensure there is development of stronger relationships of trust with our partners and customers. That's why we are always on our toes to deliver sincere efforts, more robust solutions, and better meet the needs of people and organizations we cater to. Our partnership with Adobe as a Bronze-Level Solution Partner empowers us to offer customers and partners the best of both the businesses.
Harbinger Group is a global end-to-end design and development company that specializes in custom eLearning and content transformation. We have over 30 years of experience in delivering innovative learning solutions for various verticals like publishing, life sciences, BFSI, retail, and high-tech.
We also provide cutting-edge eLearning solutions, which include Flash to HTML5 transformation, gamification framework, microlearning, interactive video, and competency-based learning. We work with our strategic partners worldwide to develop innovative, high-performing learning solutions.
Roles of Harbinger and Adobe in the Partnership
With an aim to deliver excellence, Harbinger has added Adobe to its list of valued partners. Yes, we are now an Adobe Bronze Solution Partner. With this partnership, we will complement and supplement licenses for various Adobe products by providing technology and content solutions to customers. We are also confident about creating joint customer success stories through this partnership.
"We are excited to have become a Bronze-level Adobe Solution Partner. Through this partnership, we look forward to complementing state-of-the-art Adobe products and creating exceptional customer experiences by delivering future-ready, innovative technology and content services. We aim to generate the best business results for our joint customers," said Seema Chaudhary, Chief Alliance Officer, Harbinger Group.
The global partnership will witness the two tech companies delivering enhanced customer experiences. It will benefit customers by providing a state-of-the-art platform by Adobe and technology services by Harbinger. Furthermore, it will complement Adobe's customer experience with Harbinger's established learning technology and content management experience.
As part of the partnership, Harbinger will offer its expertise in hi-tech, and content solutions including content creation, management, migration, and modernization to seamlessly co-sell, implement, integrate, and support various Adobe products. These products include Adobe Experience Manager, Adobe Commerce, Adobe Analytics, Adobe Target, Adobe Workfront, and other data insights and customer journey products by Adobe.
Harbinger will play a vital role by delivering exceptional consulting services to customers in areas like LMS, technology, and content. For example, it will enable easy and quick LMS implementation using Adobe Learning Manager. In addition, it will help with custom development of integrations, connectors, and applications.
The partnership will allow Adobe to gain from Harbinger's three decades of eLearning design and development experience. Harbinger has extensive experience working across different domains, deep technology expertise, and a wide set of application areas. It brings to the table highly impactful, innovative, and high-performing eLearning solutions and technologies.
Harbinger's Journey as an Adobe Bronze Solution Partner
Harbinger's inclusion in the Adobe Solution Partner Program makes it an officially recognized member of Adobe's worldwide association of accredited solution partners.
The Adobe Solution Partner Program enables partners to build better experiences by leveraging personalization, and convenience of Adobe Experience Cloud. The program also offers a wealth of diverse learning resources and provides training and support for partner teams to sell, market, and implement Adobe solutions to create joint customer success and close deals with a compelling sales story.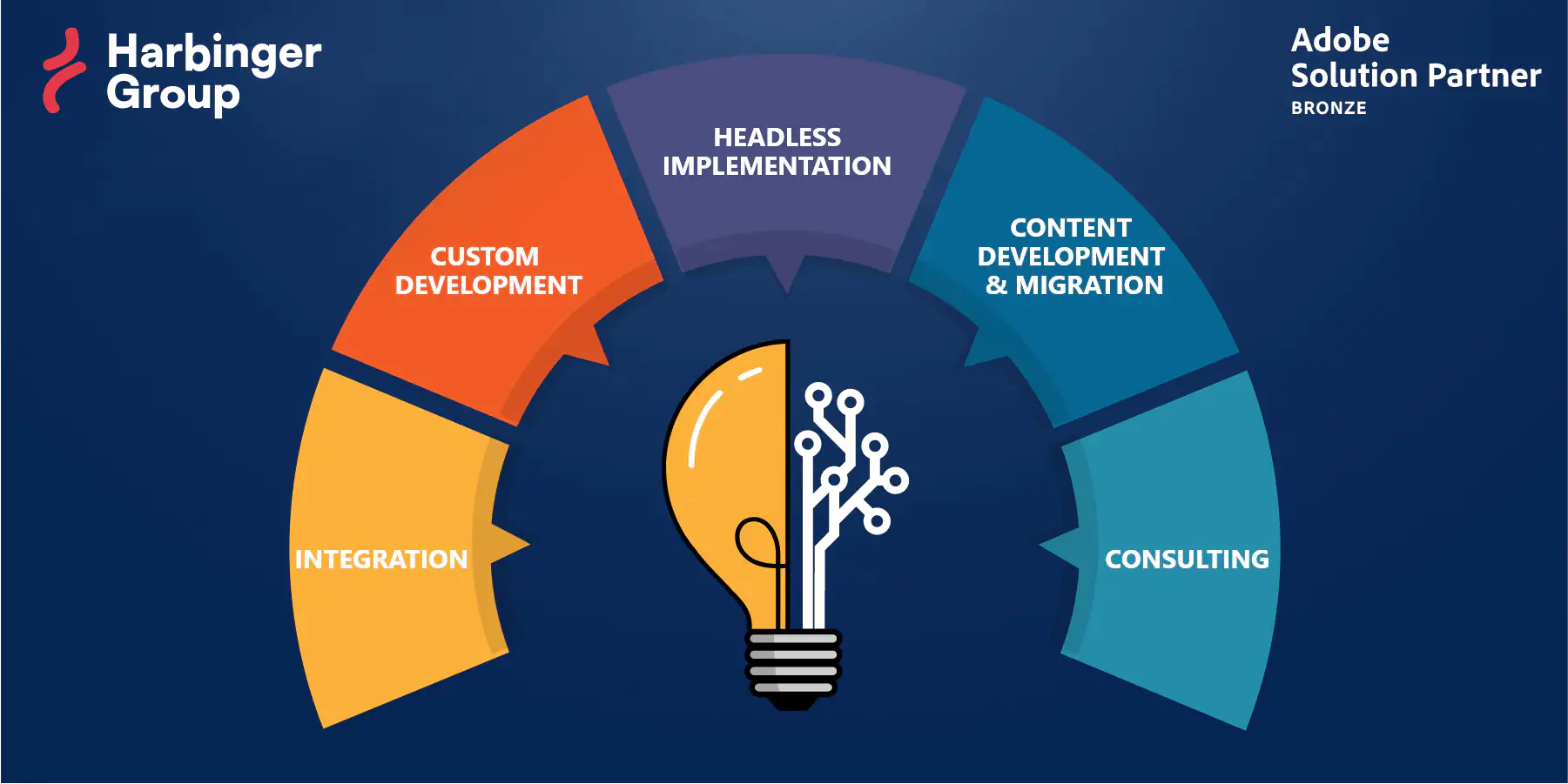 Harbinger's three decades of experience in delivering Learning Tech, WorkTech, Content, and EdTech solutions will prove vital for customers benefiting through this partnership. As an Adobe Solution Partner, we will deliver cost-effective solutions to drive key business results and offer various scalable solutions for Adobe Experience Manager suite of products:
Headless implementation
Integration
Custom development
Content development and migration
Consulting
Our partnership with Adobe has already opened up a wealth of business opportunities for Harbinger around the globe (US, Canada, UK, Germany, India, Singapore, and South Africa) and across industries (manufacturing, eCommerce, finance, technology, real estate, media, insurance, government, construction, and catalog).
Our experience of working in partnership with Adobe has been one of its kind. We have devised the following solutions for businesses to help them achieve their content development and other goals which could be leveraged to empower their workforce, improve information sharing, and more.
eCommerce integration with Adobe Learning Manager for an online travel company
Custom dev UI for headless LMS, along with content and historic LMS user data migration for a manufacturing company
Custom dev for Adobe Learning Manager courses for 57K users and migration of 22K courses, 1,350 modules with old content, and 100 web-based training modules to Adobe Learning Manager with five years of user history for another manufacturing company
Migration of 10K training files, 8 years of data, 20K courses, and 5K active users to Adobe Learning Manager for a construction company
Custom dev enabling automatic user and course management via the Microsoft Dynamics CRM for a healthcare company
Headless LMS frontend, custom dev of 15 microsites, and B2B and B2C payment gateway integration for a real estate company
Headless Adobe Learning Manager and custom dev for personalized landing pages, UI in German, star ratings, recommendations, bookmarking, gamification, certificates, reporting, search functionality, chatbot, and B2B and B2C eCommerce for a car manufacturing company
The Adobe Solution Partner Program is an effort by Adobe to bring together organizations with the same dedication to delivering exceptional services to a broad scope of audiences across the globe. The program is designed to focus on extending support to clients to help scale their businesses to new heights of success and meet their goals by leveraging the extraordinary suite of Adobe Solutions.
As an Adobe Bronze Solution Partner, we aim to provide state-of-the-art services and solutions to customers while leveraging our product knowledge and domain expertise to enable their digital transformation journey. We also look forward to offering our customers differential value and exclusivity for their businesses while delivering a real-world digital experience and customized end-user experience.