Author: Prachi Kulkarni
Posted On Feb 20, 2013 | 2 Mins Read
Data crunching and analysis has always been the prowess of big organizational giants like Google and Facebook. However, the fact remains that even a small – mid-scale organization has a lot of data at its disposal, as well as can benefit from the humongous amount of information available out there. So far these organizations tended to get bogged down by large data sizes and even larger costs related to big data and reached the erroneous conclusion that big data is not their specific cup of tea.
Now however, we all know that the big data trend is here to stay. There are both open source and proprietary tools available for us. With integration and gradual changes in architecture, small organizations can also get some share of the big data benefit.
I think the time has come for organizations to re-evaluate their big data needs.
In this regard, following flow chart diagram can help by showing the possible first steps towards determining the big data strategy-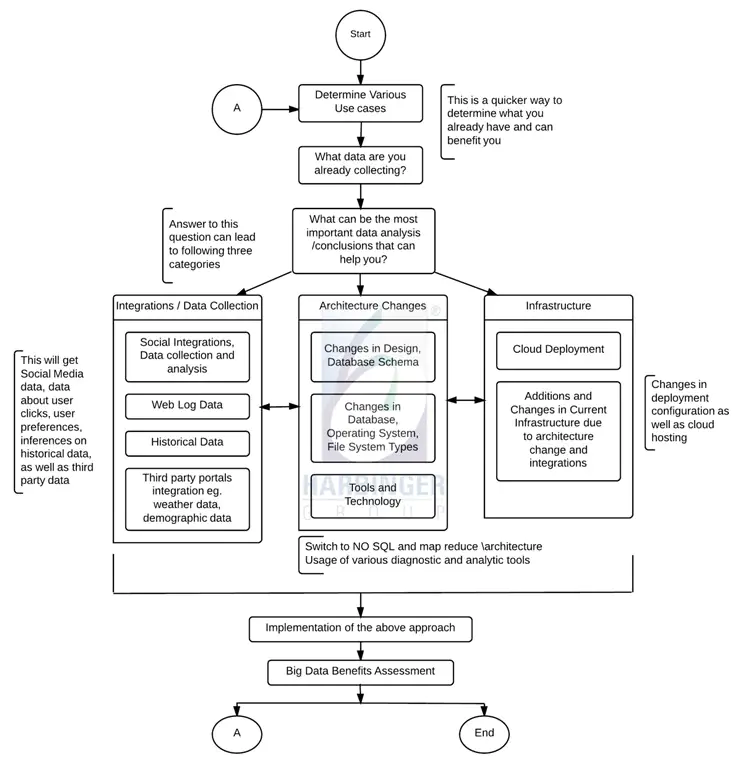 As outlined in the diagram, the use case and need / assets analysis is of foremost importance. Answers to these can influence the overall picture. Typical recommendation for any organization is to start small, start with what is already there, and keep on adding further capabilities and integration as the application / portal progresses. After implementation of devised approach, benefits assessment can be done. Based on the benefits the organization can decide to continue improving the portal further.
The flowchart mentions usage of tools and technologies as well as changes in database, operating systems and file system types. We will look at some of these in the subsequent posts.