Employee Engagement – through the eyes of HR
Author: Tania Das
Posted On Nov 07, 2019 | 5 min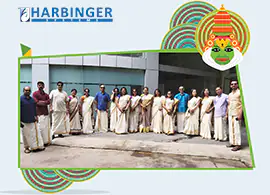 I was almost done with the 'Great Places to Work' survey, when one of the questions asked if I'd recommend my company to another friend?
And in a flash – the teams I'd been part of, the people I'd worked for, and of course how I'd grown from what I was to what I'd become today, it all came back to me. Feelings of motivation and success surged, while the bittersweet ones got beaten down by the appreciations and the platforms I got access to, all one in one moment.
And it dawned on me – that those feelings were generated, by design – not by me, but by the organization I worked for.  All the recognitions – the badges, awards, congratulatory notes were planned years before I even got to work here. My teammates got to know about my birthday, even before I got to work on my birthday! And take this – my boss already knew my interests and sent me nudges on the learning portal to try learning those topics that interested me.
And thats what taught me what HR leaders around the world constantly keep researching about – Ways to enhance Employee Engagement.
But we're only human
And that's when employee engagement takes a whole new turn. Why?  Because making employees happy, positive and engaged at all times, is a tough job. HR folks, like me are busy nodding their heads, and thinking of all the times they'd have to deal with bad employee morale.
What do we usually hear? Too much work or even better –  work is too easy, or that work is difficult to come to! Yes, we humans are complex beings and managers and/or HR often struggle with how they could turn feelings of 'feeling part of the company', 'feeling connected to your job' or 'loving to come to work' a few notches higher, than what they were at.
Employees who show up to work and are engaged have a direct impact on how customers rate the company and also results in a baffling 20 percent increase in sales. This report by Gallup, and some other papers published confirm what we – the HR departments of the world have been trying to do for quite some time!
And so, here's the stuff that I found intriguing while I worked on this topic myself:
Culture – Old Wine in new Bottles
Just count the number of companies that have started promoting their culture and values just as much as their services, and you'll know what we're talking about! Think Google, think Salesforce, think Facebook, Netflix and many others whose innovative culture and values are known worldwide. Now, you know it happens for more reasons than one.
While culture is more than just a rule book handed to an employee during onboarding, there is evidence that companies that document these do's and don'ts of their company culture, do a better job at making employees feel safe and valued.
At the end of the day, Values appear through behaviors that are rewarded in the organization and are passed on via communication sent out by the HR, senior leaders and other events. Employees know their voice matters, and the organization deals with them in a transparent way. Glassdoor reviews, active social media pages thriving on positive employee content are definite talent attractors.
At Harbinger itself, the values that built our culture were in action way before talking about culture and values got fashionable! Inclusivity, Meritocracy, Customer Centricity, Agility, Professionalism and Developing People are the six pillars that our culture is built on.  
Direct Supervisor & Opportunities for growth
Have you ever wondered how HR could ever find out if an employee ever has had a problem with his/her immediate supervisor? The truth is, they don't unless explicitly highlighted by the direct or members of the team. Situations worsen, and eventually the employee decides to move out.
Modern HR technology could help HR detect such issues with concepts such as Organizational Network Analytics, sentiment analysis over email content, and other red flags that could come up using pulse surveys that could be sent out. Who would've thought this would come upon us!
But it has. And we must step up to the challenge.
Peer to peer recognition
I remember doing an employee engagement activity with a large team that had mixed generations – baby boomers, millennials and a couple of GenXers all thrown into one BIG team. One could feel, how differently each person reacted to authority and even work allocations.
But in this team, we discovered that a peer to peer feedback and recognition program worked better than a typical feedback system. So, the millennials could share feedback, even for the generations above them, without causing a big stir.
They could even send out fun type Kudos/mails over their team collaboration channel with ease, rather than having to log in to the centralized employee portal for leaving a recommendation.
Everyone loved it! No uncomfortable feedbacks, an open platform for communication and what someone later told me – We should do more of this! Music to the HR's ears, eh?
How do you increase employee engagement at your workplace? We'd love to hear from you.
Tania Das is a seasoned employee engagement professional with multiple years of experience in HR and Talent Management. She organizes multiple employee engagement initiatives at Harbinger Systems and is called the 'Happiness Ambassador' at work. She loves writing, and frequently blogs about topics in HR, her daily experiences and various forms of art and creativity.