Author: Isha Sood
Posted On Mar 12, 2021 | 6 Mins Read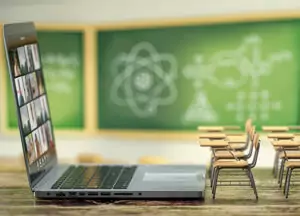 "Education is the most powerful weapon which you can use to change the world" – Nelson Mandela.
When I was a young kid, I could not even imagine learning anywhere except for a traditional classroom and in the physical presence of my teachers. There was some noise about desktops as I stepped into teenage, but it was only limited to our 'Computer Science' classes once a fortnight where we would learn coding in BASIC language. As I stepped into college, I graduated as a 'Computer Applications' professional who frequented computer labs primarily for practicing my coding assignments. Most of my learning still happened in traditional classrooms, with teachers around, and through paper books. (Interestingly, I have progressed from calling them real books to paper books in the last few years). Fast forward to 2020 – The year that changed mine and probably the entire world's outlook about education. We work remotely, collaborate virtually, learn through online courses, virtual classrooms, and virtual instructor led training sessions, which very amusingly is also how our kids learn today.
Integration of technology into learning and education is not new but the pace at which it advanced through the year 2020, is remarkable. The field of education was in fact one of the first ones to be affected by the disruption caused by the pandemic. Millions of educational institutions had to resort to online teaching – something that was in the pipeline for the longest time and yet never really prioritized. Some were better prepared than the others, but it won't be incorrect to say that everyone learnt and evolved for better. With this rapid transformation, we also realized that the potential of digitization in education and learning is huge and exciting. While there are many challenges, there are abundant opportunities too. And as we step into 2021, I can't help but feel amazed by the sheer thought of learning technology progressing by leaps and bounds.
What is Digitization
Wikipedia defines digitization as the process of converting information into a digital (i.e., computer-readable) format. In the context of learning/education, digitization may be better understood as a subset of 'Digital Transformation'. Digital transformation is best understood as the adoption of digital technology to transform services or businesses, through replacing non-digital or manual processes with digital processes or replacing older digital technology with newer digital technology.
Common Approaches to Digitize
Digitization largely makes use of (but not limited to) mechanisms like:
Online learning courses which can be taken at the learners' convenience and assist in self-paced learning. These courses are usually targeted at building competencies and knowledge in specific subjects or skills. Course creators can accordingly build them as interactive learning modules. using appropriate instructional methodologies like gamification, animations, videos, simulations, scenarios, and more.
Online assessments and examinations which make the whole assessment process convenient and hassle-free for both teachers/trainers and learners.
eBooks which provide an interface to learners to access learning material digitally and in an interactive fashion.
Study assistants and virtual bots which are available anytime anywhere to guide the learner on all their queries.
Curating and converting OERs (Open Educational Resources) into interactive videos, nuggets, and more.  
Challenges to Overcome
While the above digitization approaches contribute to bringing a certain level of ease in the system, there are some challenges that still need attention.
Transforming Content Appropriately
Learning online works differently from traditional classroom-based learning and hence the approach to design and deliver both should also be different. Digitizing a piece of content is not about converting it as-is to an online format. We need to apply the right learning design strategy, instructional approaches, and learner engagement tactics to make content appealing for online learners.
Breaking longer content into smaller micro-learning nuggets is equally important. These small learning bytes make a good use-case for just-in-time learning and periodic reinforcement.
Responsive design is another important factor to keep in mind while digitizing content. Learners are likely to access online learning content on a device of their choice.
Integrating Multiple Systems
While this doesn't pertain to content digitization per se, but the right system integrations form the core of any digital transformation initiative. All systems in picture need to communicate with each other seamlessly for the transformation to be effective. For example, in a major upskilling initiative in a company, if the learning management system is exchanging data with the performance management system, it will become much easier to measure the impact of any learning program on the employee performance and even predict what kind of learning programs would an employee need.
In the context of education, systems like student information systems should be integrated seamlessly with salesforce or a CRM, attendance management system, learning management system, and even online meeting tool like zoom to track the entire journey of a learner – from candidate to a certified professional.
These are just a few examples, there could be many others. The point I am trying to establish is that learning cannot operate in a silo; it will work the best if it is a component of the entire organizational workflow.
Building a Culture of Continuous Learning
In today's dynamically changing world, it is important for any organization or educational institution to develop a culture of continuous learning. Upskilling and reskilling continuously is the only way to survive in this competitive landscape. People must learn faster than ever before and for that, we need to weave in continuous learning in the organizational culture and not just make it a mandate.
Making learning available in the flow of work, periodic reinforcement of relevant learning content through nudge-learning, using deep analytics and AI to recognize and address competency gaps, are some ways technology can help address this challenge.
The Way Forward
We are in a time where phenomenal changes are taking place in the education and learning domain. Are the new EdTech products capable of helping develop skills that future workplaces will demand? As per a McKinsey report, by 2030, 65% of today's grade school kids will end up at jobs that haven't been invented yet. Clearly, today's jobs are not necessarily going to end up as tomorrow's jobs. Hence, we need to rapidly address competency gaps, not just through school education but throughout work lives of professionals. In this changing marketplace, learning is no more meant to be confined to the four walls of a classroom, it needs to evolve. It needs to enable learners to acquire new skills whenever they need and wherever they need.
Digitization is the first step towards this transformation. Solutions like AI-based teaching assistants, chatbots, automation, nudge-learning, augmented and virtual reality will take center stage. Where do you stand in this whole transformation? What challenges have you experienced and what results have you achieved? I would love to know. Drop me an email at contact@harbingergroup.com to connect and discuss it.